Rotating summerhouse brings Devon vistas to life in period setting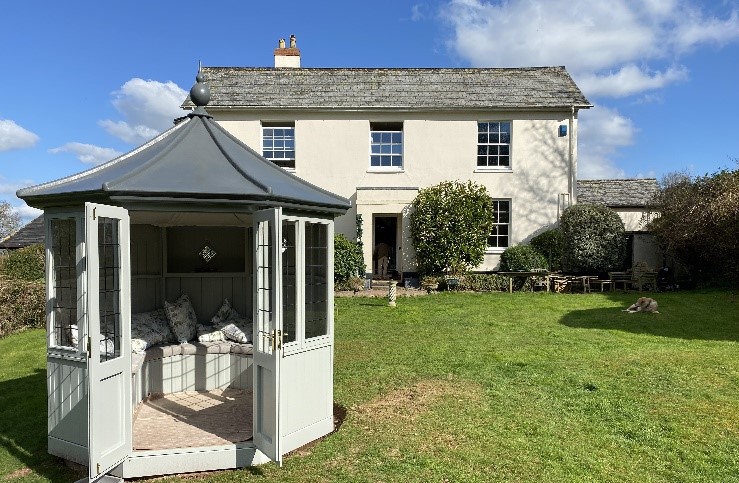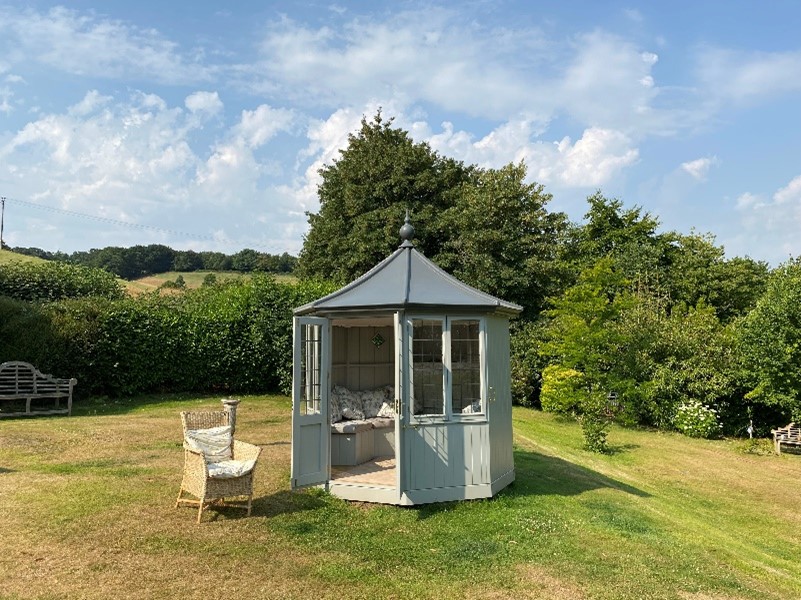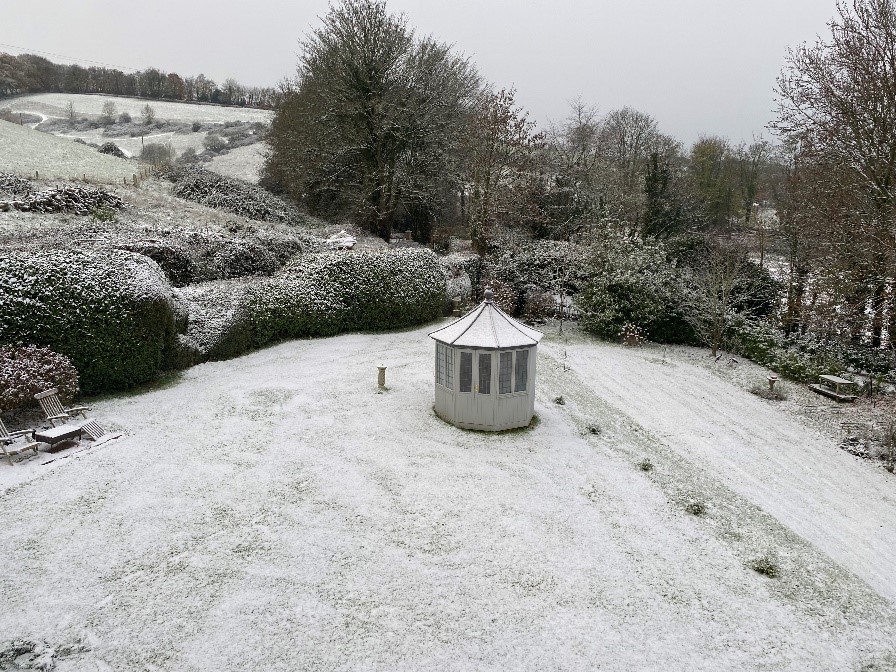 A customer from Devon has fulfilled her dream to enhance her childhood home with a Scotts summerhouse that captures every stunning angle of her historic farmhouse and the surrounding countryside.
Vicky Pugh grew up in her Georgian home that dates back to around 1800 and borders the Grand Western Canal country park in Tiverton. She remembers a former simple summerhouse from her youth and had always been keen to bring back a garden building that would complement the architecture of her family home.
Vicky said, "I use my summerhouse a lot, for sharing a cream tea with a friend, relaxing with a glass of wine, or reading a book or newspaper. We have found ourselves enjoying the summerhouse all year round even when the weather is not so good. It was lovely to sit out there when it snowed in December, and I like to hear the sound of rain on the roof too. My son says that he would like to sleep in it overnight.
"I carried out a great deal of research and investigated several companies before concluding that a Scotts summerhouse offered the best quality. I knew from the start that I wanted to be able to rotate the summerhouse so I could follow the sun and take in all the lovely views we have from our garden which include the house itself, as well as the water, and the hills beyond.
"After searching online, I was 90 per cent sure of my decision and visited a garden centre as far away as Swindon to see a Scotts summerhouse on display. It was immediately obvious that these buildings are built to last and made with great care and expertise. I ordered the 2.4m Burghley model and arranged for it to be installed in middle of the lawn. I was pleased to be able to choose some of the details myself because the appearance and aesthetic appeal of the summerhouse was very important to me."
Vicky chose the light grey Wood Ash paint finish for her garden building and opted for decorative leaded glass windows to complement the Georgian heritage of her home. She continued, "I selected a composite glass fibre roof that mimics slate and requested the copper finial which adds the final sophisticated detail on top and looks very pretty. I like to see it peeping up from different angles wherever I am in the house or garden.
"I also requested modular seating which is beautifully designed to fit perfectly within the structure of the building and can be moved around as we need it. The cushions are upholstered with a blue floral fabric, piped at the edges to create the stylish finish I was looking for. I have added a rug from India to the floor and plan to add a coir carpet in the future which is very durable and long-lasting.
"To prepare for the arrival of the summerhouse, I asked my builder to install a concrete base. Scotts provided us with all the measurements, and it was all very clear. The team that delivered the summerhouse and constructed it in the garden were highly competent and all the work was completed within the day with minimal disruption and no mess. When the summerhouse arrived to be installed, I could see that it was really solid and well made. It is so well-designed and has created a fabulous centrepiece for our garden.
"I had explained that our house is in an elevated position and the garden is quite exposed so Scotts provided us with extra fixings to the base to make absolutely sure that it wouldn't move in high winds. Ironically five days after it was installed, Devon experienced one of its worst winter storms for many years and one of our chestnut trees was felled by the wind within 30 feet of the new summerhouse. Luckily it wasn't damaged and survived the storm completely unscathed."
Vicky enjoys making the most of the rotating base which allows her to turn the summerhouse using robust handles on each side of the building. The ingenious mechanism, first popularised by the Victorians, is hidden by a timber skirt. Its nylon wheels, which require no maintenance, cannot be seen as the summerhouse gently glides around to its new position, revealing a different vista at every turn.
Vicky added, "As well somewhere pleasant to sit, our summerhouse enhances our entire property because it is so worthy of the house. We made a deliberate decision to select a very prominent position for our summerhouse in the middle of the lawn. Surrounded by herbaceous borders and mature trees, it looks just right in that position."
"We are so pleased with our summerhouse; it frames the view perfectly from the house and garden and really adds to the appeal of our home. It has created an artistic focal point that has truly transformed the appearance of the garden. As well as being robust, it also has beautiful curves and real presence. Our summerhouse sits happily within the landscape and looks like it belongs there."
Back to home
Request a brochure
Please fill out the form below and we will send you either a digital or printed copy of our latest brochures.
We'd love to see you soon!
There is nothing like seeing our stunning timber buildings in person. Get up close and personal and experience the craftsmanship and attention first hand by booking your very own exclusive VIP private viewing.
Please select your product preference below, fill out your details and a member of our sales team will be in touch very soon to schedule a date with you.
Let us call you back!
Many of our customers prefer to receive a call back at their convenience. Please select your preferred day / time and product preference below, fill out your details and a member of our sales team will be in touch very soon.
Kickstart your Stabling project
Scotts offers a bespoke service for equestrian customers and representatives are available to discuss your stabling requirements in full. Assistance can be offered with respect to planning permission and design ideas for any size stable job. If, however, you just want to get an idea of what Scotts can offer, and you can complete your requirements below, a guideline quotation will be prepared for you.
General Enquiry
Do you have some questions, or would you just prefer to speak someone in person? Please select your product preference below, fill out your details and a member of our sales team will be in touch very soon.