Whether you enjoy writing for pleasure by keeping a diary or journal to promote your mental wellbeing, or whether you are a professional writer who needs space, peace and quiet, a garden building can provide the perfect solution. Throughout the ages, writers have reaped the benefits of summerhouses garden sheds and huts as locations from which to write their most famous works.
Creating a summerhouse base for writing brings to chance to:
Disappear into an imaginary world of your own creation.
Take inspiration from the natural world and the universe.
Escape from the distractions of daily life.
Maintain an organised daily schedule.
Literary heroes
Famous writers that have used outdoor bases as a location to pen some of our favourite classics include children's author Roald Dahl who was inspired by Dylan Thomas to set up his writing desk in a small brick shed at his home in Great Missenden. Thomas himself retired to a boathouse in Wales overlooking the Taf estuary as a base from which to hone his poetic skills.
Mark Twain enjoyed an octagonal study based high on a hill from where he could look down on the surrounding valley for inspiration. Scotts' octagonal summerhouse range enables you to channel your inner Twain! Also in the United States, Henry David Thoreau created his 19th century work 'Walden' from a small hut at Walden Pond where he explored the principles of self-sufficiency and the benefits of close contact with nature.
At Shaw's Corner in Herefordshire, George Bernard Shaw lived for 44 years, eventually getting a telephone installed in his outdoor writing shed. He judiciously named his garden base 'London' so that his household could truthfully tell any unexpected visitors that he was 'in London' and unavailable to see them. Scotts can help you to replicate Shaw's writing retreat with a rotating base in a modernised version of the one installed by the esteemed author.
Virginia Woolf found solace in her potting shed where she would write all year round despite being so cold in the winter that she could hardly hold a pen. No need for that now as Scotts offers insulation and double glazing to keep you toasty and warm. With the inspiration of so many well-known and famous authors, there is little doubt that an outside base for a writing career of any kind provides the perfect venue.
Create your own outdoor writing hut
The type and design of summerhouse you choose for your writing base will depend on how much time you plan to spend there and whether it is destined to become a home office or somewhere for you to relax and unwind as part of a hobby. If you're creating a professional environment in your garden building you may need a larger footprint or additional space for the storage of documents and equipment. You may need a larger desk if you are using a desktop computer rather than a laptop. Below we explore some of the essential ingredients of an ideal garden building writing base.
'Let there be light'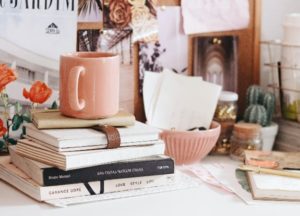 It's important that your garden building has plenty of light so that you are able to see clearly whether you are writing a diary by hand or by tapping out a novel on your keyboard. Good light helps to avoids eyestrain and will be more comfortable enabling you to be more productive. For the perfect sun room choose a position for your garden building that makes the most of natural daylight depending on how the sun tracks across your outside space. Alternatively you can opt for a revolving summer house, that you can move to track the sunshine whatever the time of year.
Scotts' summerhouses all have windows and doors that let the light flood in, and you can choose from plain glass or a decorative leaded style depending on your specific aesthetic style and property type. Think about whether you require additional lighting inside and make sure that you engage the services of a professional electrician to install electric power at the same time as your summerhouse is installed. You may wish to embed spotlights within the roof underlining, and this will need to take place at the time of construction to avoid the hassle of a retrofit.
Powering ideas
Alternatively, wire in plug sockets that enable the addition of bright floor standing or table lamps that you can direct onto your work. Scotts offer a solar power alternative for lighting, but this is probably more appropriate for those who are writing occasionally in their summerhouse. We recommend the installation of electricity for anyone using their garden building as a home office or a dedicated professional writing space.
With electricity installed you will be able to keep warm and use your garden building as a writing den throughout the year. This will enable you to plug in electric heaters and also to take a kettle along with you to keep a warming brew on hand at all times. You might wish to add a heated seat pad to your office chair if you were going to be spending a lot of time in your summerhouse during the winter. To create a truly luxurious writing space that becomes a home from home, take Scotts option of installing double glazing and insulation and you will benefit from a truly cosy space.
Sitting comfortably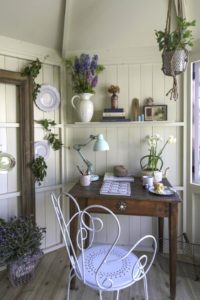 You may not need a great deal of furniture but will almost certainly want to choose a writing desk to go into your garden building. Choose from an antique desk or bureau to create a period ambience or select a sleek, simple modern desk with shelves or draws for useful storage.
To make the most of space, choose a desk that can be rolled away on wheels or is foldable to an inside wall of your garden building so you can pack it away when you have finished.
In order to be completely comfortable and produce your best writing it's wise to select your chair very carefully. You might opt for a leather recliner or a wheeled office chair but check the measurements to ensure that it fits under your desk before you make a purchase. We recommend sitting in the chair before you buy it and understanding its ergonomic properties to ensure that you are going to be comfortable especially if you are writing in a professional capacity.
Scotts offers useful modular seating that doubles as storage as well as providing a comfortable upholstered seat away from your desk for those essential breaks. The seating is available with padded seat and loose backrest cushions in a range of luxurious fabrics.
Final chapter
Security is important if you are setting up a writing base and plan to leave equipment inside overnight. Scotts' summerhouses are equipped with lockable doors and windows for extra peace of mind.
Finish off your writer's retreat with some accessories for book lovers such as pens, notebooks, mugs, and prints. For your Christmas list, we like these pen nib cufflinks, pencil sharpener desk tidy and blue plaque-inspired cushion. With so many gifts designed specifically for writers, you might prefer fingerless gloves, a desk chair cushion or neck reading light?
Drop us a line
We hope that your creative juices are flowing as you dream about creating your very own writer's retreat in your garden. Our team can advise on the best position, the right size, and all the optional extras you might enjoy that will deliver the perfect setting for your literary outpourings.
Start by completing our contact form and we will be in touch.