Summerhouse Optional Extras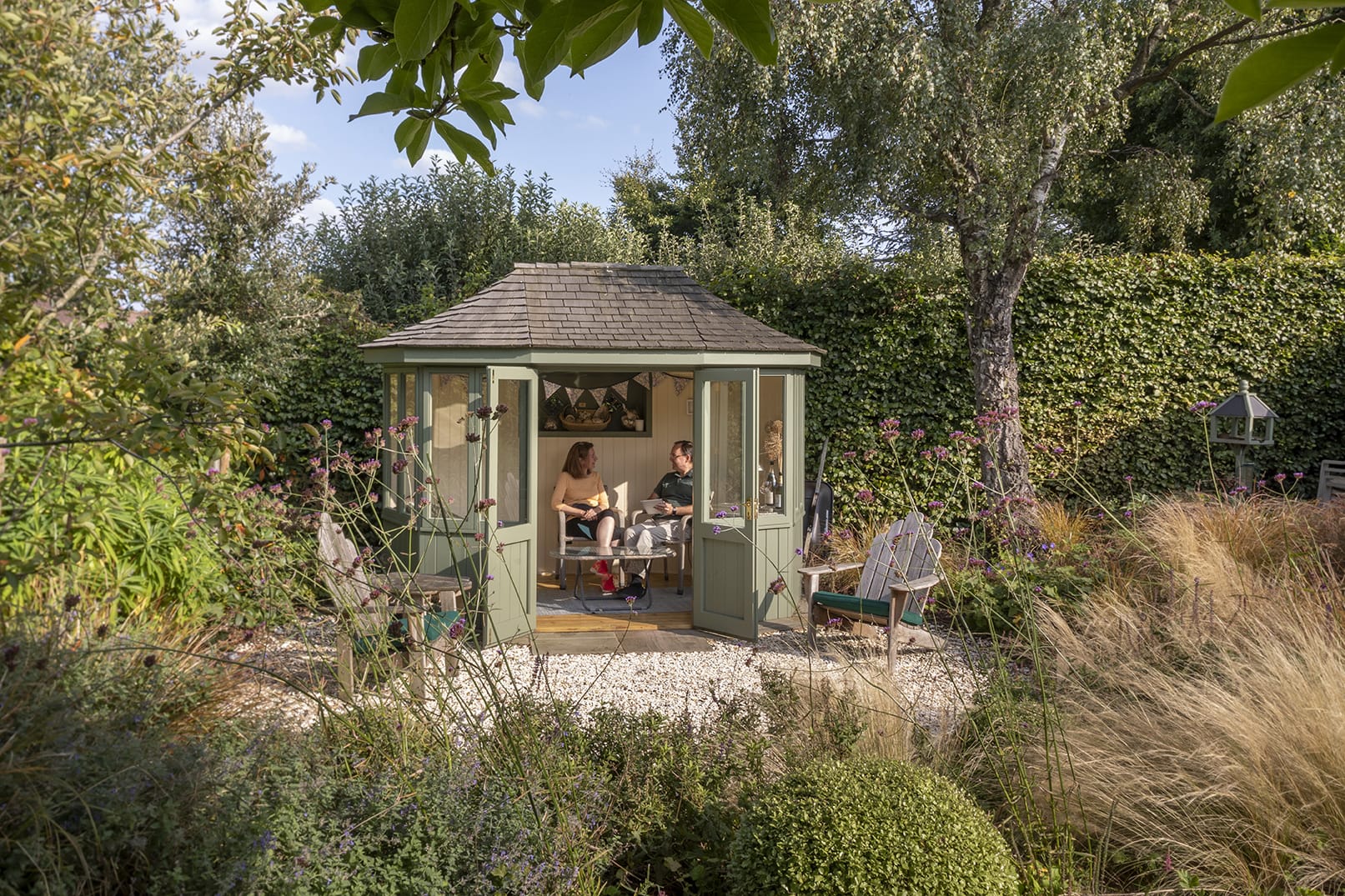 Manufacturing timber buildings since 1920
Beautiful design and craftsmanship
Engrained with passion and quality
Nationwide delivery and installation
Finance packages available
UK Wide Installation
Finance available
At Scotts of Thrapston, our modern summerhouse range can be enhanced further with a variety of our optional extras and accessories that not only allow for personalisation to suit your needs but will transform your summerhouse into a unique and worthwhile investment.
No other summerhouse manufacturer provides such attention to detail and creativity to help you get the best out of your garden building. Here is our selection of innovative extras to do just that.
Please note: these additional extras are dependent on each Summerhouse model.
Ground Screw Base

An eco-friendly and cost-effective alternative solution for your summerhouse base, the Ground Screw Base is an excellent way to provide a safe and level foundation for a fraction of the install time compared to its alternative. Plus, it is immediately loadable, so you can have your dream summerhouse installed on the same day.

Rotating Base

The rotating base accessory is an ingenious mechanism popularised by the Victorians and much favoured by Irish playwright George Bernard Shaw. It creates a rotating summerhouse that allows you to face the sun or change the view of your garden. The rotating base is easily fitted to the Balmoral, Baltimore or 2.4m Burghley octagonal buildings and, when installed, is hidden by timber skirting to match your chosen colour finish. For true flexibility and practicality, add a rotating summerhouse to your garden today.

Upholstery

The best summerhouses are more than a few walls and a roof. All of the Scotts Summerhouses range can be supplied with seating and a sumptuous upholstery set consisting of a padded seat and loose backrest cushions with a tented roof lining. View our fabric styles and seating web page for more details.

Prices vary based on the Summerhouse model chosen.

Padded Lounger Insert

For a quick and easy bed conversion within your Balmoral, Baltimore or 2.4m Burghley, Scotts has the ideal solution. Where seating and upholstery are chosen, a slatted timber insert with matching fabric cushions allows for an instant bed conversion. The lounger insert can be ordered with a new building or can be purchased separately at a later date if required.

Shelf Feature

Scotts' exclusively designed storage feature, with diamond leaded windows, within the back panel(s) allows for more storage space. These imaginative shelf features not only look attractive from the exterior of the building but internally, they allow for drinks, glasses and books to be within easy reach. The shelf feature can be incorporated into any of our models, adding an attractive yet functional finishing touch that will ensure you have the very best summerhouse.

Tongue and Groove Effect Internal Lining

All summerhouses (excluding the Balmoral) can be internally lined, to eaves height, with a tongue and groove effect lining, in Off White paint colour only. This lining adds the perfect finishing touch to any building. If desired, insulation can also be supplied at an additional cost.

With the lining option, the diamond leaded windows in the rear panels of the Baltimore and Burghley Summerhouses will not be available. Although, if you choose the shelf feature for your summerhouse, this comes complete with diamond leaded windows so you can achieve a similar effect.

Prices vary based on the Summerhouse model chosen.

Floor Covering

Scotts offers a durable flooring option within its range of summerhouses which provides a practical and tasteful floor covering.

This unique woven vinyl flooring gives you the natural feel and texture of sisal and seagrass, whilst pleasant and warm underfoot. And, as this floor covering is waterproof and easy to clean, it offers a perfect solution for any summerhouse. Only available on a select number of Summerhouse models.

Decorative Leaded Glass

A Georgian effect, decorative leaded glass can be specified within a Scotts Summerhouse, excluding the Balmoral, instead of the standard plain glass. This traditional style of leaded glass can be chosen to blend in with period properties or just as a decorative finishing touch.

Prices vary based on the Summerhouse model chosen.

Underlining to Roof

All Scotts Summerhouses, supplied with a cedar shingle roof, can be underlined as an alternative to the plain cream fabric lining.

The underlining, supplied in an Off White paint finish, is manufactured from 9mm exterior grade MDF which is moisture resistant.

Double Glazing and Insulation

Scotts offers double glazing and insulation for all Summerhouse models (excluding the Balmoral summerhouse).

The double glazing is supplied with clear, low-E energy-saving glass. When insulation is specified, the summerhouse will be lined with the tongue and groove effect lining.

Solar Lighting

Add light to your summerhouse without the hassle and expense of supplying mains electrics to the bottom of the garden.

Scotts offers a solar lighting package for your garden summerhouse, incorporating a high-efficiency solar panel, lithium battery hub, table lamp and floor lamp both with warm tone bulbs. It is the ideal solution for providing electrical power for lighting and is easy to install, requiring no special tools.
You can now download a digital copy of our brochure. By requesting a digital copy below, you will receive a link to download our brochures.
Request a brochure
Please fill out the form below and we will send you either a digital or printed copy of our latest brochures.
We'd love to see you soon!
There is nothing like seeing our stunning timber buildings in person. Get up close and personal and experience the craftsmanship and attention first hand by booking your very own exclusive VIP private viewing.
Please select your product preference below, fill out your details and a member of our sales team will be in touch very soon to schedule a date with you.
Let us call you back!
Many of our customers prefer to receive a call back at their convenience. Please select your preferred day / time and product preference below, fill out your details and a member of our sales team will be in touch very soon.
Kickstart your Stabling project
Scotts offers a bespoke service for equestrian customers and representatives are available to discuss your stabling requirements in full. Assistance can be offered with respect to planning permission and design ideas for any size stable job. If, however, you just want to get an idea of what Scotts can offer, and you can complete your requirements below, a guideline quotation will be prepared for you.
General Enquiry
Do you have some questions, or would you just prefer to speak someone in person? Please select your product preference below, fill out your details and a member of our sales team will be in touch very soon.