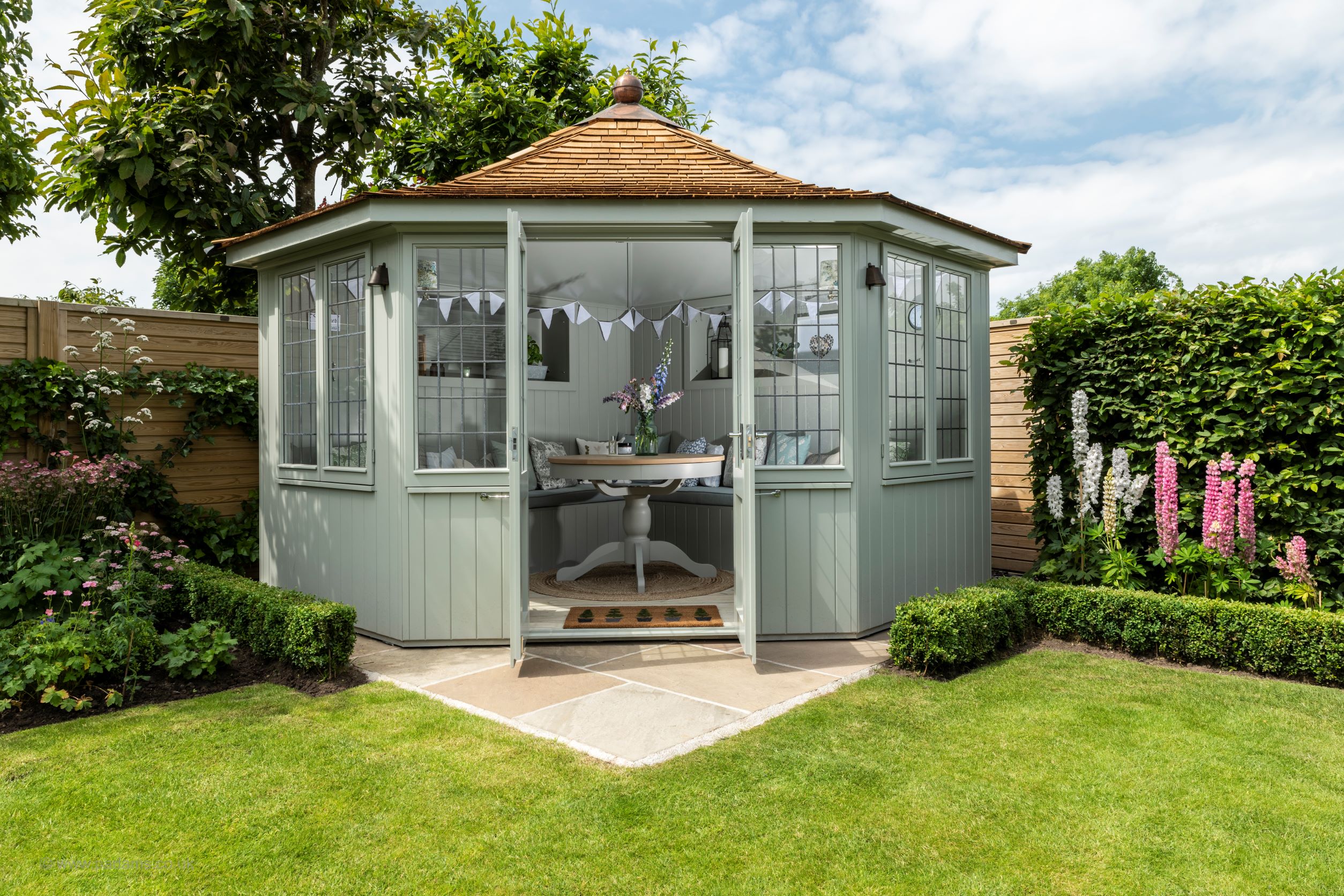 Manufacturing timber buildings since 1920
Beautiful design and craftsmanship
Engrained with passion and quality
Nationwide delivery and installation
Finance packages available
UK Wide Installation
Finance available
Refer a Friend and Get Rewards
At Scotts of Thrapston, we deeply value our customer base who have decided to choose us for their luxury summerhouse. Which is why every owner of a Scotts summerhouse can claim rewards for themselves and their friends or family, as part of our rewards scheme.
Our Summerhouse owner rewards can be obtained either through participating in our family and friends referral scheme, or the owners showcase scheme, which we will explain further on this page.
You can even earn rewards from the comfort of your own garden by safely showcasing your Scotts summerhouse for members of the public to see. That way, they can see what our customers do with their summerhouses as a source of inspiration.
Family & Friends Referral
If you have bought a Scotts summerhouse in the past and have enjoyed the many benefits of having a garden retreat, why not recommend Scotts buildings to friends and family and benefit from our refer-a-friend rewards.
If your recommendation is successful and results in the sale of a Scotts summerhouse, you will receive £500, and your referred friend or family member will receive a £250 discount from their Scotts quotation.
You can refer as many people as you like, and for each one that goes on to purchase a Scotts of Thrapston summerhouse, you will receive the referral reward. Terms and Conditions apply, as detailed below.
Owners Showcase Sites
Alternatively, if you have pride in your summerhouse and would like to show it to others for a reward, you can opt to showcase your Scotts Summerhouse to other potential customers by allowing them to visit your garden. All home visits will be arranged and agreed upon in advance and will not occur without your permission.
In return for your generosity, you will receive a National Garden Centre voucher worth £25.00 per visit, and a further payment of £500 if a visit results in a summerhouse order being placed. Please see the Terms & Conditions below for further information.
Terms and Conditions
Family & Friends Referral
To qualify you will need to notify Scotts of Thrapston directly to inform us of who you are introducing before your friend/family places an order for a Scotts Summerhouse.  The £250 discount will then be applied to your referral's quotation.  Once their summerhouse purchase is complete, you will receive £500 via bank transfer.
Refer a friend is only available to UK customers.
You can make as many referrals as you like.
The payment will only be transferred once the referral's payment for their summerhouse is complete.
The reward can only be claimed if you contact us with the referral's details before they request a quotation.
Please note that no alternative rewards can be offered for referring friends or family members to Scotts of Thrapston.
Owners Showcasing
Scotts of Thrapston will arrange directly with the visiting customer.  No personal contact details will be passed on without prior permission.
This reward can not be used in conjunction with any other Scotts offer, such as the Friends & Family Referral scheme.
Please be aware that by allowing "members of the public" onto your property for the purpose of remuneration, it may affect your public liability insurance cover. Please ensure all insurance cover is in place to accommodate these endeavours.
Customer showcase rewards are only available to UK customers.
The reward can be claimed on each showcase visit.
If you have any questions about our referral scheme or would like to become a showcase garden, please contact Kathryn Morris on 01832 732366 or email kathrynm@scottsofthrapston.co.uk
Request a brochure
Please fill out the form below and we will send you either a digital or printed copy of our latest brochures.
We'd love to see you soon!
There is nothing like seeing our stunning timber buildings in person. Get up close and personal and experience the craftsmanship and attention first hand by booking your very own exclusive VIP private viewing.
Please select your product preference below, fill out your details and a member of our sales team will be in touch very soon to schedule a date with you.
Let us call you back!
Many of our customers prefer to receive a call back at their convenience. Please select your preferred day / time and product preference below, fill out your details and a member of our sales team will be in touch very soon.
Kickstart your Stabling project
Scotts offers a bespoke service for equestrian customers and representatives are available to discuss your stabling requirements in full. Assistance can be offered with respect to planning permission and design ideas for any size stable job. If, however, you just want to get an idea of what Scotts can offer, and you can complete your requirements below, a guideline quotation will be prepared for you.
General Enquiry
Do you have some questions, or would you just prefer to speak someone in person? Please select your product preference below, fill out your details and a member of our sales team will be in touch very soon.