Whether you have recently moved into a new property without stables, have acquired some land, or simply need to reinvent an existing outmoded stabling arrangement, you will be looking for the reassurance of a premium quality service.
As a manufacturer of timber buildings for over 100 years, Scotts has extensive experience in designing and building stables for private clients, as well as professional and commercial stable yards. We understand that designing a stable yard is a significant project and a large investment that requires careful planning and forensic attention to detail. You will be aiming to balance animal safety and welfare with functionality, accessibility, and aesthetics. In our guide to stable design, we look at the most important considerations to bear in mind when you start your project.
Thorough research
Before you start, carry out your research with care. Look at contractors and manufacturers' websites and review their case studies and testimonials. Suppliers should be willing to put you in touch with their clients so that you can discuss their experiences directly. If you can visit existing stable yards constructed by your chosen supplier, you will gain a valuable insight into the process. Visit stable yards that have been up and running for several years to see how the materials withstand the test of time.
Securing planning permission
It is usually safe to assume that you will need planning permission to construct and install a stable on your property, so be prepared and allow at least two months within your schedule to achieve this. Choose a supplier that will assist you with process. Scotts offers a multi-tiered package for planning assistance from the production of drawings, plans and elevations to the preparation of design and access statements, liaison with planning authorities and specialist advice and support for construction projects located in Areas of Outstanding Natural Beauty (AONB) or conservation areas.
Choose the perfect spot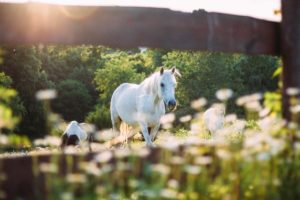 Select a suitable location for your stable yard within an easy distance of your home to enable easy access for feeding, watering, and veterinary care. Ensure that adequate drainage is in place to prevent flooding or water accumulation on hard surfaces.
Plenty of space
Plan your stable yard to accommodate the number of animals you wish to house allowing for any future growth or expansion. Animal welfare should be a primary consideration so make sure that each horse has sufficient space to turn around and lie down comfortably. British Horse Society guidelines suggested a minimum of 12ft x 12ft for a horse with at least two feet of headroom above the horse's ears. Allow sufficient within your plans to access each horse for care purposes and when leading animals past each other.
Delivering welfare
Other aspects of horse welfare to consider include:
Ventilation: access to fresh air decreases the risk of respiratory problems in horses so make sure that your design features include louvred windows, internal grilles, and a ventilated top ridge to promote the free flow of air through the stable.
Social interaction: horses are social creatures and like to feel part of a herd so ensure that your stable yard enables them to see each other and interact if possible.
Flooring: make sure that flooring is non-slip and even, and slopes backwards or incorporates drainage.
Safety: prioritise safety features such as rounded corners smooth surfaces and secure stall latches to prevent any injuries to animals. Ensure that construction materials are fire-resistant.
Firm foundations  
Laying solid foundations is essential to the longevity of your stable yard and you might find the whole process easier if you choose a manufacturer that can offer a complete package. Scotts works with specialist contractors Soho & Finch who are part of the Scotts Group and have expertise in groundworks and arena construction.
Stable yard shape and design
Stable yards can be designed in all shapes and sizes, from a classic U-shaped yard to a straight line or E-shaped configuration enabling you to build in additional accommodation or storage. You might prefer an L-shaped yard that fits neatly into a corner. Alternatively, Scotts offer their popular American barn with internal partitions creating efficient working space under one roof. Over the years, we have worked on a wide range of commissions and can design stables to any configuration according to your vision. We recommend including open areas as part of the blueprint for use as a wash-down or grooming area, or a space for the farrier to work.
Think about how deliveries of hay or feedstuffs will work and incorporate suitable access for vehicles at the rear to avoid disturbing the horses.  Regular deliveries of fodder eliminate the need for a disproportionately large hay store that may impinge on the aesthetics of your stable yard project.
Your choice of windows and doors
Pay special attention to the positioning of doors and windows to allow maximum light gain and proper ventilation. Stable doors can be manufactured in any size and wider doors can accommodate foaling boxes. Rear top doors can be glazed to provide a horse with an alternative view when open or closed. All door furniture should be manufactured to the highest quality standards. Heavy duty galvanised fittings will withstand the wear and tear of a busy working yard and adjustable hinges will accommodate small amounts of movement over time.
Roof materials and style
Planning for your stable yard should include a careful consideration of the required roof materials and design. There are a number of different materials that are suitable for stable roofs including traditional clay or slate tiles, felt tiles, composite slate, steel roofing tiles or profile metal sheeting.
A wide roof overhang will improve working conditions in winter and provide shelter from the sun for horses during the summer. A 1.2m overhang is supplied as standard on all Scotts stables, but this can be extended further for additional protection from the elements. Adjusting the pitch of the roof will create increased headroom and better ventilation to improve welfare for larger horses.
Additional accommodation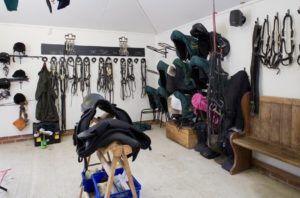 When your lifestyle includes horses, you will inevitably spend a great deal of time in your stable yard. Make life easier by incorporating a home office or gym alongside any hay stores or garages. This will enable you to make a smooth transition between work (or your work out) and into riding or horse care. Add a luxury tack room with a flat ceiling for ideal storage conditions for all your essential equipment.
Architecture and aesthetics    
The style and design of your stable yard should complement your property and meld seamlessly with its environment. Roof lines can be designed to follow existing buildings for greater harmony. Stable yards can be designed to blend in with existing buildings which may be a requirement of the planning authority.
Consider the aesthetics of your choice of cladding and stain, or paint colour for the stable doors. Scotts has its own colour palette range or can source a colour especially for you. Incorporate architectural features such as a classic clocktower or weathervane, rustic oak posts or hipped roofs, and walk throughs or arches to add drama and create a focal point.
Accessories and amenities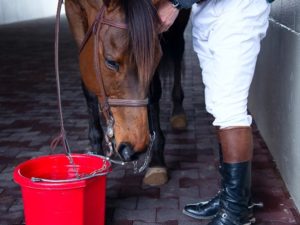 We recommend planning the addition of those small touches that can enhance your horse's enjoyment of their stable, and simultaneously make life easier for you. Scotts can supply all your accessory needs so discuss the finer details with our design team at the start of your project.
Quality materials
Your stable yard should last for generations and provide a high-quality environment for all your equine needs. Be sure to engage a supplier that makes use of premium materials that will serve you well with minimal maintenance.
Service you can trust
You should expect a seamless delivery and installation process so check that the final-mile construction process will be handled by an experienced, professional team with a track record of excellent workmanship. Ask for testimonials or references in advance.
Next steps
Meticulous planning of your stable project takes time so contact our specialist equestrian design team as early as possible in the process so we can get your project underway.
Contact our team online to book a call or design consultation or request a brochure and we will be in touch.