We appreciate that adding a summerhouse to your garden represents a significant commitment. Its core purpose is to add something extra to your home, to extend your usable space, and provide a place to relax in the garden. Summerhouses are available in all shapes and sizes, and can be fairly basic, made from softwood timber following the pattern of a garden shed. This type of building is perfect if you are looking for somewhere to store your lawnmower or take a quick break from the weeding. However, if you answer 'Yes' the questions below, you might be inclined to invest in a summerhouse that delivers a truly sumptuous space.
Are you looking for:
…a beautifully crafted summerhouse that has been built to last?
…a stunning feature for your garden?
…a garden building that complements the style of your home?
…somewhere you can enjoy all year round even when it's cold outside?
…a place to call your own where you can work from home or indulge in your favourite hobby?
If you're considering to making an investment in your garden building, read on to discover the benefits you will gain from selecting a truly premium summerhouse.
Building type
There's no need to opt for a standard shed shape when you choose a premium summerhouse. There are multiple designs available in a wide range of sizes so you're sure to identify the ideal model for your property.
Shape up: your choice of footprint
Octagonal: the eight-sided models within the Scotts' range offer a perfect combination of privacy and natural light with windows and doors that enable you to view your garden from different perspectives. Scotts offer three distinct octagonal models in a range of sizes.
Corner: made for the underused space or smaller garden, a corner summerhouse fits neatly into a confined location while remaining spacious and airy. Scotts' range includes two different sizes of corner summerhouse so you can choose the best fit for your outdoor space.
Lozenge: a wider footprint can be more flexible to enable you to exercise in your summerhouse and allows for any equipment you might need. A garden room like this also provides plenty of space for socialising with family and friends.
Material point
Perhaps one of the most critical decisions when choosing a summerhouse is your choice of materials. A summerhouse that is constructed from premium materials will deliver a long-lasting and low maintenance garden building.
Scotts' summerhouses are all built from Red Grandis, a sustainably sourced hardwood. Derived from slower-growing trees with a more complex structure, hardwood timber is renowned for being hard-wearing and offers strong proof against the elements. The tongue and groove floorboards of Scotts summerhouses are made from high quality PEFC® certified European Redwood which is pressure treated to deter insects and fungus.
Firm foundations
Can't decide on your favourite garden view? For a real touch of opulence, why not add a rotating base to your summerhouse? Made with maintenance-free nylon wheels hidden beneath the floor and discreetly covered by a timber skirt, a rotating base is easy to manoeuvre with minimal effort and enables your summerhouse to float around in the direction of the sun.
If you would prefer the convenience of being able to move your summerhouse in the future (to a different position or even to a new property), why not invest in a ground screw base? Every garden building needs a firm base, and this could provide the perfect alternative if you want to avoid laying a concrete base.
An eco-friendly option, a ground screw base is a quick and easy alternative that uses strong steel piles similar to giant woodscrews that are twisted into the earth. This type of base is perfect for sloping plots too and can be fixed at ground level or elevated in areas where there is a risk of flooding.
Crowning glory
The roof you choose for your premium summerhouse is one of the most important elements of the structure, and the component that will work hardest to protect your garden building over the years. Standard summerhouse roofing is typically made from felt, but this can be subject to rips and tears. For complete peace of mind, choose a premium material such as a smart composite glass fibre roof or a more natural alternative made from cedar shingles. Scotts provide both options on its summerhouse models and they deliver a maintenance free life for 20 – 30 years. Glass fibre options realistically simulate lead or slate tiles and protect against UV rays, while cedar shingles create a natural effect that complements your garden planting.
Sprint to the finish
Perhaps the most impactful aspect of your premium summerhouse is the colour. Natural timber can be enhanced with a long-lasting colour finish and Scotts' summerhouses are all supplied with a spray finish microporous topcoat that delivers five to seven years of maintenance free life.
Our garden buildings are available in a glorious range of colours:
Clean and contemporary: choose from neutral tones such as Duck Egg, Wood Ash, and Birch for a modern vibe.
Bold and striking: make a statement by choosing a darker, deeper paint colour such as Aubergine or Aegean Blue.
Muted and mellow: our Slate, Sage or Putty paint options enable your summerhouse to blend into its natural surroundings.
Insider information
For a truly premium feel, the interior of your summerhouse should live up to the high-quality construction and materials of its exterior shell. When you choose a summerhouse, check how it will be lined. When you select a Scotts summerhouse with a cedar shingle roof, the underside will be supplied with a moisture resistant MDF lining painted in Off White.
You can also choose to line the walls of your Scotts' summerhouse with a tongue and groove effect lining also painted in Off White that brings a bright and luminous aesthetic to the interior of your garden building. In addition, Scotts summerhouses are equipped with a plain cream fabric roof lining that can be unhooked from time to time for cleaning.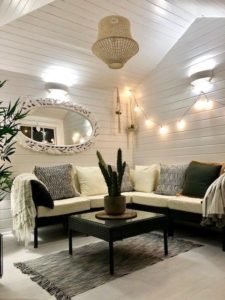 Cosying up
The possibility of being able to enjoy your summerhouse all year round is a genuine mark of its quality and to achieve that, you must be able to keep warm in the cooler months. Choose a summerhouse model with double glazing and insulation and you won't hesitate to make a visit in winter. Scotts offers double-glazing for the majority of its models, made from clear, low E energy saving glass. Insulation is packed behind attractive tongue and groove effect lining to retain the heat for longer.
If you are striving for the ultimate summerhouse, you could even consider installing a wood burning stove and plan cosy hours away from it all with a book or host a jolly Christmas gathering where the mulled wine flows.
Power boost
Lighting and power enable you to really enjoy all the potential of your summerhouse in the evenings and in every season. Think about extending mains electricity from your house and you could run a TV or microwave, power a PC and games station, or operate an electric heater, fan or lights to create the ideal ambience.
If you would rather avoid the hassle of construction work, choose eco-friendly solar power. Scotts offer a solar lighting package that includes a solar panel, and a solarhub that can power a table and floor lamp with a vintage LED bulb. Delivering 12v of power, the solarhub will enable you to power a laptop or charge your smart devices.
Sitting comfortably
The right type of furniture brings the ultimate indulgence to your summerhouse. Whether you decide to relocate some period pieces from the house, or search the antique shops and flea markets, you're sure to enhance your outdoor space with the perfectly placed objet d'art. Opt for useful and flexible modular seats that do double duty as storage boxes such as those provided by Scotts as an optional extra. Scotts provide several colourful fabric choices for loose backrest and scatter cushions including a premium range featuring William Morris and Sanderson colourways complemented by one of three seating tones.
If your dream is to simply lie back and relax, you might enjoy a padded lounger insert that enables you to instantly convert your modular seating into a bed. Choose upholstery to match your seating and cushions so it fits seamlessly into the overall design.
Style it out
With a premium built and well-equipped summerhouse in situ, all that remains is to unleash your imagination and fully enjoy the accessorizing process. Here are our picks for some premium items to set off your summerhouse interior perfectly.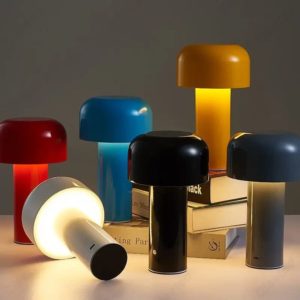 Light up your life
No need to install electricity, simple recharge these table lamps occasionally and carry them down the garden path to light up your summerhouse at dusk.
Coloured glass
Complement your design scheme with coloured glass ornaments or drinkware and throw open the doors for a summer picnic.
Kick off your shoes!
Whatever type of flooring you choose for your garden building, adding a rug made from rich wool or cosy sheepskin will guarantee your comfort even on the chilliest of autumn days.
Smart move
With so many sleek alternatives, we are sure that you will be able to find the perfect smart speaker to help bring your music, podcast, or radio station to your summerhouse.
Scent of heaven
You may be able to rely on the scent of lilies, lilac, and jasmine during the summer, but your summerhouse may benefit from a boost of soothing fragrance in winter. Use a room diffuser and add vanilla or lavender to calm your mood.
The final mile
The decision you might most appreciate is to have your summerhouse installed and built by experts, providing you with the peace of mind that it has been individually crafted according to your specifications and built with care to last for many years.
Although our range offers many tempting and premium designs, the sky is the limit because Scotts also offer a bespoke service and can create the garden building of your dreams no matter what your imagination conjures up.
Talk to our expert team about your ideas for a top-notch summerhouse and we will be delighted to help deliver your vision.