Versatile, luxurious, and relaxing. These are the three most common ways to describe a timber summer house. As you explore the summer house scene in your search for the perfect garden retreat, you may have observed that some come complete with handles. Have you ever wondered what the handles are for? In the Scotts range, you will see a handle if the garden building has been fitted with a revolving base, giving you the ability to change its position using an ingenious hidden mechanism that puts your summer house on wheels. A rotating summer house gives you the opportunity to capture the stunning warmer days, no matter where your timber summer house sits in your garden.
Eccentric garden rooms
Initially popularised by the Victorians and advocated for by the eccentric, upper-class and artistic of the 20th century, the rotating summer house allows you to face the sun or change the view of your garden throughout the day. The adaptable garden building provides you with an escape from the outside world and gives you the opportunity to own your very own little corner of heaven.
If like the rest of the UK, working from home has become a part of your daily routine, then it could be time to upgrade your kitchen table-turned-office to a timber summer house. Unlike spending a small fortune on building an extension on your house, summer houses won't typically require planning permission and have a much shorter build time.
A revolving perspective on your garden
A great alternative to a fixed summer house, a garden building with a rotating base makes your decision easier if you can't decide which way it should face. Do you choose the view of your garden in bloom? Or the vista that's over the wall and across the hillside? Do you want to catch the sun's ray's in the winter or bask in their summer warmth?
In fact, it is possible to choose a summer house with a rotating base that enables you to alter its orientation as the light and the weather changes, enabling you to take in all of the varying views from your outdoor space.
Safe and secure for your enjoyment
Before our team arrives to deliver your summer house, you will need to ensure that a level stable base has been installed. This could be made from concrete, wooden decking, or paving slabs. We simply fit the rotating base to whichever foundation you provide. If your garden building is positioned in an exposed location and subject to high winds, we recommend the addition of straps to firmly tie the building down. And if your garden is on a slope as we can supply a ground screw base which can be adjusted for different heights enabling you to accommodate a plot on different levels.
Make the most of your summer house all year round through the installation of double-glazing, insulation in the lining of the roof and walls, and electric power so you can plug in a heat source. Do your bit for the climate emergency by opting for a solarhub which will keep the lights on when it's dark by harnessing the power of the sun through discreet solar panels.
Using the finest materials throughout the construction process and drawing inspiration from innovative summer house design trends, Scotts' garden buildings offer various versatile lifestyle options. All Scotts' summerhouses are made from a premium sustainable hardwood, Red Grandis which delivers the ultimate in longevity. Don't worry about accessing your rotating base for maintenance. The timber skirt is removable for inspection, and the nylon wheels and durable design mean that maintenance is minimal.
The perfect dimensions
Scotts recommends adding a revolving base to its small octagonal summer houses because they are easiest to turn using the handles. All the models in this range incorporate windows and doors on three sides providing a wide-ranging vista whichever position you choose.
The most common of these small, rotating garden rooms is the eye-catching Balmoral Summer house. For those with a taste for luxury, our Burghley Summer house offers a larger, open space to entertain or relax as well as the option of a rotating base.
For those who are ready to upgrade their land or back garden and build an adaptable space to work, relax, or create, a rotating summer house is just the model for you. Presenting an effortless collaboration between nature and home comforts, a rotating summer house can be designed for year-round use and makes the perfect revolving addition to your garden.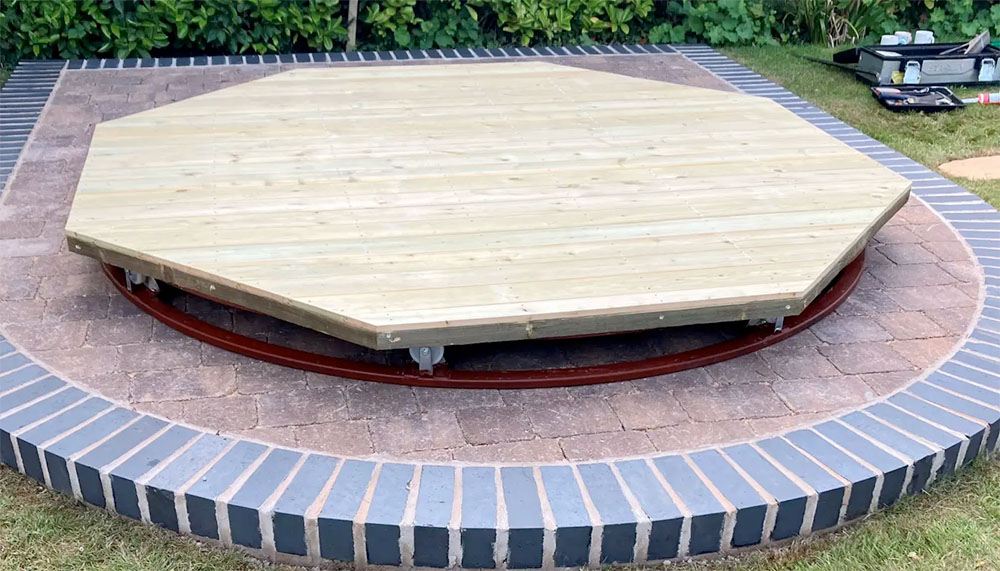 Scotts Rotating Summer Houses
Combining innovation with over 100 years of timber experience, Scotts will transform your garden space and with a rotating summer house. Our rotating summer house bases can be easily fitted to the Balmoral, Baltimore or 2.4m Burghley octagonal buildings and, when installed, are hidden by timber skirting to match your chosen colour finish. Read on for a deeper dive into each luxury summer house.
The Balmoral Summer house
Classically styled and perfect for gardens where space is a luxury, the Balmoral Summer house is one of the top models featured with a rotating base. This luxury timber summer house model provides shelter for all-year-round use and is perfectly designed to make the most out of the summer rays with its rotating base option.
As standard, the Balmoral Summer house comes with a sleek slate-effect glass fibre roof which can also be upgraded to a more natural-looking cedar shingle roof. The timber garden building also incorporates Scotts' unique door and window shutter system, adding extra security and privacy to your space. The door and windows are easily removable so you can relax sheltered in the summer breeze and can be reattached once it gets cooler.
The innovative rotating base is impressively hidden by timber skirting upon installation to keep up the classical appearance of the summer house. The classic Balmoral summer house model is offered in an industrial quality paint finish of your choice and a range of freestanding seating designs can be added for extra comfort and practicality.
The Baltimore Summer house
Small yet impactful, the Baltimore Summer house is one of Scotts' most distinctive octagonal summer houses. This small octagonal summer house is the ideal luxury garden building to complement any outdoor setting and is one of the more contemporary designs of the rotating base models.
Manufactured from sustainably sourced Red Grandis, the Baltimore Summer house is built to last and features solid lockable doors and casement-style windows that offer the ultimate garden hideaway. The Baltimore model also features three attractive diamond leaded windows on the rear panels which not only let in the warm summer daylight but also add a stylish addition to your timber garden building.
With the open, octagonal structure and the option rotating base, the Baltimore allows you to enjoy the sun and take in the natural beauty of your garden no matter where it is placed.
The Burghley Summer house
Say goodbye to the boring outhouse or shabby common shed with the stylish Burghley Summer house. As the largest rotating base model in the Scotts range, the elegant summer house is manufactured from Red Grandis and is available in the 2.4m model size.
This large, rotating summer house boasts a pair of secure lockable doors and casement-style windows, with laminated glass and brass or chrome ironmongery which allow for extra security and privacy. As this model is supplied with an industrial quality paint finish and optional freestanding seating, this large garden building can quickly become your own slice of personal heaven.
Contact us for more information on our rotating or revolving summer houses or click here to see the range.