As the nights start to draw in, it's time to turn our attention to the pleasures of autumn as the Earth's 23-degree tilt gently removes us from the sun in the Northern Hemisphere. A favourite season for many, the season of mists and mellow fruitlessness can be gentler than the summer's feisty power and there are still plenty of opportunities to get out and about and enjoy the spectacle of nature's transformation.
Despite being classed at meteorological summer, it is already possible to detect autumnal changes in August, and the traditional pre-Christian festival of Lammas on the first of the month heralds the start of the cereal harvest. Lammas (originally Loaf Mass) commemorates the first bread made from the new crop and was eventually offered up in church services to give thanks for the harvest.
Although autumn marks the conclusion of the growing season, there are plenty of opportunities to continue enjoying our gardens. In our blog, we look at how to enjoy your summerhouse to the max during the season of autumn and we hope you will enjoy our ideas for some activities that will keep you out in the fresh air for as long as possible.
A summerhouse is the perfect addition to your home for all seasons and Scotts' customers have told us that they are able to enjoy their gardens for longer with the addition of a cosy and protective structure that acts as an extension of their home.
Summerhouse activities for autumn
Star gazing: the Draconids meteor shower is visible in the UK in the first week of October and with the moon in the right phase, you will enjoy a spectacular display against a dark sky. Just a little later in the month, more frenetic comet activity brings the Orionids into view. Keep warm inside your cosy summerhouse until the sky clears and pop out with your binoculars to enjoy an unforgettable free spectacle.
Wildlife watching: a garden building can be a fantastic location for spotting those elusive nocturnal creatures on a balmy autumn night. You're more likely to see these superfast echo-locators on the wing if your garden is well stocked and slightly overgrown (a great excuse to leave mowing the lawn for another week!).
Reading retreat: with the incessant claims of digital technology on our attention indoors, why not make a break for it and relax in your summerhouse with a book? Thriller, romance, or mystery, you will be completely absorbed in your chosen tale and protected from any interruption. Autumn brings National Poetry Day on 7 October and a summerhouse venue is ideal for book club readings.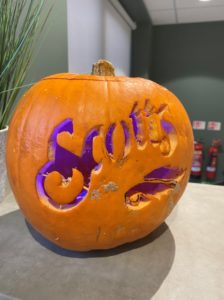 Photography hideout: when the leaves start to fall, they create a myriad of attractive picture possibilities and also create gaps in the hedgerows where you are more likely to spy those elusive birds you always wanted to photograph. A summerhouse can easily be transformed into a personal photographic studio with all the equipment you need on hand.
Seasonal picnic: your summerhouse provides the setting for an entertainment venue when autumnal treats are on the menu. Recipes and beverage ideas range from luxury hot chocolate with cinnamon and fudge chunks, to warm spiced apple cider, pumpkin soup, and cheesy baked potatoes.
Halloween antics: carve out your pumpkins or turnips and hang scary-themed fairy lights from the roof of your summerhouse to create a fun venue for your Halloween-themed drinks party.
Bonfire night: the activities of Guy Fawkes in 1605 continues to provide an excuse for some fun more than 400 years later. Stock up with sparklers and set off some fireworks in your garden, then retreat to the deck with the kids to toast marshmallows on the firepit outside your garden building.
Mindfulness and reflection: autumn is often associated with introspection and contemplation and a summerhouse can offer a personalised retreat in which to practice meditation, write a diary and disconnect from the hustle and bustle of daily life.
Planning a summerhouse where you can embrace autumn?
If you can see yourself and your family enjoying a garden building for any or all of these activities, now is the time to get planning. Think about the features that would enable you to enjoy outdoor living in luxury such as:
Double glazed windows
Insulation and roof lining
Power from mains electric or solar panels
A heater to keep you cosy in the cooler months
Lighting to create a stunning effect.
All but one of Scotts' summerhouse models are glazed with lockable windows and doors to keep all your treasures safe. Request double-glazing when you order, and your summerhouse will be extra cosy on those autumn afternoons. It is well worth thinking about incorporating insulation which we will fit for you behind attractive tongue and groove effect panelling extending the usable life of your summerhouse through all weather conditions.
Our watertight garden building roofs are made from composite glass fibre to look like slate or lead, or from natural cedar shingles. Your Scotts summerhouse benefits from a handmade roof structure created from stress graded timber with a breathable underlay to seal any gaps. Scotts also offers an optional solar lighting package with a battery hub that powers a table and floor lamp.
Furnish and accessorise your garden building for autumn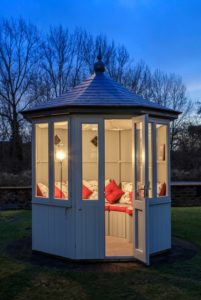 Embrace the spirit of autumn by adorning your summerhouse with autumn-themed décor. Switch light, summery fabrics for plush throws, cosy wraps, and soft cushions. Scotts' padded seating and loose backrest cushions are available in a range of sumptuous colourways.
Introduce decorative items that bring autumn to life such as:
Light-up pumpkin table decorations
Indoor wooden lanterns
An oak leaf door wreath
A brown sugar and vanilla scented candle
Leaf-shaped LED string lights
A paper honeycomb acorn or pumpkin.
Preparing for autumn in your summerhouse
Selecting a Scotts garden building lifts the burden of maintenance thanks to good design, premium materials, expert manufacture, and careful installation. However, we recommend a few autumn tasks to keep your summerhouse in tip-top condition as the seasons change.
Check the area around the base of your summerhouse for any blockages caused by debris or falling leaves and sweep them away.
Cut back any encroaching vegetation or overhanging trees and bushes that could impinge on your summerhouse roof.
Sweep the roof clear of fallen leaves, cobwebs, and moss.
Take a broom to your garden building interior and dust off the floor and walls. Clean the windows and wipe down the frames with warm soapy water. Check that hinges and locks are well-oiled and still functioning well.
On a dry day, fully open all the windows and doors for as long as possible to ventilate the building before you close it up for indoor autumn use. By airing your summerhouse regularly, you will prevent the ingress of moisture and protect its overall structure.
Check the exterior for any signs of damage or decay. Scotts' summerhouses are all delivered with a highly durable paint finish that offers protection from the weather for up to seven years of maintenance-free life.
A garden summerhouse can provide great solace if you enjoy an outdoor life all year round and find the end of the summer difficult to accept. Choosing a high-quality summerhouse will help you and your family to enjoy the fruits of autumn and embrace every season in its turn.
Talk to us about your vision and we can advise on the best model for you, and we would be happy to talk you through the process. Click the link to contact Scotts today.