One of the joys of British gardens is their infinite variety. As housing stock has grown over the decades, the size and shape of gardens has changed considerably. More than 20 per cent of our housing stock was built before 1919 but the biggest building boom was seen after the Second World War between 1945 and 1964.
The type of housing we have created has influenced the size and shape of garden plots. Rising construction costs and pressure on housing demand has seen less and less 'amenity' space for gardens and outdoor space is 50 per cent less expansive now than it was in the 1920s.
Long and narrow, short and wide, there is no limit to the variety of British garden layouts. Garden shapes can be quirky, too, especially if your property has been extended or added at a later date to those around it.
You might be tempted to think that your garden couldn't accommodate a garden room but there are sizes and shapes available for every corner. In our blog we look at how the ergonomically designed corner summer house brings new possibilities to the garden building arena.  A garden room can maximise every outdoor space, create a stunning feature, and a useful extra living area. It's well known that garden rooms add to the appeal of your property when it comes to selling up.
A stunning feature in any location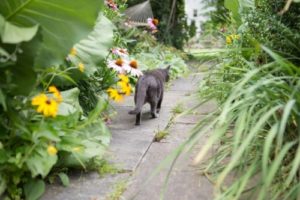 Scotts understands UK gardens and that's why we have created a corner summer house model known as the Newhaven which fits perfectly into smaller outdoor spaces that may have awkward or challenging angles.  A corner garden room can also bring to life under-used areas of your garden.
First let's look at how a corner garden room works in a smaller garden. Ideally, you will aim to install your garden room 2m from your neighbour's boundary to comply with permitted development rules. This amount of space will enable access to the rear of the building to take care of any maintenance. Place your garden room strategically to hide a poor view over your neighbour's fence. Every garden room needs a stable and level foundation, so before you arrange for its installation, make sure that you provide somewhere solid for it to sit, for example, on a concrete base or paving slabs. A sloping area is no barrier to a corner garden room which can be installed using an ingenious ground screw base.
Scotts' smaller Newhaven model is available at 2.2m in size with a height of 3m and you can request a reduced pitch roof which will take it under 2.5m. For this smaller model you can choose a roofing style made from slate effect composite glass fibre or cedar shingle tiles which provide a natural aesthetic.
Our corner garden room has five sides, three of which are glazed with double doors in the central panel. The two rear walls are built from solid timber. We always use sustainable hardwood Red Grandis that brings premium quality to our designs and longevity to our buildings.
Branching out
Corner garden rooms are not just for smaller plots and can provide an ideal secret hideaway out of sight of the house at the end of your garden or in a separate outdoor area. If you have a larger plot you may wish to construct a haven to which you can retreat for a break or indulge in your favourite hobbies. This type of garden building is also ideal for a home office where you can be guaranteed the peace and quiet you need. If you need more space, ask us about creating a bespoke corner garden room that meets your precise requirements.
A corner garden room could be installed alongside existing outbuildings or placed within a hedged area surrounded by trees and bushes. Just be careful that the foliage does not encroach on the fabric of the roof. Scotts' larger Newhaven corner garden room model is 3m in size with a height of 3.2m offering a more expansive footprint.
Whether your corner garden room will be positioned closer to the house or at a distance, check its position in relation to how the sun moves across your property and try to choose a spot that makes the most of natural light.
Enlivening your corner garden room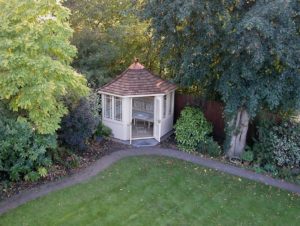 Talk to our design team about the best paint colour finish to suit your property and garden style. We have a wide range of colours to choose from so you can decide whether to create a standout feature with one of our darker, brighter colours or a more subtle hideaway painted in a more discreet tone. You might want to make a statement with a contemporary colour such as Aubergine or Aegean Blue or create a corner garden room that complements a period property in a subtle shade such as Duck Egg or Putty.
Once you have decided on the size, shape and colour of your corner garden room and its location in your garden, it's time to start refining your selections and thinking about the optional extras that you might wish to add.
Take a seat!
Scotts offers free standing modular seating for most of its garden room configurations, and these are made from timber and painted in the same colour that you have chosen from the exterior of your garden building. In a Newhaven corner garden room, the seating stretches across the two rear timber panels and contains useful hidden storage beneath lidded seats. Choose padded cushions that complement your paint colour choice, and you will benefit from loose backrest cushions in two sizes in a range of stunning fabrics. If you see your garden room as a place of relaxation, why not order a padded lounger insert which enables you to lie down fully?
For additional storage add a bay shelf feature on one or both of the rear timber walls of the Newhaven corner garden room. This unique addition borrows space from outside and enables you to store books and keep accessories usefully on hand. Bear in mind that this will increase the depth of your garden room very slightly and you should ensure that there is sufficient space around the exterior to accommodate this feature.
Our corner garden room includes single-glazed windows on two panels and in the double central doors. You can upgrade with double glazing or request lead effect glass for a classic finish. Inside your garden room, Scotts offer the option of decorative tongue and groove effect lining and if you want to keep your corner garden room cosy throughout the year, we offer insulation which is neatly fitted behind the lining. Add our unique woven flooring which is highly practical and washable as well as feeling soft and comfortable underfoot with the texture of sisal and seagrass.
Cornering the perfect aspect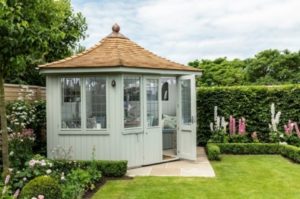 You have created an appealing haven inside your corner garden room so don't forget to carefully plan the view from inside. With windows on three panels, you can focus on the best view even in the smallest garden with the careful use of curtains, blinds, or voile panels. Extend your patio or decking beyond the front doors of your garden room to create a convenient seating area when the weather warms up.
A corner garden room affords the perfect shape to surround with planting and vegetation. Incorporate tubs, pots, and planters at the base of the windows and line your pathway from the double doors with small shrubs and decorative annuals. To enhance the mindfulness properties of your garden room, include a water feature nearby and you'll benefit from its soothing sounds and the play of light.
A corner garden room is likely to benefit from adjacent walls or fences to which you can attach hanging pot plant holders or festoons of LED lights to create an evening venue outdoors. Create an outdoor kitchen close to your garden room to make al fresco dining and entertaining even easier.
If your garden room is positioned well away from the house in a quiet spot, you might want to set up a telescope or pair of binoculars to enable you to immerse yourself fully in the natural world. A retreat like this is ideal if you're practising a musical instrument or want to play your own music without disturbing anybody.
We hope you have enjoyed this consideration of the benefits of a corner garden room and that you can visualise a building like this in your own garden setting. If you'd like some advice on how to incorporate a corner garden room at your property, our design team is always happy to hear from you.
Get in touch via our website and we look forward to helping you to achieve your secret hideaway dream.