The gardens of England vary enormously in size and style, and not everyone has acres to play with. The average garden size is 188 square metres with much less space available in cities such as Brighton and London with averaged allotted space reaching 23 and 16 square metres respectively. As a nation of outdoor-loving gardening enthusiasts, British homeowners demonstrate their creativity to their full when designing even the smallest garden. A smaller plot inevitably comes with issues including access, privacy and the amount and direction of sunlight.
Whatever the size of your garden, careful planning, and design with the addition of some judiciously chosen features and the right planting can deliver a life-enhancing space that you can enjoy all year round. And it's worth remembering that a small garden equals less maintenance and more time for relaxation. In our blog, we look at some tips and ideas to make the most of a small garden space, including how to incorporate a garden building that delivers shelter from the elements as well as a secret hideaway.
Planning your layout
Before you engage the practicalities, take a step back and spend some time visualising how you use your garden, or what you would like to be able to do. Discuss your preferences and ideas with everyone in the household to make sure that nobody feels excluded. If you have plans to create a new structure, check the local planning conditions in your area. If you anticipate making some noise during construction, let the neighbours know to keep them onside.
When designing a small garden to maximise the available square footage, it's helpful to start by measuring the total space and mapping it out on graph paper. Once you know how you are most likely to use your garden, you will be able to decide on the types of landscaping you might need, the location and types of plants, the sheltered spots for getting away from it all, and the showstopper features that add a touch of luxury to your living space.
Roughly sketch out your vision so that can share the dream with others including any contractors who might be helping you with remodelling. Even if your plans are mainly cosmetic, it will help to have a clear goal in mind.
Landscaping
In a small garden, you may wish to use the same materials throughout to create a seamless space that flows well and provides the illusion of space. Tiles or gravel work well in a courtyard garden; brick paving or cobblestones add warmth to a country cottage while concrete or paving slabs will bring to life a contemporary outdoor space. Use fences to your advantage and get creative by choosing horizontal fence panels onto which you can fix planters and other accessories. Fencing can also be used to mask an ugly wall, and you can boost their appeal by incorporating outdoor shelves for pots and planters.
To create interest, think about creating a terraced effect using beds made from old railway sleepers or similar types of heavy-duty timber. If you garden is sloped or steep, landscaping can create distinct levels that are used for specific purposes with an outdoor kitchen or barbecue ranged above a sun deck or dining patio. Think outside the box and dig down to create sunken areas for seating or the creation of a pond or water feature. Choose natural, recycled and bio-composite materials to reduce the carbon footprint of your small garden refurbishment.
Planting
Container gardening has never been more popular, and we saw plenty of highly creative examples at the RHS Chelsea Flower Show this year. A wide variety of container types, sizes and materials are now available so you should easily be able to find exactly the right ones to complement your garden style. Make sure pots are well drained and water regularly especially when it's hot. Pots are highly flexible because they can be moved around to change up the display through the summer.
One of the best ways to deliver optimum greenery within a small garden is to look up! Vertical planting makes maximum use of high walls including the exterior walls of your house. Select well-designed and attractive trellises that look good even when plants die back in winter. Pergolas can help create a screen overhead and a secluded place to sit. Green or living walls are the vertical alternative to sedum roofs and deliver the perfect natural view from the windows of your property even in winter. Choose evergreens where possible to maintain the best prospect all year round.
Water features
You don't need the fountains at Versailles to add an extra dimension to your small garden. Compact water features are readily available in a variety of classic and contemporary styles. Use recycled materials to create a rill or stream (very popular at Chelsea) and you will benefit from the soothing sound of running water as well as refreshing the birds and animals that rely on your garden for sustenance. Collect rainwater to refill your bird bath and minimise water wastage.
Accessories
Choose furniture that takes up the least amount of space to avoid cluttering a small garden. Hanging chairs, hammocks and stackable seating enable you to create a relaxing space in a limited floor area. A floating, folding bar attached to a wall can be opened up to create a flat surface for serving drinks and nibbles. Items with wheels (repurposed tree stump coffee table?) are really handy for moving around as required. Install an awning on a wall or fence and you can create instant shade without the footprint of a floor-standing umbrella or gazebo. Finally, add mirrors to create the illusion of space and reflect back all your beautiful blooms providing double the value for money.
Summerhouses for a small garden
Outdoor living has huge appeal, and many householders rely on their gardens, however small, to reconnect with nature and benefit from the wellbeing benefits of spending time outdoors. A summerhouse can represent a fabulous addition to a small garden by creating extra living space, a discreet destination for hobbies, exercise, or work, or simply somewhere to shelter from the elements.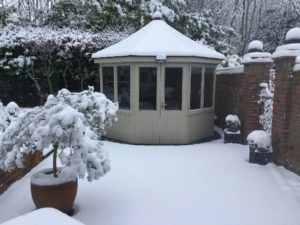 Scotts' offers an extensive choice of garden buildings and bespoke options can be created to suit your space exactly. From our summerhouse range, we recommend our octagonal 2m Balmoral or Baltimore models. Both reach a height of 2.7m but if you need to place it close to a boundary, we can provide a reduced pitch cedar shingle roof at a height of less than 2.5m so you can avoid the need for a planning application. If your plot lends itself to a corner summerhouse, our smaller Newhaven model, at 2.2m could provide the perfect fit, and this is also available with a reduced pitch moulded composite slate effect roof.
Scotts' summerhouses have a number of features that can complement a small garden:
Whatever your plans are for a bijou garden retreat, we hope you'll agree that the addition of a summerhouse structure adds an extra dimension to your garden and enables you to create a stunning outdoor space.
We love to work with our clients to help them choose the perfect summerhouse creation to meet their specific requirements so don't hesitate to ask our team for their advice and we look forward to hearing from you.