Cruising has seen a huge boom in popularity with 1.7 million voyages now taken by British travellers each year and 85 per cent say they plan to cruise again in future. With an average duration of three to four months, even an annual world cruise won't keep you at sea all year. If cruising floats your boat and you miss a life on the ocean wave, we have devised a simple way to keep the dream alive on dry land. Why not create your own shipboard experience and design a summerhouse stateroom in the privacy of your own garden?
Recreating a cruise ship cabin experience in your summerhouse can be a fun and immersive way to bring some holiday vibes into your daily life. And you won't have to travel far to take advantage of the benefits. Our fun blog looks at ways to recreate the atmosphere of an ocean liner and gives you some tips on how to enjoy all the usual treats on your list during a cruise holiday.
Choose your stateroom
A garden building is the perfect place to recreate the atmosphere of a cruise cabin. Choose from a Scotts summerhouse at 2m for an inside cabin or stretch to 4.4m to create your own suite. When you're at sea, the view is all important so choose the position of your summerhouse carefully to enjoy the best that your garden has to offer. When you're sailing, the view changes all the time, so add a rotating base to your summerhouse and you can remain on the move, following the sun and keeping out of the wind.
World of colour
Choose a summerhouse colour scheme that reflects the sea and some of your favourite destinations. Scotts summerhouses are all supplied with a luxurious spray paint finish and our Aegean Blue option will help you to float away. Mediterranean destinations are amongst the most popular for cruise holidays so select upholstery colourways such Scotts' Honeysuckle Fig or Sanderson Jackfruit Olive to help you sit back and relax in comfort.
Nautical décor
Take some tips from our blog on how to recreate a beach hut in your summerhouse and you might be inspired by some of our seafaring suggestions. Decorate your garden building with anchor wall art, a model of your favourite cruise liner, or framed pictures of ocean scenes including those from your own holiday album.
Rest easy
Your cruise ship stateroom is a haven of peace and tranquillity that can easily be recreated in your garden with the right furnishings. Scotts can install modular seating that conceals useful storage space and is equipped with soft seat pads and loose backrest cushions in two sizes. Opt to add a padded lounger insert and you will be able to lie full length and relax, imagining the sea rocking you to sleep. In a larger summerhouse, you might want to include a small bed, made up with cosy wraps and cushions, or design one that folds up into the wall when not in use to make the most of your cabin space.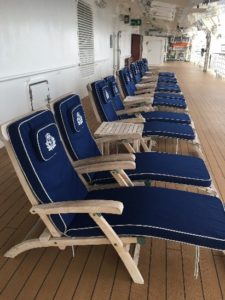 Ambient sound
When you're onboard ship, you can always faintly hear the comforting thrum of the engine and the swish of the rolling sea. Set up ocean soundscapes on a smart speaker to relive the experience. You might listen the waves crashing against the bow of the ship, or hear them breaking against the shore, helping you to drift off against a background of soothing sound. Use a smart speaker to make announcements from the bridge letting your family indoors know when it's time to bring you another cup of tea!
Common scents
Bring some bracing sea air into your summerhouse cabin with a humidifier, scented candles with a sea breeze or ocean scent. Sea salt and sea mist are some of the most popular fragrances in this overview of beach-inspired candles. Or opt for a room-diffuser like this one from Wax Lyrical. This colour-changing aroma humidifier in handblown glass provides up to eight hours of invigorating sea mist.
Porthole illusion
For a sneaky peek at the outside world, choose a summerhouse cabin with a porthole. Scotts offers a unique bay shelf feature with an attractive diamond leaded window that also creates extra storage space. In a bespoke summerhouse design, you can always request circular windows to conjure up a realistic shipboard experience. Scotts is proud to embrace almost any summerhouse design that you can imagine so talk to us about your ideas.
Ship's amenities
Cruising means continuous access to delicious food and drink so make sure you can maintain similar standards in your summerhouse stateroom. Set up a mini-bar or small refrigerator in one corner and keep it stocked with your favourite drinks and snacks. Afternoon tea is usually served at 3pm onboard ship so why not treat yourself to a delivery from Patisserie Valerie and enjoy choux buns, chocolate slices and scones with jam and clotted cream courtesy of 'room service'?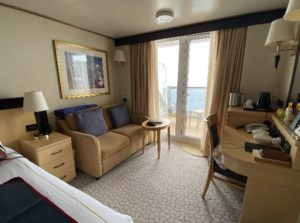 'Be our guest'
Your summerhouse cabin should be well-equipped with your favourite reading material (you can always stash those paperbacks inside Scotts' lidded seats or stack them on the bay shelf). There are hundreds of titles with cruise ship settings from thrillers like 'The Woman in Cabin 10' by Ruth Ware, Agatha Christie's classic 'Death on the Nile' or a fun romp, 'The Girl on the Boat' by P.G Wodehouse. Listen to sea shanties or watch your favourite nautical films from 'The Perfect Storm', and 'Pirates of the Caribbean' to 'Finding Nemo'.
Daily itinerary 
When you're out at sea, there is always something to do and it's easy to recreate a similar schedule in your very own garden room cruise liner cabin. Take part in a quiz or complete a daily crossword over breakfast. Set up your iPad and follow a class online. Try out a new hobby such as watercolour painting, model making or chair aerobics. If you're keen to stretch your mind and broaden your horizons make a commitment to a video channel such as Imperial College London's lecture series, TED Talks, or choose from a list of educational podcasts. For help with planning your next trip from the comfort or your summerhouse stateroom, follow video tours on YouTube and get to know your chosen ship before you board.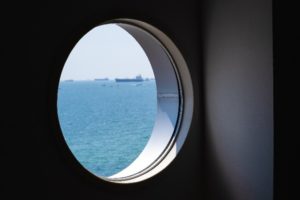 Out on deck
It's always good to enjoy the fresh air at sea so set up an area outside your summerhouse to mimic your cabin balcony. Choose a couple of study sun loungers or deck chairs, and a small table and you will be able to step out into your own private space to relax on a 'sea day'. Keep a pair of binoculars handy as you never know what you might spot on the horizon. On a warm summer's night, set up a telescope and indulge in the wonder of stargazing. You may not see the Northern Lights but you're sure to enjoy getting close to the natural world.
On dry land
To fully reflect your favourite cruise ports, design the garden surrounding your summerhouse with accents from the Caribbean, the Norwegian fjords, or the Greek islands. Many ferns and subtropical plants will thrive in parts of the UK. Terracotta pots containing geraniums, lavender and agapanthus create an instant southern summer. A water feature or pond, however small, will call to mind the rushing waterfalls of Scandinavia.
Returning to port
Creating a cruise experience in your garden building could not be easier with the Scotts team on hand to help you bring your dream to life. While you cannot always be on holiday, it is possible to design a special retreat providing instant access to your favourite experiences without taking a step away from home. If you're inspired by our summerhouse ideas that will help you to extend your holiday experience and bring back happy memories of your travels, please get in touch, and share your thoughts and plans. Scotts' talented team loves a challenge and is always on hand to guide you through the process.
Complete our contact form online or call us on 01832 732366.