When you step out into your garden and breathe the fresh air, you immediately feel the benefit of being outdoors, immersed in nature. This connectivity with the natural world forms the basis of Zen Buddhism and living by its principles brings untold benefits. The art of Zen is an ancient way of life originating in China, and the name derives from the Japanese 'zazen' meaning 'sitting meditation'. The practice is centred around relaxation and true acceptance.
Breathing with mindfulness is one of the core tenets of Zen practice and helps us to live in the moment and shrug off worries and concerns. Zen principles show us how we are connected to the universe and that every circumstance in our lives is part of the natural web of life. Focusing on the joy of being and the simple things in life, below we look at how to create a Zen retreat in your very own garden building and the practices that will reinforce your enjoyment.
Zen-style living
Create a dedicated space to help you focus on Zen principles for living and build the following practices into your daily routine to gain the beneficial effects of true relaxation.
Welcome the morning and extend your day slightly by rising earlier to enable more 'breathing' space. Taking a brief walk outside at the beginning of the day can be hugely beneficial and if you really don't have time at least open a window when you wake up.
Mindfulness is a key theme of Zen practices, and this extends to eating too. Ideally, we should focus on our food and its nutritional benefits as we eat without the distraction of electronic devices.
Choose monotasking over multi-tasking and focus on one thing at a time, doing it well and thoroughly before moving on.
On this theme, you can even turn household chores into a mindfulness exercise. Identify an area of your home to micro-clean each week and focus on making a particularly good job of it.
Whether you work at home or not it's important to take full breaks and avoid the distraction of your phone. Make time for a complete rest at regular intervals throughout the day. This does not necessarily mean sitting down and you could engage in a walking meditation using a mindfulness app to help you.
Zen principles dictate that there should be a clear boundary between work and home life. Having your own garden building helps enormously with this objective as you can close and lock the door each evening and walk back to the house.
Creating a Zen garden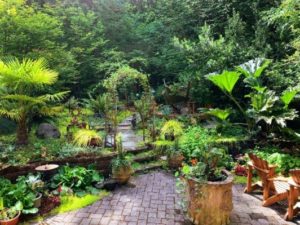 Outdoor spaces are also subject to the principles of feng shui as well as our homes. Reflect Zen practices by creating balance. Incorporate water and trees in your garden planning to derive peace and tranquillity by harnessing natural energy.
When you are designing a plot for your garden building or summerhouse, ensure that it faces the sunrise enabling you to welcome the new day in a relaxed setting. Add Scotts' rotating base and you will be able to benefit from the sun's rays all day.
Zen principles require symmetry and harmony on a minimalist palette. A Zen garden will always be neat and tidy, and carefully landscaped with precise areas marked out with well-raked stones or gravel. This type of garden is ideal for year-round use as it will not become overgrown and untidy during the winter.
Features such as a rockpool, pond or rill with a decorative bridge or steppingstones will lead the eye to your garden building focal point. The addition of a fire pit will bring light in the evening, an important element of Zen culture, and you can achieve a similar effect with paper lanterns. Additional decorative items might include a stone pagoda lantern or Buddha statue.
For a garden that is designed along Zen lines choose plants that grow upwards or creep along the ground such as ferns and mosses. A bamboo screen can keep your summerhouse or garden building discreetly hidden from the house if you are aiming for privacy. Add cherry and other fruit trees as well as plants such as Japanese maple, sedge, or boxwood, azalea, or hosta. A vertical green wall to disguise your fence is a perfect device to create a calming environment. Consider the addition of a sedum roof to your garden building promoting biodiversity and decreasing your carbon footprint. Inside your summerhouse, try some miniature gardening with a terrarium or Bonsai tree. As a general rule, simple green foliage is more complementary to a Zen garden than bright colours.
Securing inner peace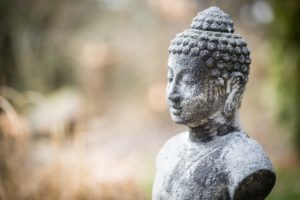 Choose a summerhouse design that gives you enough space to spread out, relax and practise your meditative skills. Zen principles are based on decluttered open spaces with clean straight lines to create a sense of serenity and relaxation. Furnishings should be chosen for simplicity to create an atmosphere of calm. Zen is underpinned by tidiness and organisation and that is where hidden storage comes into its own. Scotts's offers modular lidded seating helps to keep your garden building free from clutter.
Choose earthy, muted tones and materials such as bamboo and wood grain. Reduce the colour palette so that it does not distract or interrupt your peace and quiet. Pare down your interior decor and choose one or two artworks for the walls showing natural scenes.
Softness is the key principle of Zen practice so choose upholstered seating and add sheepskin rugs and curtains at the windows of your garden building. Blur the lines between the outdoor world and the inside of your summerhouse. You can achieve this by selecting a model such as Scotts' Sun Ray Garden Room with double opening doors and large windows with plain glass. Install your summerhouse on a raised deck with direct level access to the garden creating visual continuity.
Scotts' summerhouses are built using a sustainable natural hardwood, Red Grandis, and we recommend the addition of a natural cedar shingle roof. Take the Zen concept further and set up your summerhouse as a Japanese teahouse. Incorporate accessories including a kama iron hot water pot, natsume decorated tea jar, chawan porcelain bowls and tatami mat. The Japanese tea ceremony is traditionally held to celebrate seasonal changes and you can decide whether to serve authentic matcha green tea leaves a more traditional blend.
Perfect the atmosphere inside your Zen garden building with the addition of soothing music, soft lighting, and soothing scents using an oil diffuser. With this ambience, you will create the perfect place to practise meditation, yoga, and relaxation techniques.
Add accessories such as a Buddha image or decorative wall plaque, a treasured rock or crystal, incense burner and candles. Set up a Himalayan salt lamp or desktop gong and hang decorative wind chimes and paper lanterns from the outside of your garden building.
Summerhouse design tips for a Zen vibe
If you're planning to recreate Zen garden building experience, don't forget to consider the following elements:
Take the next step into a world of Zen
If you would like to gain the benefit of Zen principles by re-designing your garden with the addition of a summerhouse, the Scotts team will be happy to help.
Talk to us about what appeals to you most and leave us to deliver the practical solutions, enabling you to simply sit back, relax and breathe.