As regular exhibitors at the RHS Chelsea Flower Show since the 1960s our Scotts team is privileged to get the inside track on all the latest gardening trends. This year we were particularly impressed with a suite of designs in the 'Sanctuary gardens' category that specifically focus on health and wellbeing and how gardens help to nurture wildlife and help us to thrive too. This aspect of garden design is extremely important to us in the UK and has become increasingly popular in recent years as we have learned to embrace our gardens and outdoor space like never before. For most of us, our garden represents a quiet and tranquil place where we can take a breath, enjoy a mindful moment, absorb the benefits of close contact with the natural world.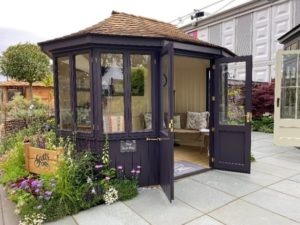 Many of the Sanctuary gardens at Chelsea this year were enhanced by a building or structure that provided shelter or created a dramatic focal point. Our customers always tell us that a garden building or summerhouse greatly adds to their enjoyment of their outdoor space, and we are keen to showcase how you can create the ideal environment to access the benefits of the open air.
The Sanctuary gardens at Chelsea were truly spectacular and, in this blog, we look at the highlights and suggest ways in which you could create your very own sanctuary with the addition of one of our high-quality timber garden buildings. We have chosen to review five of the best gardens and made recommendations on which of our summerhouses would complement these concepts should you choose to model them for your property.
Hamptons Mediterranean Garden
Designed by Filippo Dester and winning a Silver Gilt medal at the show, the Hamptons Mediterranean Garden reflects the colours and light of the sea and sunshine locations of southern Europe. This garden was designed to seamlessly blend landscaping with planting to create a soft outdoor living space that includes a sleek and contemporary outdoor kitchen for hosting and entertaining family and friends. This intimate garden also supports biodiversity with its use of a range of shrubs, and herbs and perennials that are usually accustomed to a dry, sunny, and warm climate. One of its more stunning features is a stream or rill that makes economic use of water that also provides refreshment to birds and insects. The space is divided using concrete structures painted in terracotta tones enabling separate areas to be created for dining, relaxing and socialising. The Mediterranean Garden successfully mimics a series of outdoor rooms.
Create your own Mediterranean Sanctuary
It is possible to adapt most gardens to accommodate the features of the Mediterranean garden with the addition of careful landscaping, discrete structures, and the right planting. For this contemporary garden, we recommend our larger Sun Ray Garden Room which is available in three sizes up to 4.4m so you can comfortably accommodate every family member. For this aesthetic, choose the Aubergine exterior paint finish for a showstopper impact. A moulded composite glass fibre roof in slate-effect is available on the 3.4m model which delivers a contemporary finish alongside modern satin chrome door and window furniture. Choose to add modular seating to your summerhouse which can be moved around to accommodate your guests while also being useful for storage. For this type of garden, we suggest the bright and vibrant Honeysuckle Fig backrest cushion fabric with Silver padded seating, perfectly reflecting the mood of the Mediterranean.
Biophilic Garden – Otsu-Hanare
Inspired by Japanese culture the Gold-medal winning Biophilic Garden was designed by Kazuyuki Ishihara. Biophilia is an increasingly popular trend for closely incorporating the natural world within our daily lives. It reminds us that spending time mindfully outdoors helps to support our health and well-being. In this garden the designer has placed a small Japanese house known as a 'hanare' at its centre closing the distance between the living space and the immediate landscape. The house is equipped with a sedum roof, so the building merges perfect with the garden planting. Incorporating a small waterfall, the Biophilic Garden exudes a sense of peace and tranquillity with the soothing sound of running water. This garden contains typically Japanese plants including acers as well as a rustic rockery covered with mosses.
Create your own biophilic sanctuary
If you are inspired by this type of garden and would like to create your own 'hanare', we think that a Scotts Burghley summerhouse delivers the perfect English country garden equivalent. Echoing the dark timber of the designer's choice we recommend this octagonal summerhouse, available in three different sizes up to 3.6m, with a sleek and smooth spray paint finish in Slate. For your inside seating, select our classic William Morris Willow Bough fabric with upholstered seat pads in Stone to reflect the union between natural and manmade structures. For this garden building, we would recommend our natural cedar shingle roof with an elegant copper finial along with bronze window and door furniture.
     3. Boodles British Craft Garden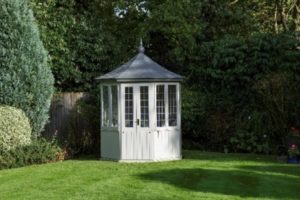 Another Silver Gilt medal winner at Chelsea was the British Craft Garden designed by Thomas Hoblyn featuring a unique type of fountain which creates the effect of raindrops gently falling on its surface. The inspiration behind the British Craft Garden was to showcase the flora and fauna of the British Isles particularly focusing on woodland plants and creating a rustic stone path and terrace. The style of its design takes inspiration from a Pre-Raphaelite interpretation of the natural world and includes an arbour crafted from a series of overlaid metal leaves as a spectacular centrepiece.
Create your own British Craft Garden sanctuary
If you would like to replicate this garden style within your own outdoor space, we recommend the addition of a Scott's Baltimore summerhouse, 2.0m in size, in our deep Forest Green paint finish to echo the woodland theme. Choose upholstery with Stone-coloured seating pads and William Morris Strawberry Thief backrest cushions which speaks directly to the Pre-Raphaelite movement. The warm and natural cedar shingle roof will provide a truly stunning centrepiece for your outdoor space.
      4. The National Brain Appeal's Rare Space Garden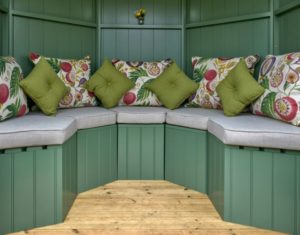 One of the most acclaimed gardens at the Chelsea Flower Show, the Rare Space Garden was a gold medal winner and also won Best Sanctuary garden and the award for Best Construction. Its designer Charlie Hawkes created this concept based on his vision of helping to support people living with dementia, enabling them to enjoy an outdoor space with the minimum of distress, promoting independent activity for as long as possible. The garden contains highly structural landscaping in a range of contrasting materials creating separate and discrete areas including seating. It makes use of striking colours that provide signals to make wayfinding easier. Pathways are level and wide so that the garden can be easily navigated.
Create your own Rare Space sanctuary
If you're keen to support a member of your family with dementia to enjoy your garden and outdoor space, you can replicate this design and add the Scotts Balmoral summerhouse in a delicate but striking tone of Lilac. The Balmoral is the simplest of our summerhouse models with a door and window shutter system that enables year-round use. It can be fitted with a rotating base to enable a 360-degree view of the garden providing variety for those with more limited mobility. To complement this concept, we suggest choosing our bright and lively Sanderson Jackfruit Olive cushion fabric with Stone seat pads on our flexible, modular seating.
The RSPCA Garden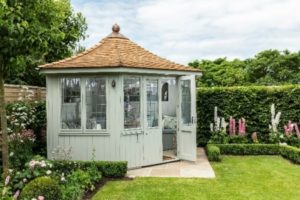 Celebrating its 200th anniversary in 2023, the RSPCA Garden was designed by Martin Wilson and picked up a Silver Gilt medal for its use of recycled materials and for incorporating ingenious ways of attracting and supporting a range of wildlife. A corner of this garden hosts a structure that mimics a hide for observing wildlife and features wall bird nest boxes and an artificially constructed hedge made from recycled garden waste. The small stream or rill in this garden which supports wildlife has been made from recycled plastic and the planting is specially designed to attract pollinators.
Create your own RSPCA sanctuary
If the enjoyment of wildlife is important to your garden experience, Scotts has the perfect summerhouse specially designed to fit into an underused corner. Our Newhaven Corner Summerhouse, available in two sizes starting at 2.2m, finished in a Sage spray paint finish will complement this style of garden and blend perfectly into the natural setting you have created. Use your modular seating to store binoculars and bird books and choose backrest cushions in the subtle and elegant Kielder Dove Grey fabric with Silver seat pads. Opt for a cedar shingle roof to deliver a truly natural environment.
We hope you have enjoyed this brief review of the very best of the Sanctuary gardens at the RHS Chelsea Flower Show and hope that these fantastic designs have inspired you to think about planning your own garden project, and how the addition of a summerhouse could provide the perfect finishing touch. Whether you can envisage one of our models fitting within your garden design or would like something bespoke that truly reflects your individual vision, we are excited to hear from you and would be delighted to help you create a Sanctuary garden of your very own. Please get in touch and tell us about your ideas and allow our team to help you bring your vision to life.