Summerhouses are perfect for adding a touch of luxury and lavishness to an English garden. The longer and warmer evenings call for alfresco dining and relaxing in your garden and there is no better way to do this than in a luxury summerhouse.
When you have invested in a garden summerhouse, it is natural to want to have it reflect your home and personality. Decorating and styling it to reflect your personality and style is the way to create that extra special space you'll want to spend all your free time in.
Whether you're after a classic country cottage experience, a beach hut retreat, or a more modern take on a home office, there are many different accessories to put in your summerhouse and make it your own.
Unlike many UK summerhouse suppliers, Scotts go the extra mile to ensure your fully installed summerhouse is ready to use from the moment of construction. From a selection of natural paint colour options to a beautiful collection of summerhouse seating and fabric styles, making your garden summerhouse your own is easy and effortless.
Upholstery
Arguably the most important factor within a summerhouse interior, the upholstery used on your chairs and benches defines the colour scheme and setting of your summerhouse. Combining your own unique style with the highest quality upholstery fabrics has resulted in our summer house furniture looking wonderful whilst staying comfortable enough to relax on.
All of Scotts Summerhouses and garden rooms can be supplied with practical modular wooden seating that features additional storage spaces, and a sumptuous upholstery set. Upholstery is a perfect pairing with a set of high-quality, deep foam block seats and scatter cushions and offers a fun and modern finishing touch to your Summerhouse. The modern, sectional style of seating is freestanding which makes it quick and easy to switch up your space.
Get more inspiration for your summer house and visit this post on summer house interior ideas.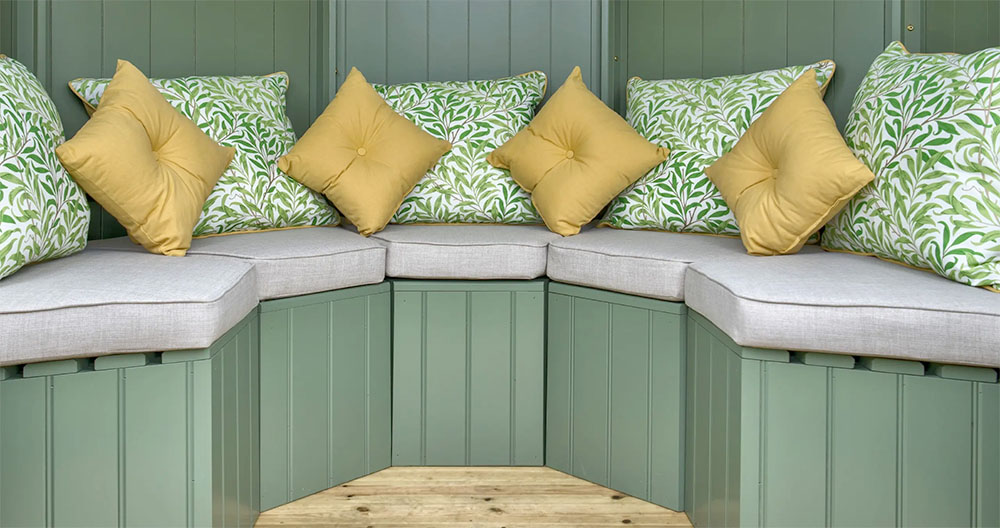 Rugs and floor coverings
While Scotts do offer a durable flooring option within its range of fully installed summerhouse which provides a practical and tasteful floor covering. But, to add an extra layer of comfort and style to your garden room, why not add a rug or floor covering?
With a combination of unique woven vinyl flooring and a soft, stylish rug, you can create a warm and welcoming room that reflects your own living room. A luxury summerhouse should be homely, comfortable and a place you can call your own. This is easily achieved by adding soft furnishings, runners and rugs.
Lighting and Accessories
Summerhouses are often designed to make the most out of the natural light but by installing solar or artificial lighting, you can create an atmosphere that welcomes and invites. If your goal is to create a rustic space that blends beautifully into your garden, then an array of fairy lights are perfect. Or perhaps your luxury summerhouse resembles an English cottage? Then why not invest in some artificial candle torches that resemble the soft light of a fire?
Scotts of Thrapston offers a stunning solar lighting package for your garden summerhouse which incorporates a high-efficiency solar panel, lithium battery hub, table lamp and floor lamp both with warm tone bulbs. These soft solar lights are not only an easy-to-install lighting solution but offer a gentle atmosphere that suits a summerhouse perfectly.
Stools and coffee tables
A garden summerhouse can be used for a myriad of purposes, whether it's a place to read or create, a place to lounge with friends, or a place to work. Whatever you decide to use this space for, a small coffee table is practical and stylish.
Summerhouses aren't designed to be a huge space, they are cosy and built to be tucked away into your garden. This is why a set of stools and a coffee table is ideal for holding drinks, small snacks, books, laptops and more. Apart from being incredibly practical, a coffee table or stool set also helps to balance out the layout of the garden room. The table could be the centrepiece which is then surrounded by the chairs and benches.
Buy a fully installed summerhouse
Scotts has recognised the need for greater flexibility as lifestyles, home trends and garden layouts vary greatly. In response to this, we have created a stylish and innovative range of luxury summerhouses that pair perfectly with your garden and lifestyle.
At Scotts of Thrapston, our summerhouse range can be enhanced and styled further with a variety of our optional extras and accessories. We invite you to personalise your Summerhouse by choosing the building and individual features to suit you, your hobbies and your garden. Begin your journey to building a luxury summerhouse today.