Exhibiting at the RHS Chelsea Flower Show, we are always keen to keep an eye on the latest garden trends. Every year at the show, nurseries and breeders are shortlisted out for the best new flower variety. In 2023, the Plant of the Year was named as the Agapanthus Black Jack, with its deep purple blooms and dense flowerheads. A stunning bloom, it is also low maintenance and suitable for small gardens and containers. Inspired by the striking agapanthus, our blog examines the potential of the colour purple, how it can adorn your garden setting, and how Scotts can help to deliver a purple paradise with its own variations of summer house exterior paint colours.
Purple patch
A colour between blue and red that occurs in many different hues, shades of purple range from lilac and mauve, violet to lavender, to magenta and plum. In the psychology of colours, many meanings have become attached to purple, and it is naturally associated with wisdom and spirituality as well as royalty and power. In the 19th century dye-maker Sir William Henry Perkins invented 'mauveine' or mauve which became fashionable in clothing. In 1862, Queen Victoria appeared at the Royal Exhibition attired in a mauve silk gown.
If purple is your favourite colour, Scotts offers two summerhouse paint colours, in Lilac and Aubergine, so you can choose between a lighter shade for a more subtle effect, or a bold stand-out tone to make a statement in your garden.
To complement your summerhouse, we have explored some options for landscaping, furniture and accessories that could quench your thirst for purple. Select colour accents to set off the paint shade of your choice and really bring your summerhouse to life as a showpiece that will add value to your property and enhance your enjoyment of home.
Colourful environment
We like this textured Brazilian purple slate from the Slate Company. Create an entire patio outside your summerhouse or introduce a pathway against the background of a plain grey slab. Or use the purple slate to edge your lawn or the border around the outside of your summerhouse. You might prefer these plum slate chippings from Travis Perkins which could be used in beds or around the summerhouse base. To go a step further with your purple-themed garden décor, you could opt to paint fence panels in this pansy exterior paint from Wilko. Install a composite decking in a purple tone or add an outdoor carpet in your favourite shade.
Enjoying your summerhouse when the weather is warm means relaxing outside so choose some convenient and comfortable garden furniture. Purple packs a punch on this sun-lounger and stackable chair set. Or you might prefer the more delicate shade of this elegant bistro set.
There is no end to the garden accessories you can find at garden centres or online. Try looking at Pintrest for themes and once you have gained inspiration, websites such as Etsy offers unique items that you won't see in the mainstream stores. Our favourites in purple are:
Cheerful plant pots
Delicate windchimes
A whimsical fairy door
Stylish bird box
The advent of LED lighting has brought many options for garden and outdoor use. Here's a selection of purple-based lighting for use inside your summerhouse or outside on the deck of patio.
Christmas cheer
Waterproof solar lights
Micro fairy lights
String lights for outdoor use
LED bulb for lamps
You can swap out a standard bulb for a purple alternative in a table or floor lamp powered by a solar hub. Scotts offers this as an optional extra to avoid the need to install mains electric power and to help you to reduce your carbon footprint.
Whether you choose the Scotts summerhouse in Lilac or Aubergine, you can sure that its exterior will last for many years with very little maintenance. All our summerhouse models are crafted from Red Grandis, a sustainable hardwood that is durable and long-lasting. They are all supplied with a paint finish to enhance longevity ad you can choose from eleven colours. Because it's a spray finish, the exterior is smooth to the touch and the Teknos paint we use offers excellent protection from the elements. You can also access the paint from Scotts direct if you need to touch up your Lilac or Aubergine summerhouse in the future. You can see the colour range on our website, and we recommend taking a look in real life if you are able to access one of our show sites, or retail partners. We can also introduce you to Scotts' customers who are happy to show you their own completed summerhouse in a location near to where you live.
Some planting suggestions
Whether you plan to choose a purple paint variation for your summerhouse exterior or not, you can certainly introduce plenty of your favourite colour through planting and your choice of garden flowers. Several of the runners-up in the Plant of the Year category at Chelsea were variations of purple including:
Clematis Tumaini
Salvia Purple Spring
Streptocarpus Dolina
Other planting suggestions include aubretia, morning glory and flowering chives, or choose gently waving grasses to create a soft-focus effect around your summerhouse structure. In your vegetable patch, you might plant blackberries, blackcurrants, or elderberries, or choose a variety of purple potato or carrot, and take your passion for purple from the garden to the plate.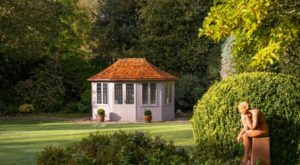 Interior inspiration
If you're inspired by Chelsea's famous agapanthus, you might want to extend your purple theme to your summerhouse interior. Scotts offers modular seating with luxurious cushions and upholstery in a range of colourways, so you are bound to find the perfect match for your décor. Our Honeysuckle Fig cushion fabric contains accents of purple to complement a Lilac exterior paint colour. If your choice is an Aubergine-painted garden building, the tones of our Sanderson Jackfruit Olive fabric would make an ideal accompaniment. More subtle hints of purple are picked up in our Kielder Natural and Mappleton Charcoal fabrics.
You can complement our fabrics with throws and wraps of your choice. There are many luxury soft furnishings available in purple colourways and you might like:
Don't forget the rules of complementary colours! If you want to enhance your purple summerhouse and really make the colour sing, try adding accents of orange in accessories like these:
Sit back, relax, and enjoy your tea or coffee in a purple cup or mug. Our favourites are:
And what will you be reading except for 'The Colour Purple' by Alice Walker?
We hope that you have been inspired by our journey through colour inspired by the fabulous Agapanthus Black Jack. Talk to our knowledgeable team about your vision for a garden building and we will be happy to discuss our paint colours whatever shade you are drawn towards.
Contact us and we will be in touch to help to bring your vision to life.