We believe that outdoor living is always improved by the addition of some refuge from the sun's rays when you need a breather, or from the rain and wind in cooler seasons. Adding a summerhouse to your garden enables you to enjoy your outdoor space all year round and Scotts can help you to achieve your dream, no matter what size or shape your garden happens to be. There is no need to allow the dimensions, position, or location of your garden to be a barrier to the achievement of your dream.
If you have a petite and bijou garden, choose a smaller garden building model. Perhaps yours is an awkward-shaped plot. In which case, simply select a corner summerhouse design. If you have a period property, you might choose to install leaded glass to complement its aesthetic. And if your house is contemporary, pick out a paint colour and interior décor to set it off perfectly.
What if I have a sloped plot? 
The big question remains; what if you have a sloping garden? If you are considering installing a summerhouse and are not sure whether the plane of your lawn can accommodate one, read on. Our blog explores the benefits of adding a garden building to a sloping plot and how it can be achieved with ease to enhance your enjoyment of your outdoor space.
First of all, embrace your sloping garden and maximise its potential as an attractive feature. Perhaps it is built on a gentle incline, with a gradual fall towards a river or canal. Or maybe your garden is built in an area of rolling hills with fabulous views. You may have incorporated landscaping or terracing using bricks, timber, or metal edging, or perhaps your garden planting has been designed to visually balance the difference in level. Does your garden have a winding path that gives you access to all areas? A kinetic water feature works particularly well in a sloping garden to add drama. There are many creative options to enhance a sloping plot from combining steps with raised beds, adding a raised path or rockery, softening the slope with grass steps or creating zoned areas where different activities can be enjoyed. In whatever style you have designed your sloping garden, the addition a summerhouse will certainly add to its appeal.
A garden building will add even more interest to your dynamic garden shape and could serve to distract from a severe slope by creating a new level to draw the eye. As well as increasing its visual appeal, building out over a sloped area in your garden creates additional useable space, where you can enjoy your hobbies and activities undisturbed, set up a peaceful home office or entertain friends and family in style.
Before you start your summerhouse project
While it may require some more careful planning and preparation, you can certainly achieve install a summerhouse in a sloping garden. Below are a few key tips to get you started on the planning phase:
A slope is no barrier to the installation of a summerhouse, but you will always need a stable, level base as a solid foundation.
Consider the best position for your summerhouse, taking account of the gradient and the height of the eaves.
The maximum height of a summerhouse to meet permitted development rules is 2.5m (measured from the ground's highest point) if it is within 2m of your boundary. You can solve this by specifying a reduced-pitch roof.
Building at the top of a slope could create a lookout or watchtower effect that might make the neighbours feel uncomfortable.
If there are no neighbours in sight, a summerhouse at the top of a slope could help you to embrace wide-ranging views of the local countryside and create the perfect place for bird watching.
A summerhouse at the bottom of a slope may not benefit from enough natural light (so consider choosing a sunroom with larger windows).
Perhaps your garden building could function as a divide between the lower and higher part of your garden, placing it at the perfect level so that you can enjoy every perspective?
Think about the shape and size of your summerhouse and how its position will complement your sloping garden.
Decide whether you are prepared to carry out the manual work yourself or would prefer to engage the help of a professional.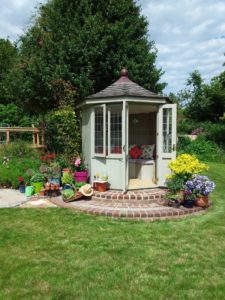 Make space for your summerhouse
The first principle of installing a summerhouse is to ensure that you create a level, flat and stable base on a solid surface. The quality of the foundations will dictate the structural integrity of your garden building and its longevity. If you choose a premium quality hardwood summerhouse from the Scotts range, you will be keen to protect it and ensure its long life and usefulness to you and your family. A firm foundation prevents any movement of the walls or roof and keeps your garden building looking perfectly pristine for many years.
Installing a summerhouse effectively on a sloping plain will require some excavation to create a clear surface. Depending on the gradient, you will need to bank up the soil using foundation blocks or create a retaining wall.
If you an enthusiastic and energetic DIY-er, you can carry out this task yourself. However, be aware that this job requires some heavy work, and it might be prudent to enlist the help of a professional who can assist you. Once your level base has been constructed, Scotts will deliver and install the summerhouse of your choice.
Creating a level surface on an incline
One of the easiest, most innovative and least invasive method of creating a level foundation for a summerhouse is to use a groundscrew base. Similar to a giant woodscrew, this type of base relies on flat-topped galvanised steel piles around 1.5m in height that are driven into the ground and levelled to compensate for any gradient. Positioned correctly, a groundscrew base forms a stable platform for your summerhouse that is quick and easy to install without heavy machinery and is ready immediately. Scotts has partnered with The Ground Screw Centre to offer this effective substitute for a traditional type of base. As a flexible, non-permanent solution, the ground screws can be easily removed should you ever wish to relocate your summerhouse to a new position (or property) in the future.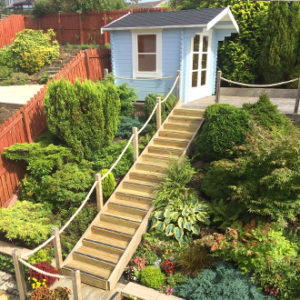 Foundation blocks are ideal for a steeper gradient because they can be set at different levels to take account of the fall in height. Map out the area of your base and use a string line as a guide to ensure that the surface is perfectly level. You will need to dig out the ground to at least 16cm and create a space that is around 5cm wider than the blocks themselves. Fill the excavated ground with pea gravel to enhance drainage and compact it well for stability.
To create a retaining wall, you will need to cut into the slope to create a level surface and shore up the bank to hold back the soil. Once you have dug out the area, the soil will need to be compacted to create a level base. The wall itself can be constructed from natural stone, timber, or recycled railway sleepers. You might prefer a gabion wall (from the Italian 'gabbione' meaning 'large cage') which is a large cage filled with rocks or stones It is wise to install a drainage pipe in the wall to prevent water build-up. Add a wall solution once completed to help damp-proof the structure. Remember to leave a gap between the retaining wall and the summerhouse to enable easy access for maintenance.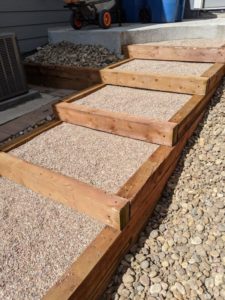 If your garden is terraced or spans multiple levels, consider installing steps to link spaces together, creating a stairway to the heaven of your private summerhouse.
Let us inspire you
Here are some examples of summerhouses that have been installed within sloping gardens.
Use terracing and create steps that rise up to a secret hideaway.
Install railway sleeper bed planters to draw the eye to a stunning summerhouse feature.
In a sloped garden plot, your summerhouse will enable you to enjoy the view from every
perspective.
Even in a smaller garden with a steep incline, adding steps between levels can provide easy access to your summerhouse hideaway.
Whatever size or shape your garden, and no matter how steeply it is sloped, Scotts planning team can advise you on the best solution to create a level base to accommodate your long-desired summerhouse.
Talk to us about the options and the process, and we can suggest the perfect model of garden building to complement your property and your lifestyle.