You can expect your summerhouse needs to work hard for you and your family. It may look highly decorative as an appealing feature within your garden but it's not just for show. Unless your garden building is being installed for a dedicated single purpose, it should be designed to accommodate as many variations of use and enjoyment as possible, so that you gain maximum benefit from your investment.
A garden building needs to fulfil the expectations of your family, friends, and visitors, and perhaps even your colleagues and clients. You should aim to create a summerhouse that can be used all year round in every season, no matter what the weather brings. It should also ideally be adaptable for a range of specific uses, occasions, and situations.
Think about how your requirements may change over the years as you move from pre- to post-family, working to retirement, running a business to becoming busy with hobbies. Below we explore how to fulfil a summerhouse project that meets your needs now and, in the future, enabling you to enjoy your garden building to the max.
If longevity is high on your list, make sure you choose a reputable brand for your summerhouse purchase. Scotts has been in business for over 100 years, and we have spent time honing and developing our designs to the highest standards. Select a garden building that will go the extra mile, carefully crafted with skill and dedication, made from sustainable, high-quality materials. Scotts' summerhouses are all manufactured using Red Grandis, an ethically sourced hardwood that lasts for decades and always looks stunning.
Rise to the occasion
Conjure up a summerhouse in your imagination and your first thoughts might be of a peaceful place to sit immersed in nature with a book, newspaper, and a cup of tea. Think again and you can envisage imagine any number of other activities taking place in your garden building from work and hobbies to exercise and socialising. With careful planning and the right equipment, you can create a base for any or all of these activities under one roof.
During the day, you may find yourself glancing over your laptop to watch the birds, but you will also be keen to admire the view in the evening with a glass of wine in hand. When you set up your home office, use a free-standing desk that can double up as a drinks table in the centre of the room once you have logged off. Or choose a wheeled desk that you can slide out of sight when the day's work is over. You might have a lidded bureau behind which all the office paraphernalia can hide. Find a traditional model at an antiques' fair or choose a contemporary one such from a site like My Small Space. Office desks can be suspended from the wall on hinges or ropes that are discreet enough to be completely hidden during off-duty time. If you use a laptop, this can be packed away and taken indoors when it's not required. The addition of adequate storage means that you can hide away the trammels of industry in the evenings and breathe out in an atmosphere more conducive to relaxation.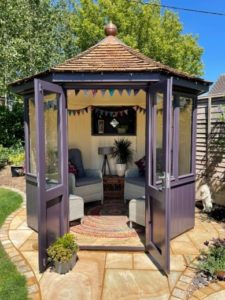 If you enjoy crafting, painting, or jewellery-making by day, you will need to be able to store away your kit, equipment, and precious works of art before your friends arrive for an evening of summer cocktails. Include wheeled trunks for storage that can double up as an occasional table and your garden building will serve double duty for multiple uses. Scotts offers free-standing modular seating with the dual purpose of providing a comfortable place to relax while also offering clever and discreet storage under lift-up seats. If you usually enjoy your summerhouse for yoga and meditation, you can simply roll up your mat and stash it away behind a tall plant when you have completed your final pose.
Seasonal variations
A summerhouse can bring enjoyment to your lifestyle no matter what the weather has in store. You will want to be prepared for changes in temperature and make small adjustments to keep the interior of your summerhouse in tune with the season.
If your summerhouse has been installed on a rotating base, you can easily swing it around and turn to face the sun as it moves around your garden. Similarly, in spring and autumn, it can be turned out of the wind to provide you with a sheltered spot for longer.
In summer, throw open the doors and windows of your garden building to let in fresh air and allow the breeze to keep you cool. A summerhouse provides the perfect shelter when the heat becomes intense and, with the right furniture, you can move on and off the patio or deck with ease. Add an umbrella and you can effectively extend the sheltered space from the door of your summerhouse into your garden.
Cosy curtains that keep out draughts in winter can be taken down in summer and replaced with blinds and shades to reduce heat gain. With electricity or a solarhub, you can power a fan or a small fridge to chill the beers or store some ice cream treats. In winter, a useful power supply can bring you added warmth through an electric or halogen heater. You may not require much additional lighting when the days are long, but ropes and strings of LED lights brighten up the darkest days and add sparkle and interest to your summer evening party setting.
Keeping warm in winter means that you will need plenty of rugs, throws and wraps on hand when the autumn leaves change colour. These items can easily be stored away indoors when summer returns. Shrink wrap in sealable storage bags and pop into the loft when they are not required. It's always worth keeping one or two blankets handy over the entire summer period so that you are well-prepared for the vagaries of our British weather.
Years of change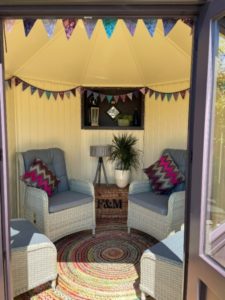 If you have made an investment and chosen a summerhouse that is built to last, you may find yourself using it in different ways as the years pass. What may have started life as a convenient location for your home-based business, or a garden office, might also lend itself to a recreational retreat in retirement.
As your children grow up and you no longer need all those outdoor games and toys, you can easily convert a garden playroom into a sophisticated adult space for relaxing and entertaining. When you sketch out your initial design, bear in mind your likely future usage and keep the space clear and simple with the minimum of fixtures and fittings. This will enable you to strip back your garden building to basics when your requirements change and make cosmetic adjustments that will enable you to enjoy it in other ways.
First principles
If you would prefer to create a multi-purpose space that can fulfil a range of uses from the start, it is best to brief in a bespoke summerhouse. Scotts is experienced in bringing to life almost any design of garden building and we relish the challenge of creating your dream summerhouse.
You might want to combine a home office with a workout space or gym or divide your floorplan between entertaining and storing outdoor equipment such as bikes and kayaks. Perhaps you envisage setting up a discreet bar or utility area where food and drinks can be prepared as you host friends and family in your own special garden venue.
Dividing your summerhouse space can be achieved with solid partition walls and could incorporate two external doors to keep the spaces truly separated. Walls built at half height can create discreet areas without reducing the light. If you are looking for more fluid space that can be adapted for a range of scenarios, this can be achieved by unfolding decorative wooden screens or hanging voile panels across the room. A heavier curtain fabric will create a more definite division between two spaces. To maximise the usefulness of storage space, install racking and shelving and you will be able to keep all your garden and leisure equipment tidily out of sight.
Inspired ideas
We hope that your summerhouse project planning will benefit from some of these insights into how a garden building can deliver amazing flexibility and become a useful and practical element of your home for years ahead. If you have questions about the options you are considering, our experienced team of designers will be happy to take your call and help you to work out the best solution.
Contact us when you are ready, and we will be in touch.