Whether you have lived in your home for many years or have just moved in, the moment will arrive when you turn your attention to the garden and are forced to admit that there is a blot on the landscape. Is there a shed or building in your garden that is little used, forgotten, broken down and becoming an eyesore? Or perhaps it is in the wrong place, too small or too large for your purposes? When the realisation has dawned that your existing building is no longer fit for purpose, it is time to start planning its removal and replacement.
By dismantling and removing your old garden building, you will be opening up your outdoor space, reclaiming a forgotten view, and clearing a path to a life-enhancing change. Modern garden buildings offer so much more than simply somewhere to store your sun loungers. In recent years, we have learned to value our outdoor spaces more than ever before and so it is worth investing in a garden building or summer house that complements the way you live now. In our blog, we explore how to approach the safe removal of an existing garden building and plan for its replacement.
Planning on dismantling?
You should think about removing a garden building if it is:
Tired, rotten, warped, draughty and cold
Too small with insufficient storage
Taking up too much valuable space
Old-fashioned in style and no longer attractive
Poorly positioned within the garden.
Plan ahead
You have made the decision to remove your garden building; now the hard work starts. But don't be tempted to start the demolition until you have thought through the process from start to finish and decided what you are going to do with the old building. If it is reusable, and you want to pass it on or sell it online, you will need to take care not to cause any damage to the structure as you take it apart, and keep all the fixings, door, and window furniture on one side in a safe place for the new owner.
If the building is no longer usable, try to break it up without creating a mess in your garden by clearing a space to stack the pieces neatly in manageable sections. Separate types of materials (wood, glass, metal) as you work to streamline recycling. If you are hiring a skip, work out the most accessible location at your property to minimise the effort of loading it.
A four-yard skip should be suitable to accommodate an average garden shed at a typical cost of £150 – £200 for a week. Suppliers websites contain helpful details on skip sizes and hire charges. If you plan to remove the debris in a van, think about how will you move the individual parts to the vehicle for safe loading? It might also be worth checking with your local Household Waste Recycling Centre about whether you can recycle the components of a garden building there without a permit. Rules can vary and as DIY waste is classified as 'non-household waste', you may be asked to confirm that your materials are from a domestic DIY project and is not trade waste which requires a permit. The regulations differ across the UK so check with your local centre before you make the journey.
Safety first
If you are planning to remove a garden shed yourself, always ensure that you have the tools to hand and wear suitable personal protective equipment including thick gloves, eye protectors and a dust mask. You will certainly need a flat-head screwdriver, and an electric screwdriver if possible. A crowbar or similar prising tool, and a claw hammer to remove nails will also be essential.
Using old or ill-maintained tools can cause accidents, and you should be mindful of the risk of injury from flying debris, rusty nails, and sharp splinters. If you can avoid working alone, the job will be easier as it can be tricky to maintain the structural integrity of the shed once you start to remove the wall and roof fixings.
Take care when working at height from a ladder and do not crawl or stand upon fragile roof panels. Be mindful of the weight of materials and practice safe methods of lifting or enlist some help. Turn off any electricity or water supply to the garden building before you start work. And watch out for wildlife or pets to ensure that you keep animals safe from the demolition process.
How do you take down an outbuilding?
Starting at the top with the smaller, cosmetic pieces, remove any fascia's and corner trims, roof finials, and other decorative features that do not have any structural role in the building. Next remove the door from its hinges and put aside ironmongery including the lock mechanism. Remove the window frames and take out the glass with care to avoid breakages. Put aside any Perspex glazing as this cannot be recycled.
The next step is to untack the roofing felt and remove the roof boards. Prize out the tacks with a claw hammer and be aware that the felt may shred or tear especially if the building has been in situ for many years.
Take off the ridge bars or bracings that fix the roof to the gable panels and free up the walls. Take care that the roof panels do not slide off at this point; ask someone to help you with this step to avoid potential injury. Unscrew the wall panels from the frame through which they are attached to the floor. An electric screwdriver will help to speed up this task.
Next, remove the screws from the corners of each wall panel and take away each wall, starting with the gable at the front. Walls made from tongue and groove or overlapped panels may break up during this process so you might need to stack individual lengths of wood once all the nails and screws have been removed.
Clear away the roof and wall panels and stack them neatly in an accessible place for ease of removal. Take up the floor, add this to the stack and clear away any debris that remains including stray screws and nails.
This process should be relatively straightforward; however, garden buildings are not always constructed in accordance with standard methods and sometimes the way they have been built, or the foundations on which they stand, may generate additional challenges.
Beware of asbestos
Although more commonly used in the construction of garage roofs in the UK, asbestos cement was a popular building material of the last century and was only positively banned from construction in 1999. It is now known to be extremely hazardous to health and should be handled with care. Identifying asbestos can be tricky as roofing materials made in this way look similar to cement fibre. Some corrugated panels have visible bar codes that start 'AC' but if you are concerned, it is advisable to engage a professional to assess and remove materials containing asbestos.
Dismantling a shed as opposed to a summer house
Dismantling a shed and dismantling a summer house share similarities, as both involve the careful removal of various components. However, there are some notable differences based on the complexity, materials used, and overall construction of the structures.
Similarities:
Step-by-Step Process: Both tasks generally follow a step-by-step process, starting from removing cosmetic elements to disassembling the main structure.
Safety Precautions: Safety precautions, such as wearing protective gear and using appropriate tools, are crucial for both projects to prevent accidents and injuries.
Material Separation: Separating and categorising materials during the dismantling process is important for recycling and responsible disposal.
Differences:
Complexity of Construction: Summer houses are often more complex in design and construction compared to basic sheds. They may have additional features like larger windows, decorative elements, and multiple rooms, which can complicate the dismantling process.
Materials Used: Summer houses, especially high-quality ones, might be constructed with more durable and varied materials than typical sheds. This could include higher-grade wood, glass, and additional fixtures, requiring more care during dismantling.
Size and Weight: Summer houses are generally larger and heavier than standard sheds. Handling larger components and heavier materials may require additional manpower or specialised equipment.
Interior Features: Summer houses are often designed for comfort and may include features like insulation, flooring, and electrical wiring. Dismantling may involve dealing with these interior components, adding an extra layer of complexity.
Reusability and Salvage: Summer houses, especially those of higher quality, may have components that are more suitable for reuse. Salvaging windows, doors, and other fixtures might be a more significant consideration in the case of a summer house.
In summary, while the basic steps of dismantling are similar, dismantling a summer house is likely to be a more intricate and involved process due to the larger size, complex construction, and potentially higher-grade materials used. It may also offer more opportunities for salvaging valuable components. Regardless of the structure, careful planning, adherence to safety measures, and attention to detail are crucial for a successful dismantling process.
Your new cleared garden space
Clearing away your old garden building will provide you with a fresh perspective on your outdoor space and open up new possibilities. Now is the time to consider replacing the shed with a purpose-built luxury summer house that you will never want to remove. Think about how you might use a high-spec garden building in ways that would add value to your lifestyle and wellbeing. Perhaps you enjoy a hobby that requires space and storage, or you might be working from home more often now. A garden room makes a great space for exercise, yoga, and meditation. Or it may simply become a place where you can spend time outdoors all year round and enjoy your garden in peace and tranquillity.
Before you start to plan your summer house project, do not immediately rush to locate it in the same place as the former garden building. Take some time to think about how you will use your summer house, and whether you would like the view to encompass your property or a wider natural vista. An octagonal summer house creates a stunning feature and looks more impressive with some space around it. However, if you want to make maximum use of a now-empty corner, choose a Scott's Newhaven corner summer house model (available in two sizes to accommodate most plots).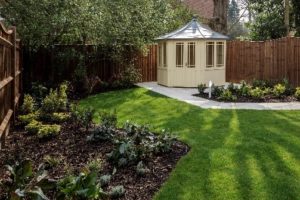 When you are planning to replace your garden building, examine the base that was left behind and check whether it is large enough or suitable for re-use. A well-laid concrete base, or level paving slabs can last for years if they were installed well and could provide the perfect platform for your new summer house in exactly the same position.
Bases made from timber or composite decking may have deteriorated over time as they have a shorter lifespan and may not have been suitably maintained.
It is best to install a bespoke base for your new summer house to ensure its strength and stability, especially if you plan to invest in a premium quality Scott's model that is built to last. Talk to us about the best options for a summer house or garden building base and we will be happy to advise you. Scott's provides detailed drawings for all its summer house models so you can assess the best fit for your outdoor space and ensure that you have prepared the way with meticulous planning.
Time to reflect
We hope that you have found this guide to removing a disused garden building useful and that we have provided some handy tips on how to go about the process. Whether you are planning to tackle it yourself or hire in some outside help, we are sure that you will be delighted once you have accomplished this task and opened up your outdoor space for renewal. After you have assessed the space that remains, the quality of the base and whether it needs replacing, and decided how you would use a new garden building, contact us to talk about your options and take the next step towards creating the perfect outdoor hideaway.
You might also enjoy reading these posts: