Once you have decided on the type, size, and location of your summer house, now is the time to start planning how to furnish it so that you can enjoy it to the full. While a summer house provides an instant extra room for your house and effectively extends your property, it should be furnished in a unique style that complements the way you live. Neither house nor garden, a summer house offers a bridge between indoors and out. In our blog, we look at some options for furnishing a garden building and explore some tips to help your decision-making process, as well as looking at some great examples that we have found.
Furniture Shopping
Before you start shopping, think carefully about how you will use your summer house and who will be enjoying it with you. This should influence your choice of how many items of furniture to install; it may be tempting to over-equip your garden building so bear in mind its footprint and always keep the dimensions on hand when you shop. Start with a hero piece, a favourite chair or table, and then build up around it, accessorising as you go.
In order to relax and absorb the benefits of nature, it is a given that you will need at least one chair inside your summer house. This should be comfortable and light enough to move around with ease so you can accommodate additional guests and visitors. Garden chairs have developed along more luxurious lines in recent years, and it is possible to find stylish rattan recliners, delicately dangling egg chairs, and wooden rocking chairs in a myriad of colours.
Natural, rustic materials such as Lloyd Loom-style wicker and Adirondack or Muskoka seating can complement any garden setting. Alternatively, you may opt to introduce an accent chair from inside the house to create a centrepiece. Its fabric can form the backdrop to your colour scheme and provide a steer for accessories.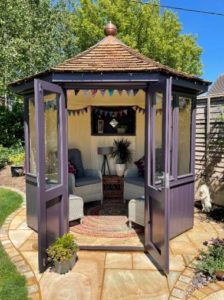 If you have a large summer house, you might prefer to include a sofa (or sofa bed to provide additional accommodation), or even a chaise longue to make a statement. Garden sofas can be freestanding, or part of a conversation set, and you can lift them out onto your patio with ease when the sun shines.
However you plan to enjoy your summer house, you are bound to need at least one small table for a cup of tea or glass of fizz. Create a coffee table from a chest or lidded wooden box and you can store cups and saucers inside. Choose a dining table that complements the size and shape of your summer house. A round or hexagonal table fits best within an octagonal summer house, while a rectangular shape augments a sunroom like Scotts' Sun Ray Garden Room.
Think about your favourite summer house activities and choose furniture pieces accordingly. Track down tall bar stools for an authentic party setting; find a super-comfortable chair to create a secret reading nook or seek out stackable plastic furniture in bright colours that can be packed away when the grandchildren have returned home.
Consider the types of materials that work best in an outdoor setting, enabling easy care and durability. Furniture made from metal and glass withstands the elements well and can be left outside when it rains. Materials such as bamboo and rattan are lightweight and can be easily moved, enabling flexible use inside your summer house or outside on the deck. Canvas and waterproof fabrics are lightweight and weather resistant. Plastics are exceptionally durable and easy to clean.
When you are choosing summer house furniture, take account of its exterior colour and choose shades that complement your choice of paint finish. Scotts summer houses are all delivered with a high-quality paint finish in a range of luxurious colours to provide inspiration for your garden building décor.
Selecting furniture shapes that work well within your summer house space requires careful planning to maximise its ergonomic potential. Choose folding chairs that can stacked away to provide more floor space for games. Wheeled chairs and tables are easily manoeuvrable on a hard floor. A dining set with chairs fully hidden under the table will minimize its footprint and save space. Nests of tables are ideal in this setting. If you are really creative, you could even attach a platform to a pulley and lift it into the roof space when you want to roll out your yoga mat.
Modular and dual purpose furniture
Mindful of flexibility, Scotts has designed its modular, free-standing seating to be re-arranged according to different scenarios. The seats are hinged to reveal integral storage space for cushions, wraps and throws. These are upholstered in a range of fabrics to complement the exterior paint colour; just ask our design experts which combinations they recommend. Scotts' seating is available with loose backrest cushions in a choice of stylish colourways. If you are considering the Scotts Balmoral, Baltimore or 2.4m Burghley summer house models with seating and upholstery, we also offer a slatted timber lounger insert with matching fabric cushions that can do double duty as a bed.
Other examples of useful and practical dual-purpose furniture include footstools that can double as a chair, or a folding sun lounger that provides seating inside when required. Beanbags and inflatables provide informal seating and can easily be transported outside when it is warm. At least some of your furniture should be easily portable so that you can avoid needing another set for use on the deck or patio in hot weather.
Where space permits, think about organising furniture into distinct zones. Set up a desk for a garden office in a discreet corner and divide the space with a sofa to create a separate relaxation area. Scotts created zoned areas in its limited-edition summer house model 'The Grand' which was unveiled at the RHS Chelsea Flower Show.
Whatever furniture you choose, the right accessories will help to bring it to life. Double the apparent size of your garden building with a floor-to-ceiling mirror on a single wall. Add decorative lighting (powered by a solarhub if you choose) to set off your carefully chosen pieces. A cushion box or all-weather garden store will provide the space to keep your equipment clean and dry through the winter.
Our picks – five items to furnish your summer house in style.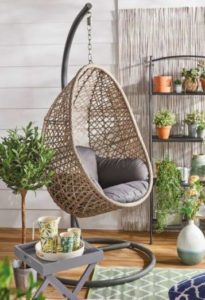 Eggs-cellent idea
This traditional woven hanging pod offers a comfortable spot inside your summer house for reading and meditation.
Rock 'n roll
The sleek lines of this plastic and bamboo rocking chair invite you to sit back and relax.
What's afoot?
A vintage footstool can double up as a chair or even an occasional table.
Hidden assets
'Stowaway' styles like this dining set enable you to hide the chairs away keeping the footprint small and opening up the floor space.
Nesting instinct
Available in all styles from industrial and rustic to more elegant, a nest of tables provides flexible space for entertaining.
Top tips to help you choose the best furniture
Choosing the right furniture for your summer house involves considering both functional and aesthetic factors. Here are some tips to help you make the best choices:
Assess Your Space: Begin by measuring your indoor and outdoor spaces. Take note of dimensions, layout, and any architectural features that might affect furniture placement. This will help you select appropriately sized pieces that fit comfortably.
Define Your Purpose: Determine how you plan to use each area of your summer house. Whether it's for lounging, dining, reading, or entertaining guests, understanding the intended purpose will guide your furniture selections.
Consider Durability: Since summer houses are often exposed to the elements, prioritise materials that can withstand sun, rain, and humidity. Teak, aluminium, and synthetic wicker are known for their outdoor durability. Ensure any cushions or upholstery are made from outdoor-grade fabrics that resist fading and mildew.
Versatility Matters: Opt for furniture that can transition seamlessly between indoor and outdoor spaces. Pieces like lightweight chairs, stackable stools, and tables can be easily moved as needed.
Comfort is Key: Comfortable seating and lounging options are essential for relaxation. Test the furniture in person if possible to ensure it offers adequate support and comfort. Add cushions and pillows for extra coziness.
Style and Aesthetics: Choose furniture that complements the overall style and atmosphere you want to create in your summer house. Whether you prefer a coastal, rustic, modern, or eclectic look, select pieces that align with your design vision.
Maintenance Considerations: Be realistic about the level of maintenance you're willing to commit to. Some materials, like teak, require periodic sealing or oiling, while others, like aluminium, are virtually maintenance-free.
Budget Wisely: Determine your budget beforehand and stick to it. While quality outdoor furniture can be an investment, it's important to balance cost with durability and style.
Mix and Match: Don't be afraid to mix and match different materials, styles, and colours to create an eclectic and inviting outdoor and indoor space.
Accessories and Decor: Enhance your summer house's ambiance with accessories like outdoor rugs, throw pillows, and lighting. These details can add character and comfort to your space.
Consider Storage: If your summer house will be vacant during the off-season, think about storage options for your outdoor furniture to protect it from harsh weather conditions.
Sustainability: If eco-friendliness is important to you, explore furniture options made from sustainable materials or consider repurposing and upcycling existing pieces.
By carefully considering these tips and your specific needs and preferences, you can choose the right furniture for your summer house that enhances your enjoyment of the space throughout the season.
Final thoughts on summer house furniture
In conclusion, furnishing your summer house is an opportunity to create a harmonious blend of comfort, style, and practicality, whether indoors or outdoors. By following the guidance provided in selecting durable materials, considering versatility, prioritising comfort, and aligning your choices with your design preferences and budget, you can craft a space that embodies the essence of the season and caters to your unique needs. Remember that the right furniture not only enhances your summer house's aesthetics but also ensures that you make the most of those precious warm-weather moments, whether you're basking in the sun, hosting gatherings, or simply enjoying the serenity of the season. We hope that you have been inspired by some of the ideas for summer house furniture that we have explored.
The only true limit to your summer house style is your imagination and if you would like to discuss your ideas with our team, we are happy to help and looking forward to hearing from you. Complete our contact form and we will be in touch.
You might also enjoy reading these posts: