Embarking on the journey to create your own summer house is an exciting endeavour, promising a space where relaxation, creativity, and cherished moments await. As you delve into the planning process, one of the most pivotal decisions you'll face is determining the ideal location within your garden. The placement of your summer house is not merely a logistical choice but a reflection of your vision for this unique space. In this guide, we will navigate through key considerations, from envisioning your activities within the summer house to understanding sunlight preferences, garden layout, and practicalities. Join us on this exploration to discover the answers to the question: Where should I put a summer house in my garden? Let's embark on a journey to find the perfect spot that aligns with your dreams and complements the beauty of your outdoor space.
Where should I put a summer house in my garden?
When you start to plan your summer house project, one of the most important decisions you will make is its position within your outdoor space. A number of factors will inevitably affect your decision and below we aim to help you answer some key questions to ensure that you make the right choice.
How do you envisage using your summer house?
It's always enjoyable to imagine yourself inside your garden building whatever activities (or none!) that you had planned for its use. Sit down, close your eyes for a moment and try to conjure up an image of your completed summer house. When you inhabit the vision in this way, you will conjure up an idea of what you can see and hear, how it feels and what you will be doing.
You might be seeing…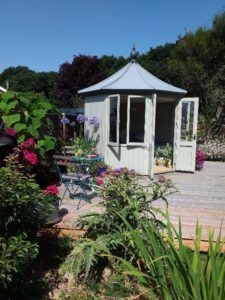 …a clear and tidy desk with your laptop open to reveal your latest project.
…a cup, saucer and teapot and a plate of cakes for your elevenses break.
…a yoga mat and blocks with a diffuser pouring out lavender scented haze.
…a hot tub or pool through the windows of a place to change your clothes.
…a wide vista or the fields and woods beyond the edge of your garden.
…some beautiful flowers in bloom; the fruits of your labour after a hard morning's work.
…an ice bucket and glasses as you serve the nibbles at a cocktail party.
…a busy bird-feeding station with flocks of visitors in all seasons.
…your house in the distance as you get down to authoring that novel.
…inspiration for your latest artwork in your garden planting.
…convenient storage for your crafting project.
This type of visualisation exercise will help to harness your intuition so you can decide on the best position for your summer house. Does it need to be somewhere quiet and tucked away or would you prefer your garden building to be closer to the house, so you pop in and out?
What style, size or shape of garden building would you prefer?
Visualising how you will use your summer house will influence its position and help you to decide on the size, style, and shape. If you dream of creating a stunning decorative feature in your garden, you might choose an elegant octagonal summer house and site it in the middle of your garden or at the apex of a slope or terraced area to maximise that view.
Perhaps your home office needs to be located in a quiet nook within a smaller garden. Choose a corner summer house model that maximises underused space. If your summer house is designed to provide a secret hideaway to which only you have the key, why not place it out of sight from your property? You might want to choose a smaller model to keep it really discreet.
Maybe you dream of creating a sociable space with your garden building so that you can invite family, friends, and neighbours over to enjoy the summer in style or pass around a glass of mulled wine in winter. Your chosen garden building might require a more expansive footprint so you will need to choose a prime location with plenty of space around it, including room for a deck or patio.
How do you feel about the sun?
Some people prefer to sit in the shade when it's warm outside while others cannot wait to bask in its rays from the comfort of their garden building. When you are making the decision about a site for your summer house, your status as a sun worshipper will certainly influence your choice of location.
As the sun rises in the east and sets in the west, take a compass, and check how the orientation of your property and garden affects the shade. Create a sun map using photos and drawings. If you want to attract as much warmth and light as possible into your summer house, choose a position where the sun falls for as much of the day as possible. A home office or art studio however might benefit from the flat light of a shaded position. You can always add electric power via the mains or a solarhub to enhance the lighting with lamps.
If you would like the flexibility to enjoy the sun in the cooler months and shelter in the shade on hotter days, you could select a summer house model with a rotating base. Scotts supply these for our smaller octagonal models, enabling you to turn them easily using handles that are incorporated into the design.
What type of property do you live in, and how is your garden arranged?
A summer house represents a premium addition to your living space and wherever it is located, you will expect it to add value to your experience of enjoying your home. Select a classic design with leaded glass and a cedar shingle roof and locate it within sight of your rear windows so viewing it from inside will always bring you pleasure.
Depending on the layout of your outdoor space, you might want to position your summer house in an underused corner or a separate area of your garden, leaving space for a striped lawn to flourish. You might enjoy a garden that is separated into discreet areas by planting and foliage or terracing. Position your summer house at the point where these areas coincide to create dedicated spaces for a variety of uses. If you prefer peace and quiet, avoid locating your garden building close to your neighbour's fence so that you can avoid being disturbed by children playing, their music or lawnmower.
While you will be keen to maximise your outdoor space, consider positioning your summer house more than 2m from your boundary edge to meet with permitted development regulations. You shouldn't usually need to request planning permission for a summer house, but we always recommend checking the local rules as these vary depending on where you live. If you do need planning permission for the perfect location for your dream summer house, you can simply follow the steps on the planning portal. Scott's can supply scale drawings of your chosen model to help make the process as smooth as possible.
It may be easy to lose sight of the practicalities (especially when you are indulging in wish fulfilment and visualisation) so don't forget the important structural considerations. No matter where you decide to position your summer house within your garden, it must be located on a firm, level base. This will ensure its stability and integrity far into the future, so it is worth spending some time and effort in getting this right.
Make sure that the ground is clear of obstacles and that nothing overhangs your summer house. Rain falling from bushes and trees onto the roof of your summer house could become a noisy nuisance. It's prudent to allow some space around the edges of your garden building to allow for any maintenance. You won't need to spend much time on this if you choose a Scott's long-lasting hardwood summer house, but you will need to be able to access each face to check the paintwork and clear any debris.
Whether you are living in your forever home or may decide to move, you will have better flexibility if you use a ground screw base. Scott's can offer this as an optional extra and deliver
Practical tips when choosing your summer house location
Do…
Map out your summer house base plan using string
Notice the sun's position at several points during the day
Consider more than one location and take time to decide
Ensure that you can reach your summer house easily on a path or via raised decking
Think about adding a rotating base to follow the sun
Choose a ground screw base if you think you might move house.
Don't…
Build on terrain with knotty tree roots and uneven ground
Site your summer house too near to overhanging trees and foliage
Be tempted to create a conspicuous lookout at the top of a slope
Forget the benefit of natural light
Choose a plot too near to your boundary or you could experience intrusive noise from neighbours.
Take a look some examples below of Scotts' summer houses in situ so you can gain inspiration from our customers.
Discreet and secluded, this bespoke summer house model helps to create a world of additional living space.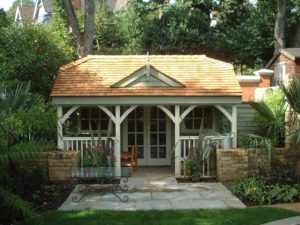 Choose a position facing the sun to maximise the benefit of natural light and warmth.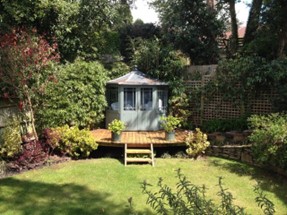 A corner summer house is a flexible design perfect for maximising the available space in a smaller garden.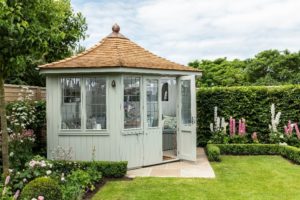 Summing up the perfect summer house location
In conclusion, finding the perfect location for your summer house within your garden is a nuanced decision that requires thoughtful consideration of both practical and personal factors. As you embark on this exciting project, envision how you plan to use the space – whether it's a tranquil retreat, a social hub, or a creative haven. Visualizing your activities will guide the style, size, and shape of your summer house.
Take into account your relationship with the sun; whether you're a sun enthusiast or prefer shaded tranquillity, understanding the sunlight patterns in your garden will help you choose an optimal position. Consider the layout of your property and garden, ensuring that the summer house enhances the overall aesthetic and adds value to your living space.
Navigating regulations and practicalities is crucial – adhere to local rules regarding distance from boundaries and invest time in creating a firm, level base for stability. Explore options like a ground screw base for flexibility, especially if you anticipate moving.
Finally, trust the process and take advantage of practical tips, such as mapping out your base plan, observing the sun's position, and allowing time to decide. Remember, the goal is to create a space that aligns with your vision and enhances your overall living experience. If you ever find yourself pondering the question, "Where should I put a summer house in my garden?" – consider these factors, and let your imagination guide you to the perfect spot. And should you seek expert advice, our experienced team at Scott's is here to assist you in making the best decision for your dream summer house. Get in touch, and let's bring your vision to life.
With so many choices of models and size, and such a myriad of factors to consider, why not allow our expert and experienced team to chat through your ideas and help you choose the perfect location for your new summer house.
Get in touch via our website or give us a call on 01832 732366  and we will do all we can to assist you.
You might also enjoy reading these posts: