Scotts enjoyed a fabulous week of blazing sunshine, blue skies, and exuberant crowds at the RHS Chelsea Flower Show (22-27 May 2023) as its unveiled its exclusive premium design, 'The Grand' for the first time. Built in an octagonal shape from sustainable hardwood, the interior was curated in Art Deco style to reflect the hedonism of the 1920s, reflecting the decade when Scotts first started in business over 100 years ago.
Visitors came to the show from all over the UK and around the world and we asked some of them to tell us what was behind their interest in summerhouses and their reaction to the garden buildings that Scotts had on display.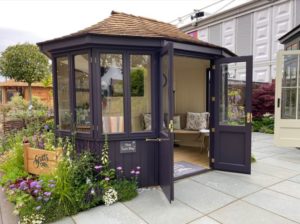 Judith from Harbury in Warwickshire described 'The Grand' as 'fabulous' and told us why she is keen to install a summerhouse at her village home. Judith said, "When my family was younger, we had a long garden with a summerhouse at the end and it was an ideal escape from a lively household. My children have left home now, and we have a small garden and a conservatory. But I am still keen to add a summerhouse because there is nothing like the experience of stepping outside into a totally separate space. I like to go out and read my book in the peace and quiet. My garden goes to a point so I think the Scotts' corner summerhouses would be best for me."
Ian and Margaret Sinclair from Knaresborough were visiting the show as part of a weekend of celebrations in London for their 51st wedding anniversary. Ian told us, "We had always wanted to visit the Chelsea Flower Show, so we're delighted to be here at last. Tomorrow we are planning to take a boat trip to Greenwich. We already have a summerhouse in our garden which we love. I am a Pilates teacher and I lead my online classes from there sometimes. I also like to relax with the newspaper, while Margaret enjoys a sit down with her morning coffee.
"We have decorated the walls with photos from local beauty spots and also from holidays we have loved so we can re-live special moments from inside our summerhouse. We were drawn to the Scotts stand because we liked the look of the draped fabric lining inside the roof of the Burghley model. We are going to ask our daughter, who is clever at sewing, to make a copy of it for us." Dairy farmers Andrew and Lesley Hiscock from Hardway in Somerset travelled up to London for the day after an early morning alarm call at 3.40am and milking their 1,000-strong herd.
Andrew said, "We don't get much time off from our work, but this trip was a Christmas gift, and we were determined to make the journey. Scotts' garden buildings are fabulous and one of them will make a perfect addition to our new stone-built house. We have just finished building it and we are planning the garden layout now. We don't socialise a great deal and see our summerhouse as somewhere quiet and relaxing for a dinner at home for just the two of us."
A visitor from the United States told us that she is a member of the Garden Club of America which was founded in 1913. A national non-profit organisation, the GCA has round 18,000 members dedicated to horticulture, conservation, creative arts, and environmental protection.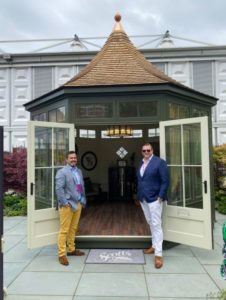 She said, "I am based at Grosse Pointe, Michigan and have been looking at British-made summerhouses in magazines for years. There is nothing like them in the USA and Scotts' buildings are fabulous. I love the round, traditional style of the Burghley model which would be perfect in my 1.5-acre garden with views of Lake St Clair. I could see myself sitting there enjoying a view of the water during the summer."
David and Jennifer Patrick travelled to Chelsea from Stockdalewath in Cumbria. The nearby River Roe was used historically by cattle-drivers taking livestock to market in Manchester. David and Jennifer have lived in the same house since they married 55 years ago. (Picture: James Scott, Managing Director, Scotts of Thrapston with Head of Sales, Billy Richardson)
David said, "Our summerhouse is at the top of our garden, 60 feet above the roofline of our house, and we access it by terraced steps. We can see for up to 30 miles towards Keswick from there and always get stunning views no matter what the weather."
RAF veteran David who served in Hong Kong for GCHQ is an amateur radio enthusiast and talks to people from all over the world on a range of frequencies from his summerhouse. David has installed electric power in his summerhouse and there is a solar panel on the roof. Jennifer enjoys reading novels in their garden building, and the dog finds it a perfect place for a snooze.
From the village of Warlingham in Surrey, Kay and Michael Neal have lived in their house for 30 years. Michael is a carpenter and Kay is eager for him to build them a summerhouse, taking inspiration from some of the garden buildings and styles they have seen at the Chelsea Flower Show.
Kay said, "We already have a garden room inside our house, but I would still love a summerhouse because I like the idea of going outside to get away from it all."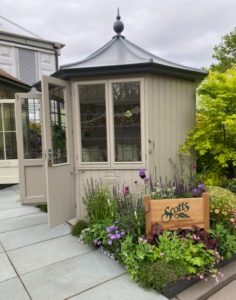 National Trust members, the couple enjoy visiting nearby Emmetts Garden at Sevenoaks in Kent for walks and inspiration from its rock garden.
Another visitor from overseas, Leslie Connell was looking for a summerhouse for a new patio at their house in Torquay. She and her husband live in the United States and spend around six to eight weeks in the UK each year. Leslie said, "Scotts' summerhouses are fantastic; we would never be able to find anything like in the US. The Sun Ray Garden Room on display here is perfect, just what I am looking for. I am going to choose the fern green exterior paint with cream inside. I am also going to get the bay shelf added with the diamond-paned glass because it looks so attractive and will be really handy."
Lisa and Peter Dootson from Hebden Bridge were enjoying their few days in London at the show and are looking for ideas for their garden as they are in the middle of a major overhaul. They loved the idea behind the Scotts' rotating base fitted to the Burghley model at the show and were impressed with the demo when Scott's head of sales Billy Richardson swung it around using its special handles.
Travelling all the way from York for the day by coach, Bruce and his 90-year-old-friend John had a long-held ambition to visit RHS Chelsea.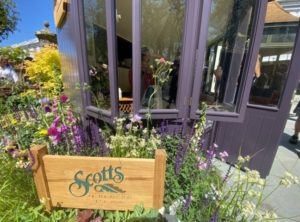 John said, "I am so glad we are here; I have always wanted to come. It's a fantastic event and I really love Scotts' 'Grand' summerhouse. It's been great to get some ideas for my own garden at home. I love London, there's always such an exciting atmosphere and we enjoy visiting – but I equally love getting home too at the end of the day!"
Finally, we spoke to some neighbours who are local to Scotts in Northamptonshire. Peter and Colleen from Northampton had made the journey to celebrate Peter's 60th birthday. He said, "We know of Scotts and they have a fantastic reputation; some of our friends and neighbours already have one of their garden buildings so we know how good they are."
Peter and Colleen were about to join a cruise that stops in Belfast, where they are planning to meet friends who have just moved to Co. Donegal in Ireland. As we were talking, another visitor arrived from Co. Down and was able to recommend the best spots for a meet-up!
We really enjoyed our week at the RHS Chelsea Flower Show talking to so many friendly people with a passion for their gardens and summerhouse living. Thank you to everyone who stopped by to tell us their stories.
If you are inspired by what you have heard but weren't able to get to the show this year, our expert team is standing by to talk to you about bringing your dream summerhouse project to life. Contact us and arrange to visit one of our show sites around the UK.