With the delightful selection of summer houses available in the Scotts' range, you will be full of excitement and anticipation as you start the process of selecting the right model for your garden. It may be tempting to rush to decisions about the style of roof, windows, and doors, and to choose the paint finish and interior fittings. However, before you can sit back and relax in your new garden building, you will need to create a safe and solid foundation on which it can stand. Deciding on the right summer house base is an important stage in preparing your garden for this attractive new feature.
Do I need a base for a summer house or garden room?
Yes, you typically need a solid base or foundation for a summer house, garden room or office. A proper base provides stability, prevents sinking or shifting, and ensures the structure's longevity. The specific type of base can vary depending on factors like the size and weight of the building, local building codes, and personal preferences. Common options include a concrete base, timber frames, and paving slabs. The choice of base should be carefully considered to support the structure adequately and provide a level and secure surface for your summer house or garden room.
We always remind our customers to start their summer house or garden room project by thinking about its foundations and it is important to remember that a solid base constructed from the right materials helps to provide stability and promotes longevity. Our blog explores the options with the aim of providing you with some ideas and tips to help you select the perfect base for your summer house project. Below we have put together a list of our recommended types of bases that you should consider before buying your summer house.
Summer House, Garden Room or Office types of Foundation 
In the world of garden rooms and summer houses, the foundation you choose sets the stage for the entire project. There are several types of foundations to consider, each with its own set of benefits and considerations. These various foundation options cater to different needs and preferences, so understanding the pros and cons of each is crucial before embarking on your garden room or summer house project.
Concrete Base or Foundation
Concrete offers a strong, level, and durable base that will provide a secure, protective, and permanent foundation for your summer house. Concrete is a type of 'artificial rock' manmade by combining aggregates such as sand, gravel and crushed stones with cement and water. It is the second most used material on earth after water and lasts up to 100 years. Some of the concrete used to build the Hoover Dam in 1936 is still drying out!
Concrete bases are most appropriate for larger, heavier garden buildings, such as the more spacious summer houses within the Scott's range including those that some our customers use as garden offices and home gyms.
What's involved with a concrete foundation?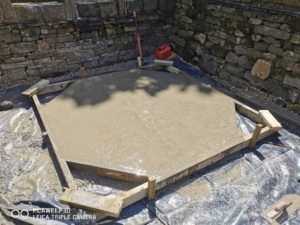 The construction of a concrete base requires hard work and heavy lifting, so we recommend hiring professional help for this stage of your project. It is a task that must be fulfilled with accuracy and precision to create the best base for a summer house, garden room or office. A concrete base should be slightly larger in size than your summer house and should be raised from the ground to promote drainage.
You will need to start by excavating 15 -20 cm of soil and debris at the site and building a precisely level timber form or frame at the right size, ensuring that all angles are square. Next, lay a weed-proof membrane and then add a sub-base made from granular material such as MOT Type 1 that binds together and offers good drainage potential. This will need to be compacted with a suitable tool. You will need a cement mixer to mix the concrete and a timber strut to gradually flatten the concrete as it is poured into the frame. It is usually possible to walk on a concrete base after two days, but it is wise to allow one week between laying the base and installing your garden building.
Concrete Pros and cons
Pros
Extremely durable and permanent solution that will protect the long life of your garden building.
Lifts the summer house away from the ground preventing water from pooling and causing problems with damp
Requires no maintenance.
Cons
More expensive especially if you hire professional help (and heavy work to carry out yourself).
An over-engineered solution for smaller summer houses or garden rooms.
Lacks flexibility once installed.
Paving Slab Base
Paving slabs provide a popular alternative choice of summer house base and represent one of the easiest options to install. A paving slab base for a summer house, garden room or office will last for decades provided it is installed carefully to avoid any movement. Depending on the type of paving slabs, you could choose to create an attractive patio area by extending the base at the front of your summer house and adding garden furniture to enhance the useable space. A paving slab base can be laid on a simple foundation of sand and cement with anchor points at each corner.
Unlike a concrete base, paving slabs are more flexible and, in most cases, can be easily extended at any time should you require a larger patio area. A foundation made from paving slabs is relatively easy to lay compared with a concrete base.
The choice of slabs is important, and riven or textured paving slabs are not recommended as they can reduce stability. Extra attention and care must be taken to ensure that paving slabs are laid evenly. Before you start, make sure that the ground below the slabs is completely stable to avoid any movement.
What's involved with Paving Slabs?
As with concrete, paving slabs require a suitable base and cannot be laid on soil which is liable to expand and contract in response to the vagaries of the weather. First, it is necessary to clear the area on which the base will stand and lay down a porous weed-proof membrane. Add some MOT Type 1 aggregate followed by cement which will help to strengthen the base, so it becomes suitably load-bearing.
You can use any type of slabs including reclaimed items as they won't be seen beneath the summer house. However, if you are extending a patio around your garden building, you might prefer to use the same slab design throughout to create a seamless effect. Lower the slabs into place with care and use a rubber mallet to make adjustments until each one is perfectly flat. Be aware of any changes of level within your garden as even the slightest gradient can make this task more challenging. Once all slabs have been firmly and accurately butted up to each other, you can allow the cement to dry, and your base will be ready to hold your summer house or garden room within a few days.
Pros and cons of Paving Slabs
Pros
Easy to lay and highly durable
Attractive appearance especially as part of an extended patio
Less costly than concrete.
Cons 
Risk of movement and subsidence
Heavy to lift and install
Requires precision to lay evenly.
Timber Decking Base
Timber decking can create an attractive base for your summer house and has become extremely popular in recent years. It can last 15-20 years with careful maintenance which should include regular pressure-washing, sanding, staining, and sealing. This type of base can help to prevent dampness in your summer house as the ridges within the decking panels allow water to drain and air to circulate. This type of decking is much quicker to install than concrete or paving slab bases and you can extend it beyond the walls of your summer house to create a veranda for your garden table and chairs. NB: garden decking should be no more than 0.3m in height to be classed as permitted development under Class E of government planning guidelines.
Decking should be installed in a timber frame that is elevated from ground level using concrete blocks. This also prevents moisture from penetrating your garden building and allows air to circulate which reduces the risk of mould or mildew. Most timber decking is made from softwood derived from faster growing evergreen or coniferous trees. As it is made from wood, it looks good, is easy to maintain and is kinder to the environment provided it is sustainably sourced.
While timber decking creates a pleasant feature, it requires regular maintenance and is not suitable for larger summer houses. Remember that timber decking can become slippery in wet weather conditions.
What's involved with Timber Decking?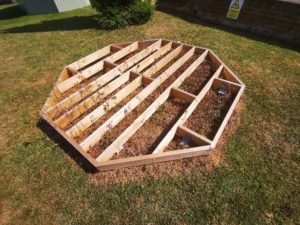 A base made from decking should be fixed to a timber frame and raised from the ground to keep it as dry as possible. First, you need to create the frame ideally using tanalised or pressure-treated wood which has enhanced durability. Include sufficient cross-pieces within the frame to strengthen the base. Lengths of decking should be laid perpendicular to your timber frame for extra stability so decide which direction you want the panels to run before you install it.
Once your timber frame is securely joined together, lay a porous membrane to prevent weeds from growing through the gaps in your decking. The timber frame should be raised from the ground on legs made from 4×2 timber pieces and it is advisable to apply wood preservative to exposed ends to deter water ingress. Corner uprights should be augmented with additional supports throughout the middle of the structure to hold the surface firm and prevent the deck from bouncing.
Affix deck panels to the face and sides of the timber frame and eliminate any exposed raw timber to create a professional appearance. As you place and fix your decking lengths, use a wood screw to create even spaces between each panel as these can expand or contract with changes in air temperature.
Pros and cons of Timber Decking
Pros
A natural and attractive feature
Quick and easy to install
Expect materials (and labour) to be less costly
Creates an integral veranda.
Cons
Timber decking requires some maintenance
Decking can be slippery when wet
Timber is susceptible to mould and damp.
Composite Decking Base
Composite decking is a more contemporary option which can add additional style to your outdoor space. Made from recycled plastic and wood fibres, it is environmentally friendly, and the benefits include less maintenance, greater durability, a longer life expectancy than timber (around 25-30 years) and no splinters. In addition, most composite boards are available in a wide range of colours which means you can choose a tone that complements your summer house paint finish and garden planting.
Overall, composite decking is a more expensive alternative to timber. And, if you are looking for a decking with a natural appearance, composites are not the answer. Like timber, composite decking can also become slippery when wet.
What's involved with Composite Decking?
The process for fitting a composite decking summer house base is broadly similar to that for a timber deck. Installers recommend taking delivery of your composite panels 72 hours before they are installed to allow the materials to acclimatise. You will need slightly different materials to fix the deck including composite decking screws and fastener clips that are hidden` underneath each panel and tightened once the panel is in place. You can opt for wood-effect composite decking or choose a colour that tones with the paint finish of your summer house. Scotts offers a choice of eleven luxurious paint colours from a light Putty to a deep Aegean Blue so think about how your choice of summer house colour might tone with a composite decking base.
Pros and cons of Composite Decking
Pros
Made from sustainably sourced wood fibres and recycled plastic
Available in a choice of colours
UV, stain, and scratch resistant
Splinter and warp-proof.
Cons
May appear less natural than timber
Higher cost to install
Colour prone to fading
Becomes slippery when wet.
Ground Screw Base
Finally, let's take a look at a Ground Screw base option which provides an alternative solution that is highly recommended by Scotts – we consider this alternative to be the best base for a summer house. A ground screw is similar in appearance to a giant wood screw and stands at around 1.5m in height with a flat top to which you can securely fasten a timber frame for your summer house. This innovative technology is minimally invasive and makes a low impact on the environment. Made from galvanised steel, the screws do not rust and will last for decades. Consider carrying out a ground scan before installing ground screws to check for electricity cables or other services.
Scotts has partnered with The Ground Screw Centre to offer a substitute for traditional base types. A Ground Screw base eliminates the need for excavating the ground and can be installed quickly within a single day and no heavy machinery needs to be brought on site. What's more, your summer house can be immediately loaded onto the base after it has been constructed without delay. As a flexible, non-permanent solution, the ground screws can be easily removed if you wish to relocate your summer house to a new position (or property) in the future.
A ground screw and timber joist base system is environmentally and ecologically friendly and emits no ground contaminants. It enables air flow to keep the timber base free of moisture and decay. It can be set at ground level or slightly raised to mitigate any risk of flooding. It is a highly flexible option that can be adjusted to accommodate level ground or a sloping site.
What's involved with a Ground Screw Base?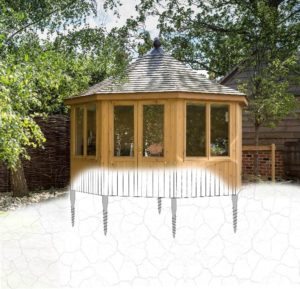 Once you have marked out the plan for your base, you will need to drill down to around 300 – 400ml so that the screw reaches the clay beneath any hardcore or rubble identifying any potential obstacles. Start to turn your ground screw by hand using a bespoke installation tool applying some downward pressure at first. In most ground conditions, it should be possible for an individual to turn the ground screw on their own until it will go no further. Each quarter turn will push the screw 10mm deeper into the ground.
The Ground Screw Centre offers a calculator tool on its website so you can assess how many ground screws you need for your summer house base. Once all the screws have been installed, it is easy to affix a timber frame using adjustable brackets.
Pros and cons of Ground Screw Bases
Pros
Cost-effective alternative
Height-adjustable
Ideal for sloping sites
Non-permanent.
Cons
Higher cost than conventional bases
Need to check for underground obstacles
May be more difficult to secure in some soil conditions.
What's the best base for a summer house or garden room?
Our blog has examined the main options that our customers consider before they install a garden summer house. In summary, if you are looking for a permanent and durable solution in which you are prepared to invest, choose a concrete or paving slab base. If you would prefer to divert your investment into your choice of a high-quality summer house, a timber or composite decking base could be the perfect solution. And if you think you may move in the future or want to limit your impact on the environment, then let us help you to install a Ground Screw base.
We hope that this guide has provided food for thought and helped you to decide on the way forward for you own summer house, garden room or office project. Whatever route you choose, if you are planning to buy a Scotts summer house, please ensure that you obtain the base plan relevant to your summer house prior to constructing your base, so it is built to the ideal size and on the ideal foundation.
We are happy to answer your questions so please speak to our knowledgeable team who can advise you on the wide range of base options and how they can be installed.
Contact us to bring your summer house project to life.
You might also enjoy reading these posts: