A summerhouse provides a bright and airy space that complements your lifestyle and enables you to make the most of the daylight all year round and bask in the warmth of the sun. It is also the perfect venue for socialising and entertaining into the evening and during our winter holidays and festivals. In the darker months and late at night your summerhouse will benefit from the addition of bespoke stylish lighting both inside and out. In our blog we look at ways to extend the practical use of your summerhouse while also creating a stunning feature in your garden.
Creating an outdoor ambience
As you plan your summerhouse think about its visual appeal from the house and as decorative lights to the structure itself and also to any adjacent fence or pergola. The range of LED lights has grown significantly in recent years, and you can source lights in almost any colour or style to complement your garden design. Choose from festoons of lights with classic filament bulbs or find colour changing alternatives. Shaped lights are available in a range of designs such as these Ivy Firefly lights.
Strings of lights do not have to be draped horizontally and can also create an attractive curtain when draped from a fence post or one of the walls of your summerhouse. Similarly, you can add lights to any feature including your favourite tree or garden ornament. Light reflected in water brings an additional dimension to your view so think about installing LEDs around your swimming pool or pond or embed them within a water feature.
Wayfinding lights for paths, patios and decks draw the eye to your summerhouse. Plinth lights are available for decking to subtly illuminate any steps. You can also add low profile ground-based LED lights to footpaths or around the edges of your summerhouse to create a focal point. Solar powered lights are popular for pathways and are available as bollards, posts or stakes that are inserted directly into the ground.
Attach external lanterns to the walls of your summerhouse including motion sensitive lights that are activated as you approach. Think also about security and add motion sensor lighting to the areas around your summerhouse and decking and you will be able to spot any movement after dark.
Lighting that invites you in
The right lighting brings an extra dimension to the interior of your summerhouse. Decorate it for evening parties as well as festivals and holidays such as Halloween, Diwali, or Christmas. Lights at the windows will invite your guests to join you. For dinner parties use rechargeable portable touch lamps that can be moved around easily as you need them.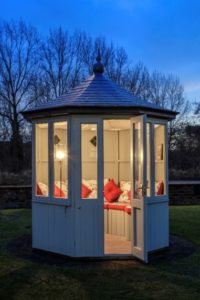 If you plan to embrace wellbeing and mindfulness within your summerhouse, use lighting to create the right mood. Soft dim colours can create a sense of calm which is perfect if you are practising yoga or meditation.
The right lighting is key if you are working in your garden building home office. Use a floor standing lamp or desk light to give your eyes a break from the computer screen. Many of our clients use their summerhouses for hobby rooms and workshops. Close work calls for bright directional light so that you can focus on the finer details of craft and art projects.
Whatever type of lighting you wish to install in your summerhouse, it's best to consider the issue of power at the planning stages. Battery and rechargeable options could be perfect depending on your anticipated level of usage and are often ideal for those using their summerhouse socially and for relaxation. Scotts supplies a solar lighting package with a high efficiency solar panel, lithium battery hub and a table and floor lamp with warm-tone LED vintage-style bulbs.
If you're planning to use your garden building more extensively and for longer periods it may be worth considering the installation of mains electricity. Adding power to your summerhouse brings the benefit of connectivity and reliable source of lighting. This must be conducted by a professional using armoured and insulated cables that are buried beneath the ground. You will need to factor this into the installation process for your new summerhouse and be sure to get the wiring signed off by a qualified electrician.
If you would like to install ceiling lights inside your summerhouse, Scotts can help you using their bespoke design service, embedding the lights within the roof underlining. Flag your wishes to our design team at the outset so we can allow for this process.
Pros and cons of summerhouse lighting types
Battery-power
The impact of your lighting will depend on the life of the batteries and will involve regular replacement. As batteries age, lights can dim and lose their impact. Batteries could fail at any time leaving you plunged into darkness. Batteries need to be recycled properly in order to avoid damaging the environment.
Rechargeable
Increasing numbers of household and garden items are now rechargeable and you can plug most of them in using the USB cable. Charging portable lights inside your house and taking them outside for use in the garden building is an efficient way to brightening up your space with minimal effort. Rechargeable items have the benefit of being cordless and can be more easily moved around. You will simply need to remember to charge your lights and lamps regularly.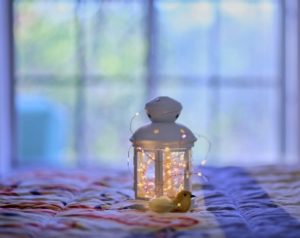 Solar power
An easy and efficient source of energy solar power is nevertheless at its best in bright sunshine, but you may find that smaller panels cannot convert enough energy to keep the lights on all year. Solar lighting is a great low maintenance alternative to batteries and rechargeable lighting.
Mains power
Lighting powered from the electric mains will be brighter, stronger, and completely reliable. The installation process may extend your summerhouse installation project in terms of time and cost, but the benefits will outweigh any inconvenience. Safety must remain paramount, and all mains electric adaptations must be made and signed off by a qualified electrician.
Light up your life
We have been researching the best lights for gardens and summerhouses and here are a few of our favourites.
This attractive portable, LED rechargeable lamp is fitted with a dimmer switch.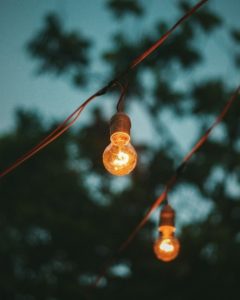 Add some fun to your garden with this decorative hanging light that reflects patterns onto the grass.
The classic shape of this LED post will light the way to your summerhouse door in style.
Choose this freestanding rattan outdoor LED to adorn and extend your useable space after dark.
Lighting the way
Whatever type of lighting you decide to install inside or outside your summerhouse, choose wisely to complement its shape, colour, size, and position within your garden. Look at the Scotts website for inspiration based on how our previous customers have customised their summerhouse designs to complement their properties and outdoor spaces. Our design team is always on hand to discuss your project and we are happy to help you achieve your garden building vision.
Contact us via our web form or call us to discuss getting your project underway.