Our enthusiasm for growing our own vegetables and herbs in the garden is growing with more than a third of individuals in the UK trying their hand at putting their own food on the table. What's more, almost half are following eco-friendly methods and reducing their use of chemicals. There is nothing more satisfying than serving up your own homegrown salad vegetables or producing a stew with potatoes and carrots that you have sown yourself.
Gardening is well known to deliver many wellbeing benefits that boost our mood while the soil itself contains valuable microbes to promote gut health. Vegetable and herb gardens provide an opportunity for deep mindfulness as we lose ourselves in nurturing our precious plants. Below we explore options for growing garden vegetables and herbs at home and how the addition of a garden building adds to its ease and convenience.
A summerhouse for your vegetable patch
The addition of a garden building brings truly fantastic benefits providing:
a great base to start early cultivation or hibernate plants over winter or supporting fresh seedlings.
a perfect place to rest when the digging is done where you can enjoy a refreshing cup of tea.
an opportunity to sit back and take in the fruits of your labour, observing small changes as they occur day by day.
a chance to watch pollinators doing their bit to promote abundant growth.
a focal point at the centre of your garden that adds to its overall impact and appeal.
somewhere to store all the kit and equipment you will inevitably acquire as a vegetable and herb gardener.
Step by step guide to creating a herb garden
Herbs have been identified as a helpful aid to human beings since the dawn of time, with Chinese records highlighting herbal medicine as early as 2,800BCE. Herbs bring out the flavour in our favourite dishes, generate relaxing scent, deter insects from damaging other plants, provide attractive additions to borders, and offer medicinal benefits when taken in teas and balms. Follow the steps below to set out a herb garden that you will enjoy for years to come.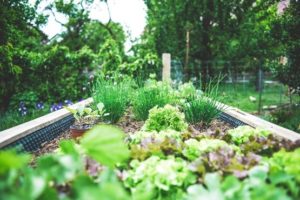 First, choose your location and remember that most herbs need a great deal of sunlight so find a spot that benefits from the sun and has well-draining soil. Decide on the style of garden you prefer and how you want the herbs to be arranged, whether in raised beds, in the ground or in containers. Your herb garden style will depend on the available space in your garden and your personal preference for how it looks.
Choose the herbs you want to grow depending on where you live and the type of climate in which they will be growing, how you plan to use the herbs, and the level of sunlight in your garden. Amongst the most popular are rosemary, thyme, oregano, sage, mint, basil, chives, and parsley.
Once you have decided on the range of herbs you plan to plant, head down to the garden centre and pick up packets of seeds or select small plants from a nursery. Growing from seed takes much longer but you will have a wider choice, while purchasing young plants will enable you to see the results more quickly.
The way herbs are planted will vary so follow the instructions carefully and be sure to leave the right amount of space around young plants to enable them to thrive. You will need to water them regularly to keep the soil moist but not waterlogged as the plants establish their roots. Once they have started growing herbs tolerate dry conditions well and so regular watering will be less essential.
It can be helpful to add a layer of organic mulch around your herbs as this will help to retain soil moisture, reduce weed growth, and maintain a steady temperature. Herbs need regular pruning and should be harvested regularly to encourage new growth. Do this with pruning shears or sharp scissors to avoid damaging your plants.
All types of gardens require regular maintenance so check your herbs for signs of pests or diseases and take appropriate action using organic methods and treatments. From time to time, it's wise to fertilise your herbs with a balanced slow-release fertiliser following the instructions carefully.
Arrange your herbs to complement each other and look attractive. Plant herbs that need similar amounts of water and sunlight in the same place. Intersperse herbs with rocks, stones, or sculptures to increase the decorative and visual appeal of your herb garden. Once you have a good crop of herbs you can start to enjoy their fragrance and add them to cooking or start to make herbal tea.
Types of herb garden
Herbs are highly versatile and there are many different ways to lay them out:
Plant herbs in raised beds or planters created from bricks or railway sleepers.
Scatter pots around your patio including around the outside of your summerhouse. Affix planters to the exterior walls of your garden building or include them in window boxes.
Upcycle unwanted containers and decrease your carbon footprint.
Grow herbs as part of an outdoor kitchen situated outside your summerhouse for ease of access.
Try hydroponics and grow herbs in water to reduce any mess from soil debris.
Vertical planting works well for herbs, and you can create a living wall outside your summerhouse from unwanted pallets.
Garden herbs look highly decorative when planted in borders and can augment the edges of your vegetable patch by attracting pollinators and discouraging pests.
Step by step guide to creating a herb garden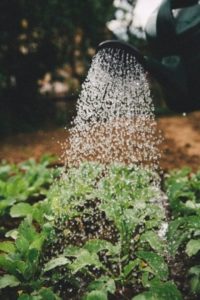 As with the herb garden you will need to ensure that your garden receives at least 6 to 8 hours of sunlight every day and it is particularly important that the soil is well-drained to prevent waterlogging. The size and layout of your garden will dictate the plan whether you include raised beds, traditional rows or create a container gardens. Do your research first and find out how much space each type of vegetable will need to grow.
Get to grips with technical details and test the soil for pH and nutrient levels before you start planting. Most vegetables prefer slightly acidic or neutral pH levels. You can adjust the acidity with compost or organic matter to improve its fertility.
Opt for vegetables that your family like to eat and temper your ambitions to the amount of maintenance they need. Vegetable gardening beginners often start with tomatoes, lettuce, radishes, and beans first as these tend to be easier to grow.
As with herbs, you can plant vegetable seeds indoors several weeks before the last frost (here's where your summerhouse comes in handy!). Alternatively buy seedlings from nurseries or garden centres and follow the instructions for the right planting depth and spacing.
Watering regularly is essential for a successful vegetable garden and the deeper you water, the better for root growth. You will need to strike a balance between keeping the soil consistently moist while not over watering. Adding mulch helps to retain moisture and suppress weeds.
Vegetable plants should be fed with fertiliser or compost to deliver those essential nutrients but be careful to avoid over fertilising. Keep an eye on your plants for any sign of diseases or pests and use organic methods or natural sprays to manage any issues.
You will need to regularly remove weeds to keep your vegetables healthy. Many vegetables also benefit from pruning and training to improve airflow and support to the plants as they grow. Do some research so you'll know when to harvest your plants as different varieties will ripen at slower and faster rates. Keep the soil healthy and prevent diseases by rotating crops in different areas of your garden each year.
Types of vegetable garden
Design the size, shape, and structure of your vegetable patch with your garden in mind.
If you have a large garden, you will have space to plant a traditional vegetable patch and add compost and leaf mould to help promote growth.
Permaculture enables vegetables to grow in harmony with nature. Plant with sustainability in mind, and reduce, reuse, and recycle as much as possible. Collect rainwater in a butt and incorporate a wormery to fertilise the soil. Avoid using chemicals as far as possible.
A no-dig vegetable garden could work well in light soils, but you keep an eye out to make sure it does not dry out. Plant vegetables in narrow beds with wooden borders and layer newspaper, straw, sawdust, and grass clippings with soil on top after watering.
Square foot gardening helps to keep different varieties separate and you can create small modular sections.
Herbs and vegetables grow best in direct sun and rows should ideally run north to south with taller plants on the north side to avoid shading those that grow lower.
Choose the position of your summerhouse with care to gain as much light as possible if you intend to use it to nurture early plants. Scotts' garden buildings offer the ingenious option of a rotating base enabling you to take advantage of the sunlight for longer in the year. Built on nylon wheels and hidden behind a discreet timber skirt, simply grab a handle to turn the entire building in the direction of the sun.
For any type of vegetable and herb growing you will need good access to your garden so ensure that you have at least one path through the middle of your patch that is around 30cm wide. If your summerhouse is located at the centre of your garden, ensure that there is room around the outside to place pots and planters. You might prefer a gravel path, stone paving, or even a wooden or composite deck that leads up to your summerhouse door.
A sloping garden is no barrier to vegetable and herb growing and you can simply arrange your plants in terracing. The ground screw base offered by Scotts for many of its garden building models provides the perfect solution in an angled plot enabling you to install your summerhouse refuge at the heart of the planting action.
Colourful thinking
Finally, Scotts offers a wide range of exterior colour options for its summerhouses, all applied before installation in a premium spray paint finish. Sage green or Aubergine will tie in perfectly with your vegetable or herb garden. To keep the theme alive inside, you might choose our Sanderson Jackfruit Olive upholstery fabric with accompanying small cushions in Altea Thyme green. Scotts modular seating offers plenty of space to store your gardening gloves and trowel.
Whether you're a green-fingered gardening enthusiast or simply love to watch your garden grow from a comfortable vantage point, we hope you agree that the addition of a summerhouse will enhance your enjoyment.
Our team would love to hear about what you are growing and how they can help bring your garden building to fruition. Contact us online or give as a call on 01832 732366.