The practical decisions are made, and you have chosen the size and shape of your garden summer house. You know where it is going to be positioned and have agreed on the type of base that will best support your summer house. Now is the time to let your imagination run riot and have some fun thinking about the exterior paint colour for your garden building and how you will enhance it with furnishings and décor inside. We understand that these decisions involve a significant commitment as you will expect to enjoy your choices for years to come.
The colour you choose for your summer house paint finish will define the character of your garden building and inform your choices of interior décor. In our blog, we explore some of the factors that might affect your decision and influence your choices on the colour and style of your new summer house.
Picking the right colour
The latest trends influence designers in all applications of colour from fashion and clothing to garden and interior design. Predictions for the year ahead suggest that shades from the natural world will continue to influence colour trends as we continue to focus on protecting the planet. The colour consistency experts at Pantone have named Viva Magenta (a bold pink) as their latest 'colour of the year' and other commentators suggest that rich and warm tones are increasing in popularity. Consumer trend forecasters WSGN predict that shades such as Jade and Verdigris by The Coloro are set to dominate our choices. And House Beautiful suggests that jewel colours and warm neutrals will make their influence felt on our choice of colourways.
Whether you derive inspiration from the trends, or prefer classic and timeless shades, let's look at the principal areas in which you will need to make decisions about how to use colour.
Summer house colours outside
Your choice of colour will be significantly increased if you select a summer house with painted exterior walls. Not only will you be able to choose exactly the right shade for your property and garden, but you will gain the peace of mind that your premium summer house creation will be well protected from the elements. Outdoor paint also provides protection from insects, mould, and fungus. All Scotts' summer houses are supplied with a super-silky matt painted finish in a wide range of appealing colours including classic and contemporary shades.
Take account of the roof type you have chosen before you decide on the colour of your summer house's exterior walls. Scotts' summer houses are available with lead-effect and slate-effect moulded composite roofs in cool greys and many models can also be fitted with a natural cedar shingle roof in a warm tone from Grade 1 Western Red cedar. If you choose a bespoke summer house, you may decide to have window and door frame painted in contrasting colours.
Interior colour ideas
Think about the furniture you plan to install in your summer house that will really enhance your enjoyment. Whether you are planning to use your garden building for work, fitness or leisure, your choice of furnishings should blend with the overall colour scheme and complement the exterior features including wall and roof colours. If you are planning to install your own furniture, take inspiration from any of its feature colours, whether you are adding traditional antiques crafted from wood, sleek Art Deco pieces, or clean, contemporary, and streamlined items. Whatever your style, think about how it works with the exterior paint colour and make your choice with care.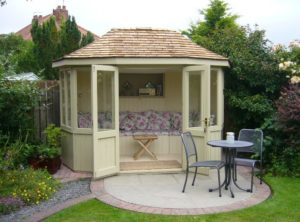 Scotts' summer houses are available with optional integral modular seating that will be painted in the same shade as the exterior colour. Seats can be upholstered in a choice of three colours that each complement one of nine standard and luxury fabric colourways for loose backrest cushions. Take account of the interior wall colour if you choose tongue and groove effect lining which is painted as standard in Off White.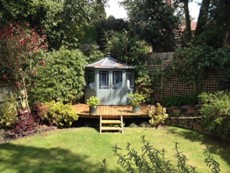 Your colour choice will be augmented by any lighting that you install. Create a relaxing space with warm, yellow light or a place to focus with bright, white lighting. Scotts offer a solar lighting package that will light up your summer house world without the need to install mains electricity. Our 12v package will power a table and floor lamp with warm tone bulbs to create a snug and cosy ambience after dark. If you're planning to work, study, or follow intricate creative hobbies from your garden building, you may consider bright or adjustable LED bulbs, glass shades or a high-quality desk lamp. The extensive colour range from Anglepoise provides scope for a selection that perfectly complements your summer house walls and furnishings.
Considerations before picking a colour scheme
Now let's discuss the three main factors that you should consider before choosing your summer house colour scheme:
The style of your property
Think about a colour for your summer house that will complement your house whether you live in a period property or more contemporary dwelling. What is the colour scheme for your exterior paintwork and how might the colour of your summer house tone with this? You may wish to take account of your location, whether you live in an urban or rural area, a conservation area, or National Park. Your choice of colour will contribute to the overall style and personality of your home.
How you plan to enjoy your summer house
When you are thinking about colour and style, consider how you plan to use your summer house alongside its position within your outdoor space. If you are aiming to create a secret hideaway in a corner where you can pursue a cherished hobby in peace, or work undisturbed in your own home office, perhaps you will choose muted tones that blend in with the planting and greenery.
Alternatively, your vision may extend to a social space for entertaining friends and family, hosting a garden or pool party in the summer, toasting marshmallows around the firepit, or celebrating special occasions with a glass of fizz outdoors. In this scenario, you may wish to make a bold statement with a strong and striking colour choice that helps to transform your summer house into a stand-out feature. Think about the colours in your outside garden furniture and let that influence your choice of summer house paint shade. Or start with a clean palette and curate your decor with the new summer house in mind.
The design of your garden
Depending on the style and layout of your garden, your colour scheme should take account of the planting, your garden walls or fencing, and whether you have a patio, timber or composite decking, paving slabs, or decorative tiles. If your summer house has a wooden base, you might wish to select a natural colour that blends well with timber. From the Scotts' colour range, you might choose Birch, Sage, and Forest Green. If your garden is brightened by Mediterranean tiles or terracotta ornamentation, you might find that Scotts' Aegean Blue or Lilac creates the perfect contrast. Current garden design trends suggest planting fire tones alongside pastels to achieve a striking contrast. Scotts' options include Aubergine will come to life against a backdrop of brilliant floral shades.
What do you paint a summer house with?
Painting a summer house involves choosing the right type of paint and considering factors such as the material of the house, the climate, and your desired aesthetic. Here are some options for painting a summer house:
Exterior Latex Paint: This is one of the most common choices for painting summer houses. It's versatile and easy to work with. Latex paint is available in various finishes, including flat, satin, semi-gloss, and high-gloss. Semi-gloss or high-gloss finishes are often preferred for the exterior of summer houses as they provide a more durable and weather-resistant surface.
Oil-Based Paint: Oil-based paints are also a good option for exterior surfaces, as they tend to be more durable and provide better protection against moisture and UV rays. However, they can be more challenging to work with and require proper ventilation and clean-up with mineral spirits.
Stain: If you want to highlight the natural beauty of the wood on your summer house, you can use a wood stain. Stains come in various shades and can provide protection while allowing the wood grain to show through.
Acrylic Paint: If you have a summer house made of materials like metal or concrete, acrylic paint designed for exterior use can work well. It adheres to a variety of surfaces and offers good durability.
Specialised Exterior Paint: Some manufacturers produce specialised exterior paints designed for specific materials or conditions. For instance, there are paints formulated for use on cedar, redwood, or other types of wood, as well as paints with added UV protection or moisture resistance.
When choosing a paint for your summer house, take into account the climate in your area, the maintenance requirements, and the colour that complements the style and surroundings of your summer house. Proper preparation and the right choice of paint will help ensure a long-lasting and attractive finish.
Painting new colours onto an existing summer house
Painting an existing summer house can be a great way to refresh its appearance and protect the exterior from the elements. Here are some steps to guide you through the process:
Assessment: Start by examining the condition of the summer house. Look for any damage, peeling paint, or areas that need repair. If there are any issues, address them before proceeding with the painting.
Clean the Surface: Before painting, clean the surfaces to remove dirt, dust, mildew, and any loose or flaking paint. You can use a pressure washer or a scrub brush with a mixture of mild detergent and water. Rinse thoroughly and allow the surface to dry completely.
Remove Loose Paint: Scrape off any loose or peeling paint using a paint scraper or putty knife. Sand the edges of the remaining paint to create a smooth transition between the old and new paint.
Protect Surrounding Areas: Cover the surrounding plants, windows, and other items that you don't want to get paint on with drop cloths or plastic sheets.
Priming (if necessary): If the existing paint is in poor condition or you are changing the color significantly, consider applying a coat of primer. Primer helps the new paint adhere better and provides a more even finish.
Choosing the Paint: Select a high-quality exterior paint suitable for your summer house's material and climate. Acrylic latex paints are commonly used for exterior surfaces as they are durable and can withstand different weather conditions.
Painting Technique: Start painting from the top and work your way down. Use a brush or roller, depending on the surface. A roller is great for larger, flat areas, while a brush is better for edges, corners, and uneven surfaces. Apply paint in thin, even coats, and allow each coat to dry before applying the next one.
Multiple Coats: Depending on the colour you're using and the condition of the old paint, you may need to apply multiple coats for an even and consistent finish. Follow the drying times recommended by the paint manufacturer between coats.
Finishing Touches: Once you've painted the entire summer house and are satisfied with the coverage, inspect the surfaces for any missed spots or imperfections. Touch up these areas as needed.
Clean up: Properly clean your painting tools and dispose of any leftover paint or materials according to local regulations.
Remember, painting a summer house can be a time-consuming task, but with the right preparation and attention to detail, you can achieve a beautiful and long-lasting result.
Paint colours for summer houses: Modern colour inspiration 
Choosing the correct colour to paint your favourite outdoor summer house might be a difficult decision. The colour of a summer house can define its personality, but a fresh coat of paint has more benefits than just aesthetic appeal. Painting a summer house has a functional aspect, as a layer of outdoor paint can protect your timber building from the elements, insects, mildew and fungus. Even if you choose a treated summer house, we recommend that all of our hardwood timber buildings be painted or varnished as soon as they are built.
Scotts offers a fashionable range of paint colour finishes for your modern summer houses, which can be used to complement or contrast with your garden, or to mix in with other outdoor structures. All Scotts Summer houses come standard with a paint finish.
Scotts' summer house microporous paint finishes are all available in a choice of 11 stylish colours with two coats applied before installation offering robust resistance to the elements all year round. We offer four standard fabric colourways, four luxury options using contemporary and classic designs by Sanderson and William Morris designs, and a sustainable fabric range to reduce your impact on the environment.
If your preferred summer house style is neutral, subtle, and natural, you might choose from our Wood Ash, Putty, Slate or Duck Egg paint colours. Match these with understated and classic fabrics such as Kielder Dove Grey, Mapleton Charcoal, or William Morris Willowbough or Strawberry Thief in Slate/Vellum.
Perhaps you envisage making a big splash with your summer house creation and would prefer a bolder, standout colour option for the exterior walls such as Scotts' Aubergine, Aegean Blue, or Forest Green. Colour like these can be complemented by fabrics that deliver a pop of colour such as our Sanderson Paradisia Orchid Grey, Honeysuckle Fig, or Sanderson Jackfruit Olive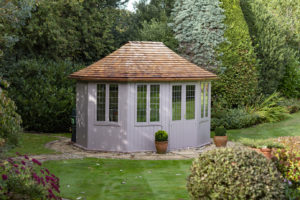 We hope that this overview has helped to clarify the vital role played by colour in the design of your summer house and provided you with some ideas and inspiration. Whether you are already clear about your colour choices or need some help exploring the best combinations, our expert and experienced design team is on hand and happy to discuss your options. We can supply samples so you can review the true colours of our paint and fabrics before you make your choice.
Contact us via our website or call us at our headquarters on 01832 732366 for further information.
You might also enjoy reading these posts: