In the UK, around 4.3 million individuals are self-employed and many work from a base at their home. The benefits of turning a garden building or summerhouse into a business space include:
Being able to maintain the separation from home and work, improving your work-life balance.
Creating a bespoke, professional environment if you see clients face to face.
Adding value to your property with additional flexible space that you can also enjoy for leisure purposes.
Enabling you to operate flexibly and combine business with domestic responsibilities.
What could you achieve in an outdoor business space?
The list of options is endless, and the type of garden building you choose will depend on the equipment and facilities you need. Below is a sample of the types of businesses that could work well from a summerhouse base:
Crafting and creative: floristry, jewellery-making, knitting and handicrafts, designing and making stationery, handling photography commissions.
Yoga and Pilates: one-to-one tuition or small classes in stretching and breathing.
Tuition and coaching: see your customers on a one-to-one basis and helping them to reach their goals from passing exams to personal development.
Personal trainer: set up all the kit to put your clients through their paces.
Professional services: a desk and PC enables you to operate as an accountant, bookkeeper, PA or virtual assistant, marketer, or consultant.
Therapist: set up a treatment room for massage, and holistic and beauty therapy.
Counsellor: create a private, relaxed and comfortable space to talk.
Direct selling agent: earn commission from Avon, Forever, Juice Plus or Saladmaster.
Catering: provide refreshments for events or use your garden building as a pop-up private experience.
Buying and selling: maximising your income from previously loved items on Vinted and eBay.
Below we explore the possibilities of creating a business space in your summerhouse or garden building, the decision-making process, and top tips to ensure that your project delivers your vision precisely.
Making it work
Before you start to consider the type of building you would like, or begin to plan its installation, take a few steps back and do your research. If you are running a business from home, you need to check our several important factors first.
You may need permission from your landlord or mortgage lender to use your home as a base for work. Check the specific planning permission requirements for your local area and your individual property. The rules vary depending on where you are and whether you live in a listed building, for example. For tax purposes, you will need to set up in business as a sole trader, a partnership, or a limited company. Check out your liability for business rates, and whether you will need to register for VAT (if your income is likely to exceed the £85k annual threshold).
Don't forget about insurance. You might need public liability, professional indemnity, and contents insurance depending on the nature of your business services and any equipment you store in your summerhouse. Always seek professional advice on these matters before moving forward with your plans.
To avoid any disputes, and to maintain positive neighbour relations, it's best to choose a position for garden building away from the boundary with access that minimises disturbance for others. The location will depend on the type of commercial activity in which you engage whether your clients will be visiting your premises, or if your businesses might potentially generate noise nuisance in your neighbourhood or create additional traffic from deliveries.
In business – garden building design
Once you have decided on your business and checked out the finer legal and financial details, it's time to consider the design and layout of your garden building. Take some time to do your research, think about how your usage requirements might change as the business grows and consider whether you would also like to create a dual-purpose summerhouse that can be used for leisure pursuits during holidays and at weekend.
Business structure
If you're working alone and do business remotely, your summerhouse business space does not have to be extensive. Scotts' Baltimore model, at 2m in width, provides enough space for a desk and chair, and a place to store paperwork and stationery. A larger model such as the spacious Burghley octagonal summerhouse is available in three different sizes up to 3.6m enabling you to spread out. If you plan to maximise an underused space in your garden or seek to tuck your business away from view, you might prefer the Scotts' Newhaven corner summerhouse. The larger size in this model, at 3m, provides a generous footprint with room to manoeuvre. If your business activities are more expansive and you meet clients face-to-face, a Scotts Sun Ray Garden Room offers a lozenge-shaped footprint that can easily accommodate a rowing machine, exercise mat or treatment table.
We understand that some business uses might require bespoke features including access to utilities. Scotts offer a solarhub solution that can power lights and a broadband hub. If you require access to mains electricity or water and plumbing, these can be installed within a structure designed especially for your business by the Scotts team. We have a great deal of experience of creating commercial buildings including summerhouses for hotels and country houses. We enjoy bringing our skills to bear regardless of the size of the project and can create a garden building based on your vision that will really put you in business.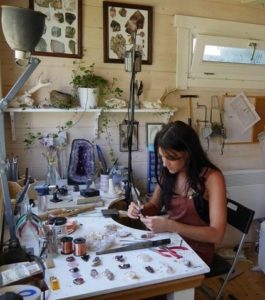 Think inside the box!
Once you have carefully established the detailed requirements for your business space, it's time to think about what's inside your garden building and how you can make it work for your business.
Material world
Make an investment in a premium quality building and you can rest assured that your business space will enjoy greater longevity. While it is possible to purchase softwood outbuildings or convert an existing garden shed, these are more likely to need extensive maintenance and are prone to more rapid decay. Scotts summerhouses are all built to last from a sustainably sourced hardwood from well-managed forests. The roofing materials used by Scotts (made from either moulded composite glass fibre or cedar shingles) offer exceptional resistance to the elements for 20 to 30 years and require minimal maintenance.
Floor to ceiling
If your business activities are liable to create spills or mess, it's wise to opt for a durable style of flooring that can be easily cleaned. Scotts offers a unique woven vinyl waterproof floor covering with a warm texture underfoot. Alternatively, you can opt for carpet or tiles, depending on the services your business offers. Choose to line the walls of your garden building to keep out draughts and help to maintain a comfortable working environment. Scotts offers smart and professional internal tongue and groove effect lining to the height of the eaves. Specify insulation and this will be fitted within the lining, enabling you to work from your outdoor space all year round.
Window of opportunity
Keep your valuable products and business equipment safe and secure by choosing a garden building with lockable doors and windows. These need to fit perfectly to be fully effective. Scotts doors and windows are handmade by craftspeople in the joinery division and fitted with 6.4mm laminated glass and traditional beading with high quality brass or satin chrome fittings. Doors have a rebated mortice lock to keep your business premises secure. You can add optional double-glazing to a Scotts garden building which should help to keep your business expenses in check. Double-glazing is supplied in low E energy saving glass.
Part of the furniture
Once you have paced out your floor plan, you will be able to introduce whatever free-standing items of furniture your require from a desk and chair to a couch or therapy table, a filing cabinet or store cupboard. If your business is low on equipment, choose free-standing modular seating offered by Scotts which offers integral storage. This could be a great option to support dual business and leisure use of your summerhouse.
Power and light
Think about the type of lighting you need to successfully complete your business tasks, taking into account the ambience you wish to create for your clients. If you engage in detailed, close work, ensure that you have access to bright light to help you focus. Use re-chargeable LED lights, install solar power or even mains electricity according to your requirements. Scotts' solar lighting package incorporates a high efficiency solar panel that powers a table and floor lamp, helping you to minimise the carbon footprint of our business activities and potentially reduce your energy bills.
Brand style
Whether you are self-employed or run a limited company from your garden building, your business will gain more traction if you create and build a unique brand. Your marketing strategy should include considerations about how your summerhouse reflects your brand with the possible addition of signage and a logo, if this is appropriate in your location. A more subtle approach to business branding extends to choosing upholstery fabrics or curtains and blinds and flooring that reflects your brand colours. As Scotts summerhouses are available in eleven stunning paint finish colours, you are sure to find a tone that complements your brand style. Choose from a lighter Putty or Birch to help your garden office recede from view and blend into the natural environment. Or make a statement with a bold Aubergine or Aegean Blue so your customers can find you easily.
Business benefits
Whatever type of business you are engaged in, the benefits of operating from a dedicated space within your garden are legion. Choose from Scotts' premium range or brief in your own bespoke requirements and you will create a business space that will enable you to fulfil your goals and bring your vision to life.
We would love to hear about your idea for a garden-based business and our team is standing by to advise you on the most appropriate model for your requirements and how to plan your project.
Send us your details via our online form or call Scotts of Thrapston on 01832 732366.