Is your home the focal point for friends and family gatherings? Are you always entertaining and ready throw open your doors to the neighbours? Maybe it's time to consider a dedicated social space where you can spread out and mingle. What better venue for your party destination than a garden building or summerhouse? If you're thinking about creating a party hub, bar, or social space in your garden, our 'how to' guide will get the creative juices flowing.
Your garden makes the perfect entertainment venue for a number of reasons:
Surrounded by a hedge or fence, your garden can become an additional room where you can really take advantage of the extra living space.
The planting and greenery in your garden create the perfect backdrop when the good times roll.
Socialising outdoors allows you (and your friends) to enjoy the fruits of your labour and showcases your green-fingered triumphs.
Getting outside amongst the natural world gives everyone a lift and boosts the party mood.
A summerhouse social space can be accessed all year round making maximum use of your outdoor space.
When you gather outdoors, you are close to luxury features such as the pool, hot tub, barbecue and firepit.
A summerhouse provides the perfect refuge in a sudden shower, so rain won't stop play.
To create an outdoor social space, it is worth pondering the following key decisions before you get started on design and construction.
Location, location, location
Just as important in your garden as it is with a house purchase, you will want to make sure you select the perfect spot for your garden building taking account of the use you will make of it.
If you envisage playing music or raucous games with the children, or having a crowd over on a regular basis, choose a spot that won't disturb the neighbours – or invite them round to join you! Rules on permitted development vary across the UK so check out the guidelines in your local area. To avoid a planning application, your garden building will generally need to be positioned at last 2m from your boundary and not exceed 2.5m in height.
However, don't let the planning process deter your ambition if you've got a large super-structure in mind. You could bring to life your vision of a bespoke garden building of any size as long as it doesn't cover more than 50 per cent of your property's total footprint.
Decide whether to position your summerhouse close to the house for convenient access to utilities or at the top of a slope so you can take in those spectacular views as you sit back with a cooling beverage. A sloping garden is no barrier to the installation of a summerhouse as we have already explored in any earlier article. Ring the changes with a rotating base and you can turn to face the sunset (or sunrise if your party is still in full swing!).
Size up your requirements
Think about how many people you are likely to host at a single gathering. You will need a core space with seating but can always spill out onto the deck or patio, enabling you to flex your capacity to suit the occasion. Summerhouses are available in all shapes and sizes, and you can create an ideal social space inside Scotts' Sun Ray Garden Room which has an impressive width of 4.4m with a door opening of 1.2m.
Feast your eyes!
The style, colour and appearance of your garden summerhouse will be influenced by your personal style. You might want to make a splash with a themed social space that retains its identity all year round. Or you could design a subtle feature that can be opened up and dressed especially for the occasion while blending in with the garden when your guests return home. A painted finish provides a palette for any theme and if you opt for a Scotts model, there is a wide range of luxurious tones from subtle neutrals to bold and striking colours that help to create an inviting focal point.
Investing in a premium quality structure will enable you to enjoy your social plans for years ahead. Scotts' garden buildings are all crafted by professionals from long-lasting hardwood Red Grandis which gives them a maintenance free life of up to seven years depending on hour location.
Ace of base
Whatever use you plan to make of your garden building, it's absolutely essential to install a solid and level base first. You will need a firm floor underfoot to get the dancing started. The structural integrity of the building will depend on the quality of the base so make sure you build it on concrete, paving slabs, a wooden deck or a ground screw base. Scotts has partnered with the Ground Screw Centre to offer this innovative installation method, which is eco-friendly, minimally invasive and can create a level platform even in a sloping garden.
Once you have decided on the location, position, size, shape, and colour of your garden building, it's time to have some fun with the theme, decor and accessories.
Power it up
Perhaps the most essential elements of summerhouse entertaining are the light and heating. With easy access to the warmth of the sun, your summerhouse will be a relaxing space well into the lighter evenings in spring and summer. However, if you plan to host an autumn gathering for toasted marshmallows around the firepit, or a cosy glass of mulled wine and a mince pie inside your summerhouse at Christmas, you might prefer to install double-glazing and insulation.
Heating can take the form of a free-standing oil-filled appliance, or you can connect your garden building to the mains to operate an electric heater. The type of lighting you install sets the scene immediately. Select strings of LEDs like fireflies, candle bulbs in glass jars or vintage bulbs for a nostalgic glow.
Ask a professional electrician to extend mains power from your property if you're intent on running a TV or games console. If you would rather take the low-carbon route, Scotts offers a solar power alternative for mood lighting.
Below we explore some ideas for summerhouse socialising and hope that our guide inspires your own creation.
Raise your glass!
Whether you prefer a sophisticated cocktail or enjoy a glass of homebrew, you can design the perfect setting for imbibing your favourite tipple outdoors.
Add a bar made from slate, timber, aluminium or leftover kitchen worktop and you will be all set to serve those refreshments to your guests. You might want to construct a back bar behind the serving area to store glasses and bottles and create the space for a fridge to chill your wine and fizz. Add a hinge to the bar so it can be stored vertically and allowing more multi-use flexibility.
Last orders
For a fun pub theme, you can source wall mounted spirit dispensers or a revolving optic stand, put up a personalised pub sign, lay out some beer mats and even include a bell to call 'Time'. Perhaps your tastes turn to Art Deco style, and you have a vision of a chrome and mirrors or wine bar interior with delicate lighting and a neon sign.
Whatever your choice of theme, think about accessorising your bar with safe and useful plastic glasses in a range of styles and select colourful bowls for nibbles.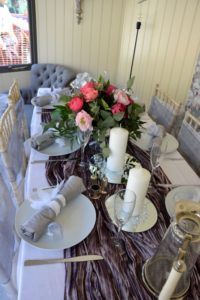 Make a journey
Another option is to recreate your favourite holiday destination within your garden building so everyone can experience some time in the sun whatever the weather.
A Caribbean or Hawaiian theme could see you festoon the interior of your summerhouse with colourful garlands, coconut shells and potted palms. Create a Mediterranean ambience by placing blue and white pots on the patio outside and using bright yellow and red tones for your soft furnishings. Select free standing chairs or stools or add modular seating with storage inside. The Scotts upholstery range includes striking colourways such as Sanderson Jackfruit Olive and Honeysuckle Fig with accents of the bright colours of Europe.
Game on
Whether you're entertaining young (or grown-up) children, family gatherings are always enhanced by a game. Board games can be conveniently stashed in modular seating; a colourful rug can double up as a hopscotch pitch and everyone enjoys indoor skittles and dominoes.
If you're planning a larger space, you could introduce table football or air hockey, and with mains or solar power installed, you will be all set to host a film night or computer games tournament.
Time machine
Allow nostalgia to fuel your imagination and create an interior for your garden social space that mimics the stylish 1930s, or a mid-century aesthetic or a 1980s throwback with zesty colours and monochrome patterns.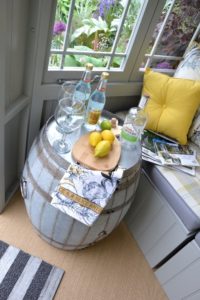 Recycle, upcycle and re-use
Re-purpose an unwanted chest or table and put it to effective use in your garden party house. Choose to buy pre-loved items from the local auction house or antiques centre. Or search for a gem at a car boot sale.
Seven classic objects for your garden party centrepiece
Drinks trolley
Head to Etsy and you will find hundreds of vintage examples to match your style whether you favour Art Deco chrome or mid-century kitsch.
https://www.etsy.com/uk/market/drinks_trolley
Disco ball
Available in all dimensions, choose a mirror ball or rotating motor spotlight to create a party atmosphere.
https://www.mirror-balls.co.uk/
Ice bucket
Whether you load it up from your summerhouse fridge or replenish from indoors, there are hundreds of styles on eBay whether you are chilling a vintage wine, celebratory champagne, or simply the Friday fizz.
https://www.ebay.co.uk/b/Ice-Buckets/63506/bn_7026115063
Lava lamp
Invented by a British designer in 1963, this modern classic is seeing a resurgence in popularity and John Lewis stocks a great range.
https://www.johnlewis.com/brand/lava%C2%AE-lamp/_/N-1yzuc0b
Lazy susan
A fantastic accessory to help make sharing the party food easier at your garden table, a lazy susan is perfect for outdoor and indoor use.
https://www.wayfair.co.uk/kitchenware-tableware/
Light box
Cinema-style banner headlines could offer a charming, personalised greeting to your guests. Powered by batteries, no mains power is required.
https://nl.pinterest.com/manjad/lightbox-text-ideas/
Beer machine
For the perfect pour ahead of the Big Match, invest in a sleek beer dispenser.
https://www.bbcgoodfood.com/reviews/best-beer-dispensers
We hope that we have inspired you with some ideas for creating a fun and relaxing environment in your garden to host parties and gatherings all year round.
Whether your interest has been piqued by one of the models in the Scotts collection or you would prefer to challenge our design team with a truly bespoke brief, we are looking forward to hearing from you.