If you have a passion for your home and garden, you will have heard a question that many others up and down the country have racked their brain over – what is the difference between a timber summer house and a shed? Well, the answer all comes down to the size and what it will be used for. You'll need to know both of these before taking on such a grand garden building project, and if you are unsure where to begin, this article will guide you step-by-step towards getting the garden house of your dreams. We'll take a look at the differences between these two buildings and the things you'll need to consider when adding a building to your garden.
What is the difference between a sheds and summer houses?
These terms can be interchangeable, depending on the intended use of the building. While we can change up the use of a shed or summer house, there are distinct differences between the two. Let's take a look—starting with a quality summer house.
What is a summer house?
The key factor that separates a summer house from a shed is the material. Unlike sheds, which are more suited for storage purposes, summer houses are designed to be an attractive addition to the garden. For this reason, you'll find that a wooden or timber summer house is the most common type constructed in the UK. Not only does treated timber look incredible nestled in the garden, but they're more ornamental, and in some cases, you can have your summer house built to match your home.
Commonly, summer houses and luxury garden rooms will have more glass windows than the average, run-on-the-mill shed, as well as more opening areas. Many summer house designs allow the front wall to open up entirely, or may even have a small porch or balcony area at the front for sitting, dining and relaxing.
How are summer houses used?
When most people think of a quality summer house, they picture a beautiful space to relax and enjoy the nature in their garden in all of its splendour. The enclosed space should be light and airy but somewhat shielded from the summer sun. You will find that due to the addition of utilities, summer houses are more versatile and inclusive than the common shed and can be used for a multitude of purposes as well as single-use. Some examples of summer house purposes are:
Adding utilities to the summer house will determine where in your garden it can be built. For instance, if you're adding electricity, the summer house will need to be placed near your home's electric mains and so forth.
Will I need planning permission to build a summer house?
That's an important question to consider when adding a building to your garden. In most cases, a summer house is considered a "permitted development" and won't usually require planning permission. However, there are exceptions.
If a luxury garden room covers more than half of the garden and is over 3 metres high with a pent roof, or 4 metres high with an apex roof, then it will require planning permission. Keep this in mind when building your summer house to avoid the planning permission process.
What to consider when building a summer house
A garden timber summer house will instantly uplift and improve your garden and add an extra layer of luxury to your outdoor space. A summer house will also provide you with an extended living and lounging area that can be transformed into endless purposes.
Before you settle on a summer house design, there are many things for you to consider that could affect your final decision:
1 – Positioning
The position of your summer house is the first thing you should consider. Do you want it to be the focal point of your garden? Is the goal for it to be a retreat hidden away at the back?
2 – The Size
The size of the garden building will determine where it will be placed and whether you will need planning permission. To make the most of your space, you may want to consider a summer house with a storage area, seating area or space to hang coats, blankets, etc.
3 – Security
Summer houses are often places to keep your possessions and you want to make sure that they are as secure as possible. Whether it is office essentials, gym equipment or priceless furniture, a rebated mortice lock will keep your summer house safe.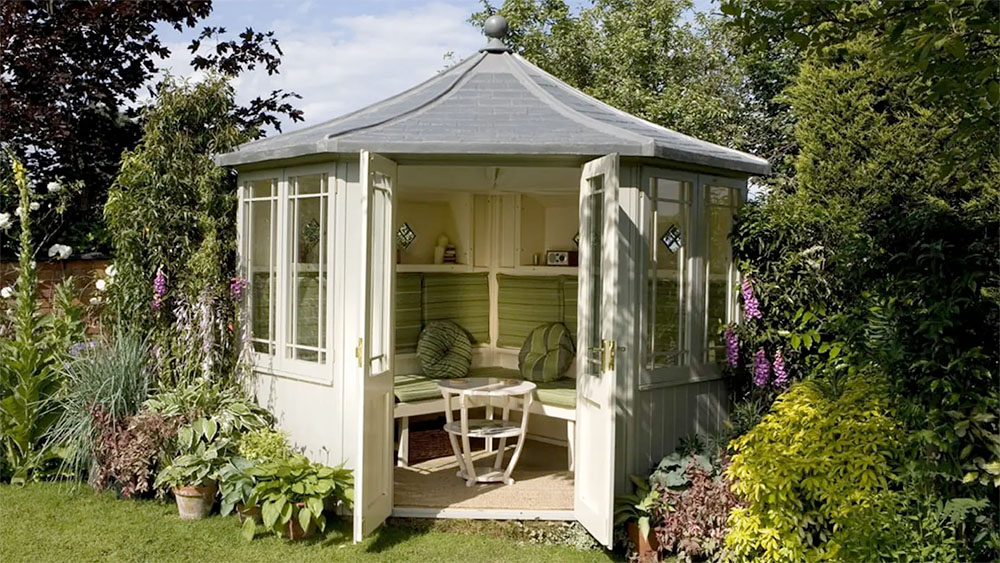 What is a shed?
The garden shed has always been a standard feature of any garden in the UK. If you think of a shed, chances are you are thinking of a wooden building with a single door and a felt roof. Unlike summer houses, the wood and other materials used to build a shed are usually rough-hewn, undecorated, and plain. That's not to say that a shed should be an eyesore but its purpose is not to be ornamental, but practical.
This being said, sheds can also be made of other materials. If you're looking to build your own then you can use materials such as:
Wood
Metal sheathing over a metal frame
Plastic sheathing and frame
Vinyl walls over a wooden frame
What are sheds used for?
A garden shed can have many functions such as a workspace for DIY, storage space for the lawnmower and other garden tools and it can even go as far as a place to grow seedlings for spring and summer. In some cases, sheds are even used to house model railway sets or miniature pubs.
However, one thing to keep in mind is that sheds are not generally connected to utilities such as water or electricity. This can limit the potential of a shed and what you can do with it but makes it ideal for another space for storage. Unlike summer houses, sheds are often more difficult to insulate and weather-proof which can limit their use throughout the year.
What to consider when building a shed
1 – Positioning
Accessibility is crucial, as you want it easily reachable from your home. Consider sunlight and ventilation for a dry interior, and ensure the ground is level and properly prepared.
2 – The Size
Determine shed size based on its purpose and anticipate future needs. Plan for interior organisation with shelving and hooks to maximise space.
3 – Security
Prioritise security with strong, lockable doors and windows. Install motion-activated lighting and consider a security system. Maintain visibility and landscaping to deter intruders.
How big is a common shed?
Most garden sheds average about 12 ft by 12 ft, or smaller. Not only is this quite a small space but they're not usually an ideal place to relax, listen to music, or even to work in. A garden shed most often fills a utilitarian purpose, which is to be a place used for storage and possibly as a small workshop.
Key Differences between a summer house and a shed
A summer house and a shed are both outdoor structures used for various purposes, but they differ in their design, functionality, and intended use. Here are the key differences between the two:
1 – Purpose
Summer House: A summer house, also known as a garden house or garden room, is typically designed as a small, detached building in a garden or outdoor space. Its primary purpose is to provide a comfortable and pleasant space for relaxation, leisure, or entertaining during the warmer months of the year. It often includes windows, doors, and sometimes even insulation to make it suitable for extended use during the summer season.
Shed: A shed is a functional outdoor structure primarily used for storage purposes. It is typically used to store gardening tools, equipment, lawnmowers, bicycles, and other items that need protection from the elements. Sheds are more utilitarian in design and focus on providing storage space rather than a comfortable living or leisure space.
2 – Design and Aesthetics
Summer House: Summer houses are often designed with aesthetics in mind. They may have decorative features, such as ornate windows, attractive roofing, and cosy interiors with furniture, making them visually pleasing and inviting. They are intended to enhance the beauty of the garden or in your outdoor space.
Shed: Sheds are typically designed for practicality and functionality. They have a simpler, boxy design, with a focus on maximising storage space. While some sheds may have windows and basic doors, their overall appearance is usually less decorative compared to summer houses.
3 – Interior Use
Summer House: A summer house is designed to be a comfortable and inviting space for people to spend time in. It may have seating, tables, and even amenities like electricity, lighting, and insulation, making it suitable for use as a small home office, hobby room, or a place to relax and enjoy the outdoors.
Shed: Sheds are primarily used for storage, and their interior is typically filled with shelves, hooks, and storage racks to organise and store various items. They are not designed for comfortable long-term occupancy.
4 – Seasonal Use
Summer House: As the name suggests, summer houses are designed for use during the warmer months of the year. However they can be well-insulated or heated, making them suitable for use in the cold winter weather.
Shed: Sheds are functional year-round and can be used to store items throughout the seasons. They are not intended for extended leisure or living during any specific season.
In summary, the main difference between a summer house and a shed remains the same, with summer houses serving a leisure and aesthetic purpose and sheds primarily intended for storage.
What should I do next?
As you can see, there are many intricacies between a shed and a summer house and it is quite clear to see why a summer house is a much more worthwhile investment. We hope that it has made your decision easier. The common garden shed is found in most gardens across the UK, but a summer house or luxury garden room is guaranteed to make your garden stand out from the rest.
A quality summer house can be used in various ways and is a perfect addition to your garden. By working with Scotts of Thrapston, our team will manage the process from start to finish, allowing you to enjoy the experience and see your ideas and dreams brought to life, step by step.
To speak to our team and find your perfect summer house contact Scotts of Thrapston today
You might also enjoy reading these posts: