Do you dream of setting up a dedicated home gym to help you make a firm commitment to your health and fitness targets? With space at a premium inside your home, you may be considering alternatives such an extension, the addition of a conservatory or the conversion of a garage. We have spoken to many Scott's customers who have rejected these options in favour of establishing a home gym in their gardens by installing one of our summer house models and adapting them specifically for their needs. In our blog, we look at the compelling reasons why a garden building makes an excellent base for working out at home and we talk to some customers whose dream we brought to life.
Seven reasons to choose a summer house setting for your home gym
Location, location, location
A summer house provides the perfect setting for a home gym with its location away from the house. You can avoid distractions and focus entirely on your exercise goals, using your time to switch off mindfully and pay attention both to your physical fitness and mental wellbeing. A summer house gym avoids taking up valuable living space indoors and enables you to retain the spare room as a home office. Once set up, your gym equipment can remain in position without the need to pack it away and reassemble it each time it is needed.
Elbow room
Choose a summer house with a large, spacious footprint and you will have space to spread out, perhaps introducing more kit and equipment into your home gym than you would be able to accommodate indoors. The largest standard model in the Scott's summer house range is 4.4m at its widest extent allowing plenty of space for a rowing machine (at around 2.5m) or 2m treadmill. The double doors on our Sun Ray Garden Room extend to 1.2m when open so you can easily manoeuvre your equipment inside. There's plenty of headroom if you plan to challenge yourself on a Peloton, spin bike or rebounder. You may not need the largest summer house to accommodate your requirements and could roll out your yoga mat or embark on a Pilates session in one of the 2m or 3m octagonal summer house models within our range. Alternatively, Scott's offers a bespoke service and can custom-build your summer house to your own specifications so that you can incorporate additional equipment such as a weight bench, or a range of dumbbells and kettlebells.
Save on gym fees 
Establishing your own home gym requires an initial upfront investment but could add value to your property as well as saving on the cost of gym membership. If you invest in a premium quality summer house, you will be able to enjoy exercising in your garden for many years to come. Scott's summer houses are built with craftmanship using an ethically sourced high-quality hardwood called Red Grandis. Each summer house model is completed with a microporous spray paint finish that delivers a silky texture and protects against the elements. Roof materials offer an option of moulded composite glass fibre in slate or lead effect or natural cedar shingles offering a 20-30 year lifespan with minimal maintenance. Choosing a Scotts summer house provides you with the peace of mind to focus on keeping fit rather than on garden building maintenance. Keep your precious possessions safe by locking the door of your home gym when not in use.
Time flies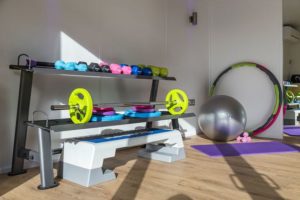 Our busy and often time-poor lives often mean that exercise and fitness is sacrificed to the demands of work, family and domestic concerns. Making the journey during standard gym opening hours can increase the pressure on your commitments stretching your schedule and cutting down on your session times. Set up a summer house home gym and not only will you be better placed to go there more often, you'll be able to spend longer working out. This might make the difference between having adequate time to warm up before you exercise, and wind down after a session. With your own home gym in your garden building, you choose the opening hours and can access your equipment 24/7 according to your personal schedule.
Fit for purpose
A summer house provides a blank canvas for your personal home gym requirements and you will start with an open floor space that can accommodate free-standing equipment of all types and sizes. Take account of this when deciding on the specification for your summer house floor. Scott's garden buildings benefit from sturdy floors manufactured using pressure impregnated tongue and groove floorboards. We can further reinforce the floor if you plan to use more heavy-duty equipment. Your summer house gym can easily be adapted to accommodate fluctuations in outside temperature. Opt for wall insulation and Scott's will install a 9mm thick exterior grade, moisture resistant tongue and groove effect lining painted to complement your chosen exterior colour. You can select double glazing which Scott's supply in clear, low E energy saving glass to keep any wintry draughts at bay. Add mains electricity and you will be able to install free-standing heaters, plus lighting, a TV, smart speaker, or PC so you can follow fitness classes online or listen to music while you work out. A home gym could also benefit from a wall-mounted or free-standing mirror which serves to create an illusion of even greater space.
Store of energy
In addition to bulky equipment, you will inevitably collect numerous essential items of kit that require a home when not in use. As well as benefiting from a dedicated location to keep your equipment, a summer house home gym offers the opportunity to store small items securely and keep them on hand just when you need them. Add a cupboard, storage box or chest and you can put away yoga blocks, mini weights, Pilates exercise ball, skipping rope, or resistance bands. Scott's offers the option of modular, sectional wooden seating that contains integral storage. This type of seating is free standing so it can be easily moved around and placed in different positions. Integral storage enables you to hide away exercise accessories when not in use and enjoy your summer house as a place to relax during downtime.
Natural world
The exercise benefits of a home gym speak for themselves and by setting up in your garden summer house, you will be able to breathe some fresh air by throwing open the windows and doors in the spring and summer. Even simply walking from the house to your garden building delivers the benefit of contact with nature. Every summer house needs a firm and level base beneath it, and this can be extended to form a paved patio or deck area where you can relax outdoors after a session in your summer house home gym.
Customer testimonial: A garden gym for John and Jilly
Seeking to avoid taking up precious space at home, John and Jilly from Henley-on-Thames decided to re-locate their home gym within the garden. Having found themselves working from home more than ever, John and Jilly were keen to preserve two offices in the house and, having ruled out a costly extension, decided that a summer house would be a more economical solution.
They chose a 4.4m Sun Ray Garden Sun Room with cedar shingle roof and a lilac paint finish. It is insulated with double glazing featuring decorative leaded glass, and internally lined with tongue and groove effect lining, and the floor is covered with resilient carpet tiles.
John said, "The team at Scott's were very happy to assist us in creating the perfect bespoke summer house gym that could accommodate our equipment and give us back more space at home. They were extremely supportive in helping us to choose the right model for our requirements and, after a consultation with Kathryn, we were able to visit David Scott's own personal summer house to see it in situ. I am keen to fly the flag for Scott's because the service they delivered was impeccable. They had a solution for any concerns I raised including reinforcing the floor to accommodate the weight of the gym equipment, and making sure that the walls and floor were insulated, and the windows double-glazed to retain the heat during the cooler months.
"Once our summer house was built and installed, we were able to move all our workout equipment out there freeing up space in the house and allowing us to retain separate individual home offices. Our new outdoor gym space is complete with Sky TV, an air conditioning unit that heats and cools, and the addition of copper guttering.
"It really feels like an escape from the house and it's great to have a calm discrete area where we can reset and enjoy a workout without disturbing the rest of our family. Our summer house really is the focal point of the garden and it feels like our lockdown project is complete. We are excited about adding tables and chairs outside the summer house to introduce an area to relax following our workouts."
Step into your own summer house home gym
In conclusion, transforming a summer house into a dedicated home gym offers a multitude of advantages that extend beyond the realms of conventional indoor workout spaces. The seven compelling reasons outlined in this article underscore the practicality and versatility of choosing a garden building for your fitness journey.
From the strategic location away from the main house that minimises distractions to the expansive elbow room allowing for diverse equipment options, a summer house proves to be a fitting canvas for tailoring your personal gym space. The investment in a premium-quality structure, such as those offered by Scott's, not only adds value to your property but also ensures a lasting and low-maintenance solution.
The flexibility of 24/7 access and the ability to customise the summer house according to individual fitness needs address the time constraints and varied workout preferences of today's busy lifestyles. Additionally, the incorporation of storage solutions, considerations for natural light, and the potential for an outdoor connection further elevate the appeal of this alternative fitness setting.
As exemplified by the positive experience of John and Jilly, who successfully transformed their home gym with the assistance of Scott's, the journey to fitness within a summer house extends beyond the physical exercise. It becomes a personalised retreat, seamlessly integrated into the outdoor environment, fostering a sense of calm and accomplishment.
Whether considering a standard model or opting for a custom-built solution, the potential for a summer house home gym is as vast as the range of fitness goals one may aspire to achieve. As you embark on this venture, the expert team at Scott's stands ready to provide guidance, ensuring that your vision of a personalised and functional fitness haven becomes a reality.
Our expert team is standing by to advise you on your home gym project and we're happy to discuss how our standard summer house models can accommodate your requirements. Or we can build a brief together for a custom summer house gym that delivers your cherished vision. Contact Scott's online or call on 01832 732366 to explore the possibilities and set the foundation for your own summer house home gym journey.
You might also enjoy reading these posts: