In the UK, we enjoy a temperate climate with average daily high temperatures across all nations of 13 degrees Celsius and lows of six degrees Celsius. Our proximity to the polar jet stream, a fast-flowing air current high in the atmosphere means that our weather is usually changeable and unsettled. This is why the weather remains a hot topic of conversation because we never know quite what will happen next. We can be sure, however, that no weather conditions will last for long, as the jet stream wanders in its course and changes altitude.
Our geographical circumstances often affect decisions about the type and style of our homes, and how we equip them to combat our typical weather conditions. This is even more important in a garden setting, and we know that creating a summerhouse that can be used all year round is an important consideration. We know that garden buildings are becoming increasingly popular for use as gyms and yoga studios, home offices and even small business premises. While our temperatures are not usually too extreme, it is good to know that you can create a garden building that is always comfortable even when it is hot in summer and during the frosts of winter.
In our blog, we explore how your expectations of the weather might affect the decisions you make as you plan your summerhouse design and consider the options for maintaining optimum temperatures inside your garden retreat all year round.
Multi-directional
It is never too early in the planning process to think about how the elements are likely to affect your enjoyment of your summerhouse. Start by reviewing your options for its location and think about the weather within your own personal microclimate. If your garden faces north, you may experience strong, cool winds. An exposed, elevated position could provide plenty of light but may become too warm in the summer. Positioning your summerhouse where foliage could create a screen or barrier against the elements may help but bear in mind the risks of overhanging trees that might cause damage to the roof from falling debris.
If you can't decide which way your summerhouse should face, you could always add a rotating base. Offered as an optional addition by Scotts, this ingenious wheeled mechanism, hidden discreetly behind timber skirting, enables you to turn the whole building effortlessly using exterior handles so you can escape the wind or follow the sun.
Summer breeze
During the warmer months, one of the most effective ways to keep your summerhouse cool is to ensure that it benefits from good ventilation. All of Scotts summerhouses have opening windows and doors, and our smallest Balmoral model incorporates a unique door and window shutter system. With ultra lightweight shatterproof acrylic glazing, the shutters can be easily removed and stored on special brackets that are integral to the design.
On other models which benefit from laminated glass windows and doors, you can simply hook these open to allow air to flow freely. Adequate insulation in the walls, roof and floor can help to keep your garden building cool by preventing hot air from entering and cool air from escaping.
Using shading devices such as blinds and curtains can help to block out direct sunlight and reduce heat gain inside your summerhouse. If you have an outdoor area such as a patio or deck surrounding your garden building, consider installing a pergola and add trailing and climbing plants that create some dappled shade. Window coverings such as blackout blinds also help to reduce the impact of bright light on soft furnishings and upholstery.
Whether you have mains electricity installed, or prefer battery-operated or rechargeable equipment, fans can be introduced to help air circulate and generate a cool breeze inside your summerhouse. If you are looking for a more sophisticated way of keeping the temperature down, you could consider the addition of a cooling system, or portable air conditioning unit. These are becoming more popular in the UK since the highest ever summer temperature of 40.3 degrees Celsius was recorded in July 2022.
Simpler methods of keeping cool include placing a large bowl of ice inside your summerhouse. Thanks to the effect of thermodynamics, air passing over the ice will be cooler bringing some refreshing relief.
Light colours are recommended to deflect the suns ray's and reduce heat gain. You can achieve this with soft furnishings but may also wish to consider the exterior colour of your summerhouse. Scotts' garden buildings are all supplied with a high-quality durable paint finish, and you can choose a colour to complement your house and garden. The lighter colours in the Scotts range include Putty, Birch, Duck Egg and Wood Ash.
Winter warmer
With the popularity of year-round garden buildings continuing to increase, you will be keen to ensure that you derive maximum benefit from your investment. Keeping warm inside your summerhouse in winter is easily achievable and it is worth considering some of the key elements before you commission your build.
Insulation really makes a difference when the temperature drops helping to reduce heat loss and keep chilly air out. Scotts offers insulation for most of its summerhouse models which is installed behind 9mm thick exterior grade, moisture-resistant lining, styled for a tongue and groove effect.
Draught-proofing will help to keep out cool air and you can add weather stripping such as door sweeps and foam insulation strips. It is worth investing in a well-made garden building that is specifically designed to reduce draughts. All Scotts summerhouses are carefully crafted so that joints fit together tightly and securely. Most models include casement windows containing 6.4mm laminated glass as standard with traditional beading. Lockable doors have a rebated mortice lock for a snug and secure fit. You can also opt to have double glazing installed and for this, Scotts uses clear, low E energy saving glass.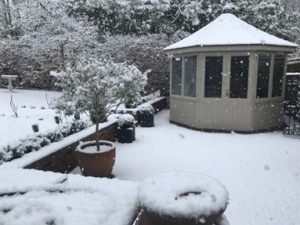 To generate cosy heat, consider installing a heating system. Underfloor heating creates warmth under foot and frees up wall space. There are several options for your choice of free-standing heaters that run on electricity, halogen, or gas. Demand for wood burning stoves is on the rise both within our homes and gardens. Scotts will happily design a bespoke summerhouse model to incorporate a wood burner and its chimney, creating a luxurious focal point for your festive family gatherings. Choose solar power or an air source heat pump if you are looking for eco-friendly options.
Thick curtains in luxe fabrics will create an inviting ambience inside your summerhouse in winter and help with preventing heat loss as well as delivering a stunning look. Your choice of flooring helps to keep your summerhouse habitable all year round. Scotts offers a durable and unique flooring option for most of its summerhouse models, made from woven vinyl that replicates the texture of sisal and seagrass. It also has the benefit of being waterproof and easy to clean.
Add heavy-duty Berber rugs, kilims, or sheepskins to complete the look by complementing your cushions and upholstery or your colour scheme. Our can even hang decorative tapestries to the walls in the cooler seasons. These can be removed in summer or stored away in Scotts' special modular seating. Blankets and throws can also be accommodated so your guests can wrap up and enjoy a hot chocolate or warming glass of mulled wine.
Finally, the lighting you choose in winter will provide a cosy atmosphere and deliver the illusion of heat even on the coldest days.
Step into year-round enjoyment
We hope that we have inspired you with the confidence to plan a summerhouse that you can enjoy all year round, by making simple and flexible adjustments to your garden building design. Don't forget that Scotts offers a bespoke service and can create an entirely unique summerhouse model made from our favourite ethically-sourced hardwood, Red Grandis. Talk to us about how you plan to enjoy your garden building and we can advise on the appropriate modifications.
We look forward to hearing from you and hope to help you create a haven in your garden for all seasons.