The addition of a summer house can be a fantastic way to enhance the enjoyment of your home and garden. Depending on the type and size of the garden building you choose, it could become a perfectly peaceful hideaway, or a hub for hospitality for all your friends and family. You could open the doors and immerse yourself in nature (and keep an eye on the wildlife even in winter), or you could disappear and enjoy your hobbies in a world of your own, or work from home undisturbed in a dedicated space.
While we are sure that you can see how the addition of a summer house would enhance your garden and bring benefits to your lifestyle, you may be less certain whether or not your project will need planning permission. Nobody wants to leave such an essential element of their project to chance and that is why we have developed this helpful guide to help answer your questions. So let us start at the beginning.. Do you need planning permission for a summer house?
Do I need planning permission for a summer house?
In the UK, summer houses are regarded as 'permitted development' and so do not usually require planning permission. However, some criteria apply, and rules vary depending on where you live. At Scotts' we provide detailed information on our website and there are many official resources online. In our blog, we explore an overview of the regulations and factors that might affect the type and size of summer house you choose.
Summer House Planning permission – quick fact check
A summer house does not need planning permission if:
• It is located more than 2m from the boundary of your property with a roof no higher than 3m (flat or single-pitched roof) and 4m (dual-pitched roof)
• It is located less than 2m from the boundary of your property and the maximum height of the eaves is 2.5m
• It is situated at least 5m from the house (or is less than 10 cubic metres in size)
• It is not located at the front or to the side of your house
• It does not overlook a road or footpath
• Its footprint covers no more than 50 per cent of your garden's total space
• It has a maximum floor space of 15 sq. m
• It is not more than 10 sq. m in size if situated more than 20m from your property
• It is exempt from specific planning restrictions relating to your property, or to the area in which you live.
What is 'permitted development'?
The term is used to describe guidance from the Government's Department for Levelling Up, Housing and Communities which allows householders to improve and extend their properties without applying for planning permission. When you are planning a summer house project, you will need to review the rules for a Class E building. This covers buildings not attached to the house that are created to provide 'personal enjoyment' to the occupants. Such buildings should be non-residential and so cannot include sleeping accommodation.
To satisfy the description of a Class E building, a summer house should not exceed 50 per cent of the property's curtilage (which means the total area within your boundary including the garden.) If you own an older property that has been extended, this only includes the footprint of the original building as it stood in July 1948.
To meet the guidelines, your summer house cannot be built in front of your house, (i.e., closer to the boundary than the principal elevation) or at the side and must not overlook a roadway or footpath. It must be a single storey in height with no veranda or balcony (but you can position it on garden decking that is no more than 0.3m high).
How high can a summer house be without planning permission?
If the position of your summer house is less than 2m from the edge of your boundary, you will need to choose a building that does not exceed 2.5m in height. All our Scotts' summer house models are available with a roof height that meets these criteria. Only the largest of our Burghley, Newhaven Corner Summer houses and Sun Ray Garden Rooms cannot be constructed with a modified height roof. Let us know at the start where you intend to locate your summer house and we can guide you towards the most appropriate model and roof style combination for the site you have chosen.
Laying a firm foundation or base for your summer house is allowed under permitted development (in Class F) so planning permission is unlikely to be required for this element of the project. However, bear in mind that the base material needs to be robust and could add 20cm – 30cm or more to the overall height of your building. In most cases, you should be able to choose a model that fulfils your vision and also meets permitted development guidelines.
Here are just a few of the Scotts' summer houses that our customers have installed as permitted development:
We installed this 3.4m Sun Ray Garden Room with a reduced pitch natural cedar shingle roof.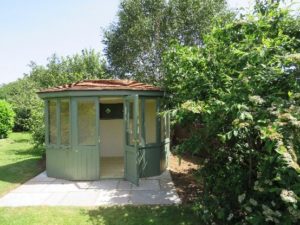 Our 2.4m Burghley summer house creates a striking octagonal feature in this setting with a roof crafted from Western Red cedar shingles and standing below 2.5m.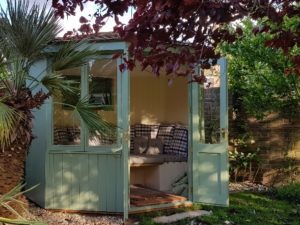 This Newhaven summer house benefits from a hard-wearing moulded, composite glass fibre roof modified to less than 2.5m in height.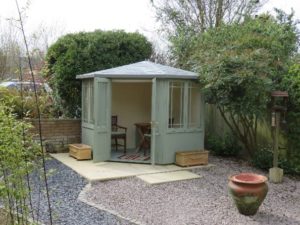 Summer house planning & regulations around the UK
Planning permission in England
In some areas of England, specific summer house regulations may apply. Permitted development may be restricted in certain locations in England and it is important to seek further clarification if your property is a listed building or situated in:
A conservation area
A World Heritage Site
An Area of Outstanding Natural Beauty (AONB)
A National Park or the Broads.
Planning permission in Wales
Summer house regulations in Wales provides guidance from the Welsh Government, it specifically lists summer houses as buildings for which no planning permission is required in Section C of its 'Planning: a guide for householders'.
Planning permission in Scotland
Similar summer house regulations and guidance is also available through the mygov.scot website and here there is a little more flexibility with no planning permission is required provided your building is within 1m of your boundary. Further advice can be found in the publication Householder permitted development rights: guidance which was updated in 2021.
Planning permission in Northern Ireland
The Planning (General Permitted Development Order) Northern Ireland contains broadly similar advice (summer houses are covered under Class D in this document) but it's wise to review the detail if you need further confirmation that your project fulfils the regulations.
If you do need to seek planning permission
While in most cases this is not necessary, you may have a project in mind that does require planning permission if, for example, you want a summer house to be built:
Within 2m of your boundary (or 1m in Scotland).
With a higher than usual roofline
On a large footprint
At the front or side of your property, or overlooking a road or footpath
Within the garden of a listed building or property that is situated within a conservation or National Park.
A really useful source of advice on planning is the Planning Portal which was commissioned by the Department for Levelling Up, Housing and Communities and covers England and Wales. The best first step is to use the portal to locate your Local Planning Authority (LPA) by simply entering your postcode. In Northern Ireland, you can find details of planning offices online and in Scotland, the E-Planning.scot website is a good place to start.
If you do require assistance with planning permission, the Scott's team will be on hand to help you with the process by providing full scale drawings which you can supply alongside your submission.
Other aspects of planning to consider
While they may not be legally-binding, it is also worth considering the implications of your summer house build on factors such as aesthetics and neighbour relationships. Technically you are not obliged to seek permission from neighbours to build a summer house (providing it meets the requirements of permitted development or has received planning permission). However, we suggest that it is always worth mentioning your plans to your neighbours as a courtesy and to foster positive future relationships.
When you are planning the position, location, and size of your summer house, choose a model and design of the appropriate quality, style, and scale to complement the appearance of your property. Scotts' classic designs are available in a number of sizes and our choice of luxurious paint finishes means that we can help you to combine exactly the right elements of a summer house to meet your needs, whether you have a period property or a contemporary home.
Always seek planning advice
We hope that our summer house planning permission guide has been useful and has helped to clarify some of the issues and answer your questions. However, as every situation is unique, we are unable make definitive recommendations on whether planning permission will be required for each individual summer house project. We are happy to provide guidelines on our website but these are intended only to provide an overview of the regulations which may be subject to changes in legislation.
If you have any queries regarding the status of your project, it is always advisable to contact your local planning authority for specific advice. We will help all we can, but it remains your responsibility to check whether planning permission is required before installing any external garden building.
As your plans start to crystallise why not allow Scott's to help you move forward with the next step? Simply get in touch and we will be happy to support you on your journey to the fulfilment of your summer house dream.
You might also enjoy reading these posts: